Arrow Season 3 Episode 7 Review: Draw Back Your Bow

Carissa Pavlica at . Updated at .
Holy Smoak!
Ray Palmer and Felicity absolutely sizzle as they do business together. That special surprise at the end? It's so exciting!
Oliver, on the other hand, is left out in the cold and in Arrow Season 3 Episode 7 the closest he gets to love is from a stalker who is obsessed with him after she was saved by The Arrow during the Mirakuru nightmare.
There were a lot of things about "Draw Back Your Bow"that felt forced and without aim. Let's take a look at what's happening.
As a former member of SWAT (the first female), I can understand how Carrie Cutter managed to master the bow in under two months, but that doesn't mean I buy it. Too much of her story was contrived to showcase Oliver without love in his life.
That was apparent as his Hong Kong flashbacks served a similar purpose – to show a dangerous lifestyle could be merged with a successful family life. Hell, Diggle and Lyla are the perfect example, so a flashback was hardly necessary to drive the arrow, you know? 
Little things got under my skin, such as: why didn't Oliver and Diggle think to look out the window of Cutter's loft when the phone rang immediately upon their entrance? They're smarter than that. All's well that ends well. Cutter is joining the Suicide Squad.
We wondered in the Arrow Round Table if Oliver naming Roy would mean anything overall. Imagine my surprise when he spoke to Roy over the radio addressing him three times as Arsenal! Will they all talk by radio and code names now?
The major moments of the hour belonged to Felicity and Ray, with backup of Diggle trying to get Oliver to see the error of his ways.
It was incredibly irritating to hear Oliver talk so severely to Felicity for wanting to go to dinner with someone, especially when it was for her paying job. Whether her boss is hot is of no consequence. "Do what you want," Oliver said when she wanted the night off.
It's completely out of character for Felicity to want the night off when a guy is being held hostage. But then again, how can she work 24 hours a day? This whole romance thing has really mucked with her life and it's not her fault.
Diggle going to Felicity might have appeased the Olicity shippers, but it didn't please me.
This thing with Palmer, it's messing with his head, Felicity, and that's dangerous.

Diggle
That's really unfair. What did Oliver do with Felicity's head while he was banging Sara, knowing fully well how he felt for Felicity (and vice versa) but unwilling to be with someone he cared about? It's only dangerous because Oliver refused to stand up for the woman he loves. Ironically, loving her from afar is probably doing a lot more damage to him than having her close would to either of them.
This is Felicity Smoak, Vice President of Palmer Technologies.

Ray
Oliver never even thought about taking Felicity out of the steno pool and giving her the respect she deserved at Queen Consolidated, let alone a couture dress and a $10 million necklace.
Oliver's whining over the fact Felicity's out with Ray although they both made the decision not to move forward. He forgets she made a "decision" only because he refused to commit to her for his own personal reasons. Well, at least until he has had his fair share of Hong Kong flashbacks.
Really, thank goodness he was gone for five years because prior to that time he was nothing but a Playboy lump. All of his life lessons come from five years. It's kind of pathetic for a grown man to have nothing else to show for his life. There's a little anger emanating from me toward this man. Hmmm.
That said, if it's Ray's plan to get Felicity to buy into his persona so she can help him win business, then it works. That speech Felicity gave about Ray being inspirational was amazing, right down to the music playing as she said it.
Everyone who knows about the comics (or is a consistent Googler of all things as I am) knows the name Ray Palmer is associated with Atom, a superhero in his own right who uses his ability to shrink down to fight evil.
Everyone wondered if Ray would actually become Atom, since it seems more like an ability that would be on The Flash. With the introduction of the mine and the white dwarf star matter, and the suit rendition, it appears they will be going there on Arrow.
In one version of the comics, he's not a metahuman at all, tying his survival instead to the discovery of a compression matrix and a fabric able to spread the effects of the atom ray on the entire body, stabilizing it. So, he can shrink thanks to science.
Can we assume it's science that will get an assist by the Vice President of the newly renamed Palmer Technologies? There has to be a bigger reason for Ray's pursuit of Felicity. That's not a bad thing, as the same was originally true of Oliver.
As Felicity said, she has a type. Whether it's a hot guy doing the salmon ladder or a man with the mission of fighting evil, I have to say she's right.
Is Arrow testing the waters to see whether Felicity and Oliver can be apart and still survive? What do you think? The Carrie Cutter business was a cartoony dud, but everything else was gold. 
Share your thoughts in the comments and watch Arrow online to catch up if you've missed any of the action.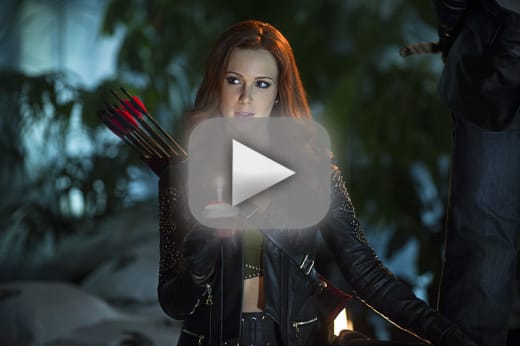 And here's your first look at Arrow Season 3 Episode 8, which will bring Barry Allen to town and air on December 3:
Carissa Pavlica is the managing editor and a staff writer and critic for TV Fanatic. She's a member of the Critic's Choice Association, enjoys mentoring writers, cats, and passionately discussing the nuances of television and film. Follow her on Twitter and email her here at TV Fanatic.