The Flash Season 1 Episode 5 Review: Plastique

Carissa Pavlica at . Updated at .
Another well-known metahuman come and gone in a flash. Quite literally, this time.
On The Flash Season 1 Episode 5 we were introduced to Bette Sans Scouci, who a smitten Cisco coined Plastique. By the end of the hour, her particular affliction, with the help of a push into evildoing at the hands of Harrison Wells, left her dead.
This particular one-and-done comic entry fulfilled a purpose. Her presence not only helped Barry come to terms with what it means to get tangled up in affairs such as his, but also gave us another glimpse into the past of Harrison.
Thank God for low metabolism -- If I've ever wanted something, it was high metabolism. It sounds really great in theory, but when it gets as high as Barry's and you can't even get a buzz on after your darkest day? No. Thank you, but keep it to yourself. While Barry was formerly worried about how true his friends were since Cisco made a device to kill him, Caitlin made up for it with her 500 proof highly distilled (and far too small) shot. Barry was able to escape for approximately three seconds.
Still nothing. I can't get drunk. I mean, I'm only 25 and my drinking days are already over.

Barry
Plastique -- It would have been better for all of us if Bette Sans Scouci wasn't a good person. Barry has now seen almost too much. He knows the alternative to his life had things gone a little differently and he knows what it's like, again, to have special powers and no way to use them to save a life.
I honestly thought Plastique would stick around, if not today, at least at some hidden location so she could make a return appearance. Exploding at a cellular level in the middle of the ocean seems kind of final. Harrison was to blame for that, and if he was willing to use Bette to that degree, what's to stop him from doing the same with Barry should the desire arise?
The longer Barry is working with STAR Labs, the more he trusts his posse and that makes him susceptible to whatever Harrison wants him to do. Did Harrison want Bette to kill Eiling to save others like her or to cover his own tracks from past dealings with the General?
Hey Joe, waddya know? -- Apparently Joe knows just about everything except how to stop his daughter from investigating a dangerous subject or how to advise Barry to express his love for said daughter.
Barry: You know the only real way to get her to stop is to tell her the truth.
Joe: Man, you really wanna tell her.
Barry: I tell her everything.
Joe: Mmmmmmmm. Not everything.
Barry: Is it that obvious?
Joe: Not to her.
Barry: How long have you known for?
Joe: I have watched you be in love with Iris since you were old enough to know what love is and I've been waiting years for you to tell her. But you haven't.
Barry: Because I was too slow.
It must put Joe in an odd position for the man who grew up as his son to love his daughter. If he's been waiting for Barry to tell Iris, why didn't he toss out a bone to the poor guy with his two cents on how such a declaration might go over?
My very favorite thing about Joe West is his laugh. He did it heartily at least twice in "Plastique" and damn it's good to hear someone truly let loose with roaring laughter. It's not done on television all that much; you mostly get polite little chuckles. My new rule is at least one scene like that per episode.
What's going to stop Iris? -- Barry learned first hand, from someone he thought much like himself, how badly things can turn. Can anything other than the truth from Barry stop Iris and her blog? Going to her as the red streak was a terrible miscalculation. Instead of turning her off, she became even more invested in finding the truth.
Although Iris said she's doing it because of the many years she spent wondering about Barry's search for the impossible, by putting her name on her blog, she made a silent admission she's also looking for glory. Barry failed Iris by not having a good answer for her when she asked if he didn't do it for the glory, then why? 
Perhaps he was tongue tied at the thought the women he loved was into him (if not him) for the first time and unable to think clearly. Instead of just blurring to another part of the building, he should have said he does it out of a sense of obligation because he has been given something special that should be used for good. Really, anything other than just blurring away; the flashy way of avoiding the question.
Can it be anything other than a life threatening situation that either stops Iris from publishing the blog or forces Barry to admit the truth?
Friendzone​ -- MTV has a program where the best friends confess their attraction to each other and the after effects are caught on tape. Most times it goes much better than the person thinks, as their feelings are returned even though neither party has ever talked about it. Considering how Iris' reaction to the news Barry was going to take a break, perhaps it's time MTV pay Central City a visit.
If you were Iris, would you stop if your best friend asked you to? She was visibly upset, but even in the face of no longer seeing her best friend, she was at the computer again about the red streak. Maybe if Barry takes a break and an interest in someone else, it will open Iris' eyes beyond the friend zone.
Mind games and Gorilla Grodd​ -- Alright. Harrison was working with Eiling for a while on telepathy studies in soldiers. From what we were told, Harrison didn't much care for the inhumane way Eiling did his work. That makes sense. Now. Where in the hell is Gorilla Grodd​? A telepathic gorilla and major foe to The Flash? Yes please. I want to see him if only for how they will bring him to life!
Final thoughts:
"Well is there like a bed store near here? What if I get a bunch of mattresses and stack 'em?" Loved it!
"Do I sound like Felicity?!" Also very cute, Caitlin!
Is Barry so fast he can run on water? I didn't know that. Tres cool.
Why didn't Plastique exploding cause a tsunami?
Hit the comments with your thoughts on the hour and don't forget, you can watch The Flash online any time via TV Fanatic!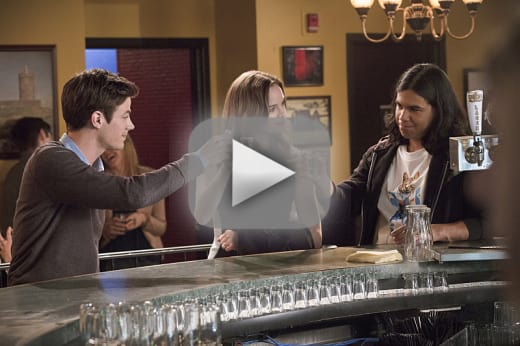 And here's your first look at The Flash Season 1 Episode 6: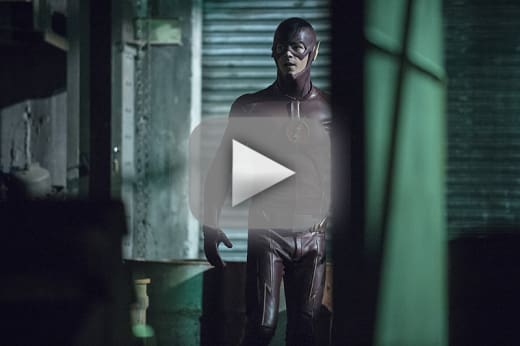 Carissa Pavlica is the managing editor and a staff writer and critic for TV Fanatic. She's a member of the Critic's Choice Association, enjoys mentoring writers, conversing with cats, and passionately discussing the nuances of television and film with anyone who will listen. Follow her on Twitter and email her here at TV Fanatic.