The Simpsons Season 26 Episode 6 Review: Simpsorama

Stacy Glanzman at . Updated at .
The Simpsons/Futurama crossover we've long been promised is finally here. Was it everything you hoped it would be? 
On The Simpsons Season 26 Episode 6 the Simpson family is visited by the Planet Express crew from Futurama. I first heard about this crossover event at Comic Con in July 2013, so I've been waiting for it for over a year. Luckily, I was not disappointed.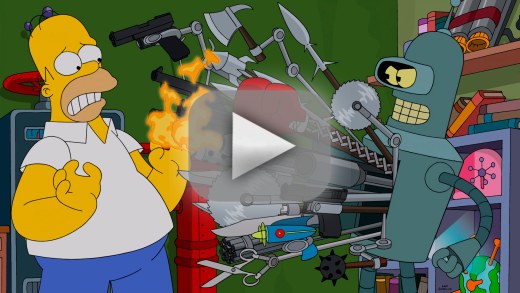 Leading up to the episode, there were a few things I was hoping we'd get to see. I really wanted a scene featuring Professor Frink and Professor Farnsworth and I was pleased to see one was included. A battle of wits between them would have been even better, but I did enjoy that Professor Farnsworth insisted he was smarter. 
I also thought we might get to see Homer and Bender on a wild drinking binge, but I was satisfied with their trips to Moe's and the bowling alley. Bender even got his own Pin Pals shirt and of course he cheated. It certainly isn't surprising that Homer and Bender would become fast friends. 
By the episode description, I assumed the Futurama cast would only be coming to The Simpson's present. I didn't expect the family to be transported to New New York in the future, but I'm glad it happened. It would have been too easy to just dig up the time capsule and destroy it. 
Instead, Lisa saves the day in the future outsmarting both professors and luring the Bart creatures into the Madison Cube Garden where they were shot off into space (along with the Super bowl losers). How did she do it? That brings us to the funniest line of the night:
Attention goblins, Madison Cube Garden is filled with Butterfinger bars and people are laying fingers all over them

Lisa
Did anyone else have flashbacks to those 90's Butterfinger commercials? It made me want some Butterfinger BBs; they should bring those back. 
Lisa's plan was the most efficient way to dispose of the gremlins, but who knows, maybe with enough time Homer could have strangled them all to death. 
It's a good thing Homer befriended Bender before he got his memories back or Bender may have completed his mission to kill him. Not only would that have been sad, but it also would have been pointless since they figured out that it was actually Bart's DNA that caused the whole mess. 
I think this episode could have benefited from the hour long treatment the Family Guy crossover received. I would have liked to spend more time with the Futurama crew. Bender had plenty of time, but there could have been more interactions between the others and the family similar to what we saw with the Griffins. Plus, more Zoidberg never hurt anyone. 
What did you guys think of the crossover? Do you miss Futurama? Do you wish it was a full hour? How did it compare with the Family Guy crossover? 
Futurama is off the air now but The Simpsons will probably be around forever. Don't forget you can watch The Simpsons online anytime and visit The Simpsons quotes page to relive your favorite lines. 
Stacy Glanzman was a staff writer for TV Fanatic. She retired in March, 2019.