Modern Family Season 6 Episode 9 Review: Strangers in the Night
Leigh Raines at . Updated at .
Alex finally gets a boyfriend in Modern Family Season 6 Episode 9 and her own family doesn't even believe her!
For shame Dunphys!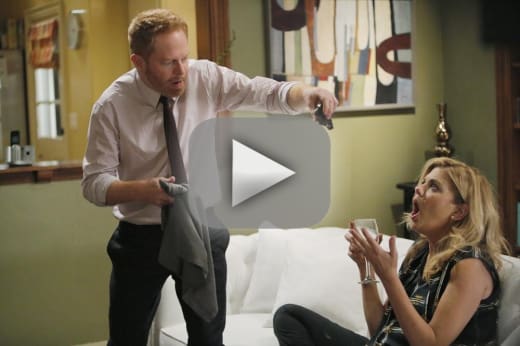 Now, I know Haley's supposed to be the family hottie (sorry Phil) but there is no reason to discount Alex. She is awesome in her own way and there is a lid for every pot! Or whatever other cliche for dating you want to use.
Haley isn't the only hottie living here. I washed the car in my cheer shorts the other day. I definitely felt eyes on me.

Phil
The truth is that it's just ridiculous to think that Alex wouldn't have a boyfriend. Just because she's the shy sibling who always has her nose stuck in a book and doesn't flaunt and flirt the way Haley does, doesn't mean she can't get a date. In fact, I think we should explore more of Alex's love life.
The only storylines we ever get from her are about school and her making fun of Haley. We've been with Modern Family for 6 seasons; let's not make her so one note – am I right? We want to watch the kids grow up and go through different situations.
Well enough about that. As you could probably tell I wasn't in love with this week's episode. I watched it twice and just kind of found it lacking. And I ALWAYS get excited when Stella is on screen!
Jay consistently calling Manny a patsy was pretty uncool. Manny might sometimes get taken advantage of, but don't blame him for having to go to picnics you don't want to. Jay why don't you just man up and tell Gloria you want to have separate interests, hmm?
Kristen Johnston is a comedic actress so I was excited to see her. Luckily she was a part of probably the funniest storyline this week. I'll admit, even after all the crap I gave to the Alex storyline, the part with everything matching up in her bedroom was humorous. There, I said it.
Cam and Mitchell obsessing over their sofa felt funny but also relatable. Who hasn't had that "Oh hell the kids are gonna tear this thing/place up" moment? I liked Cam forcing Mitchell to be a warmer person; even if Cam later was ready to toss her out.
Cam: Let's get this woman into bed and in the morning out of the house as fast as we can. Honestly, I don't know how straight guys do it.
Mitchell: Probably without those hand gestures.
The ending with Lily reading to her was very sweet and wrapped things up nicely. Too bad about that couch. Honestly though, I'm almost 30 and I would mess up a white-on-white couch. That is one risky purchase!
Catch up on other good guest star moments when you watch Modern Family online!