Pretty Little Liars Season 5 Episode 17 Review: The Bin of Sin
Leigh Raines at . Updated at .
Clear the decks! Pretty Little Liars Season 5 Episode 17 was an absolute ship-wreck!
No that is not the same thing as a hot mess train-wreck. It means that the writers of PLL surprised us by taking down not one but two of the major 'ships on this show. Yes, I mean the relationships! 
So who's left standing? Jump on in to find out.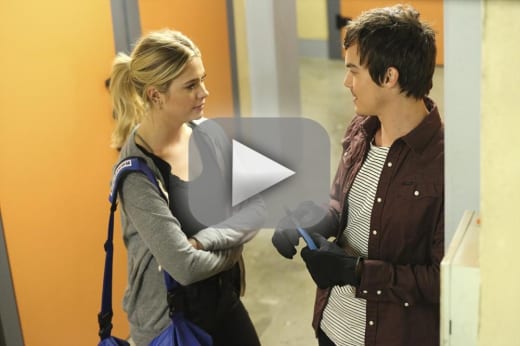 To nobody's surprise, least of all mine, the lucky couple that has been left standing is HALEB.
Why am I not surprised? These two have been through quite a lot. Not to diminish the other relationships because let's face it, if you are dating a liar, you have been put through the wringer. 
There exists between Hanna and Caleb a similarity to flirt with the boundaries of the law. Both have gotten into trouble many times before, but for the most part they are on the same page. These two are the Bonnie and Clyde of Pretty Little Liars. They are my ride or die couple. 
They may disagree at times, but when it comes down to it they will be there for the other one. Did Caleb want to go back to that locker? Hell no. But he was right there next to Hanna holding the drill-bit when she did.
Since I can spend the rest of my life in an orange jumpsuit, I think that I get the final say here.

Hanna
Later on when Hanna tried to end it and told him she was "dangerous to be around," Caleb wouldn't hear of it. 
So what about the rest of the liars?
The tension has been growing between Spencer and Toby for weeks. We discussed their potentially impending doom on the latest Pretty Little Liars Round Table. Plainly put, Toby is caught between Spencer and the job.
So why do we think he is suddenly blowing her off? Toby fell in love with Spencer and every little bit of her Nancy Drew shenanigans. Does he really have that much faith in the Rosewood PD after all of their screw ups? Something doesn't add up.
Then there are Ezra and Aria. Ezria...somehow survived the fact that Ezra WAS A. Yet, suddenly he's acting all noble after reading that letter? I get it, rationally I'd see the psychology behind Aria writing the letter. However, since when does Ezra really care considering he was dating a student (and minor) for all of these years?
There are so many amazing adventures ahead of you and I don't want you to miss out on a single one because of me.

Ezra
Regardless of their status, Aria didn't seem that hysterical this time. Spencer on the other hand, did. I'm not sure where either couple will go from here. 
Emily has the potential for a new hook up, but is she ready? Talia seems fine, but I truly never trust any new person who joins this show. How can we?! Besides, i think Paige will eventually return. 
Rounding out the romantic drama on this episode were Jason and Ashley. Ashley said she got lonely. Jason totally wants more. Ashley slipped on the ring from Ted at the end...and then slipped it off. Hot cougar romance part 2, anyone?
In the midst of the torrid love affairs of Rosewood, there was the matter of that whole barrel. So who was in it? We don't know, since it seems it has already started decomposing, but somebody sure was.
And there are a few drops of blood that Spencer, Caleb, and Hanna all failed to notice. It's very possible those are new and of course, planted. 
Catch up on the lovelorn episode when you watch Pretty Little Liars online!
NOTE: Pretty Little Liars Season 5 Episode 18 will air on February 3 and be titled "Oh, What Hard Luck Stories They All Hand Me."