The Mindy Project Season 3 Episode 13 Review: San Francisco Bae

Mary Kate Venedam at . Updated at .
As Mindy's time in California continued, we met a blast from her past in The Mindy Project Season 3 Episode 13.
Yes, the man Mindy lost her virginity to showed up. Turned out, she was a big inspiration for him. No worries, Danny is still the main man in her life.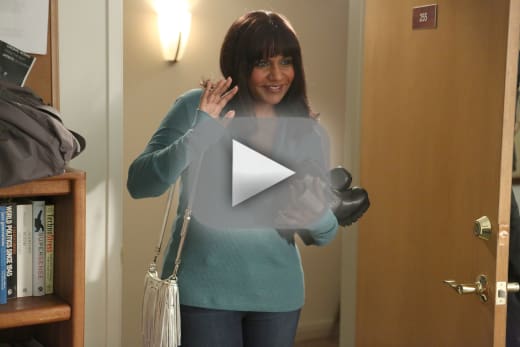 For a story that was primarily focused on meeting Mindy's 'First', it was slightly under whelming. The flashback was full of great 2004 throwbacks with songs ("Hollaback Girl," anyone?) and styles, but meeting him in the present was not as enjoyable. Nothing against guest star Lee Pace, I was not a fan of the hyped up meeting. 
The year, 2004. America was still able to enjoy the music of R. Kelly without feeling guilt.

Mindy
With the first episode of Danny and Mindy on separate coasts, it was nice to see that Schulman and Associates had just as entertaining of a story without Mindy there. And it all started with one of the best bromances of the series, Danny and Morgan. Of course, poor Morgan had to guilt Danny into hanging out, but it was worth it.
Danny has used many an excuse, in the past, to get out of hanging with Morgan, but the more Danny has tried to get out of it, the more it is fun to watch them cause chaos. Well, usually, Morgan causes the chaos with Danny near by. Luckily, it is always entertaining for us.
I loved how Danny eavesdropped on Peter, along with Morgan, as Danny continued to complain about not being a snoop. It seems Danny has picked up a trait or two from Mindy. 
I'm not nosy. I don't even go to restaurants with open kitchens. It's none of my business.

Danny
Of course, everything backfired in a very entertaining way when mixed signals were crossed as the paternal Peter babysat for Lauren's son. This caused Jeremy to arrive in his opera attire, which made the moment even better.
A lot happened in those moments, but seeing all of the confusions and stories collide in Danny's apartment was great. Even Mindy's story somehow made its way there thanks to Peter.
But, in true Morgan form, he found something great about the utterly confusing evening with Danny. Danny called him his friend. Talk about a good birthday for Morgan (yes, it was his birthday, too). 
I did wish for a birthday kiss. I should've been more specific.

Morgan
Throughout the season, Peter has been beaten down over and over again. He got dumped for a co-worker and lost a date to Morgan, among other things. He finally stood up for himself and told Lauren he wanted out of the friend-zone--and it worked. I hope Peter will get some semblance of happiness before he leaves. Even though he can be a tool, he has his sweet moments. 
I liked this episode. Not my favorite, but there were so many great lines, it was difficult to keep up with them. There was a nice connection between Mindy and the rest of the characters so it didn't seem she was in a different world from them. I only wish I found more interest in Mindy's blast from the past.
Let me weave you a tale. Oh, appetizers are here.

Mindy
What did you think of Lee Pace's character? Are you rooting for Peter and Lauren? Was the East/West Coast stories handled well?
If you need to catch up, make sure you watch The Mindy Project online via TV Fanatic.
Mary Kate Venedam is a staff writer for TV Fanatic. Follow her on Twitter and on Google+.