The Originals Season 2 Episode 12 Review: Trust Fall
Miranda Wicker at . Updated at .
Late last week, Nathan Parsons teased an epic Klaus-Jackson showdown would take place on The Originals Season 2 Episode 12 and he delivered on that promise. Except I wouldn't call that a showdown so much as a beat down.
Ouch, Jack! You might want to see a doctor!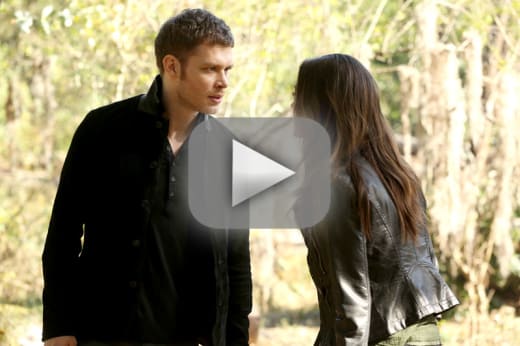 After The Originals Season 2 Episode 11, many fans across the Internet commented that the episode felt like filler. I can't wait to see what the comments read like after tonight. 
Following the same format as last week, three main stories were told tonight with elements of others interwoven. While I did at times wish for a little less jumping around and a little more focus on Klaus, Hayley, and Hope, I can't say I've been disappointed with the writers' decision (for two weeks running now) to throw a LOT of stuff at us as we slide into the back half of the season.
There's a lot of ground to cover, so cover it we shall, beginning with a little bayou brawl I'm hereby nicknaming the Trust Fall. Because "fall" is what Jack kept doing and in the end, he earned Klaus' trust. Sort of. For now.
We were lead to believe that Klaus was coming to the bayou to stop Hayley and Jackson from participating in the truth ritual which would force Hayley to tell Jackson about Hope. In true Klaus fashion, his plan was anything but that simple and, no matter what, Klaus was the winner either way.
By going into the bayou, Klaus would either learn that Hayley's trust for Jackson runs deep enough for Klaus to trust him, too, or he would kill Jackson, eliminating the need for Hayley to tell anyone anything at all. 
It does make one wonder when Klaus decided this plan was the best course of action. 
Did he ruminate on his choices like some kind of chess master before heading into battle? Was it the moment Hayley told him that he and his enemies were the problem? When Jackson started talking about how Klaus killed his own father because he was afraid to let anyone inside? Or, did Klaus change course when Hayley showed up to fight?
At any rate, Klaus is assured that Jackson will defend Hayley to the death, and by extension Hope, since she will be part of his family. Both packs will also be united in their goal to protect Hope. A win for Hope is a win for Klaus, who, as Hayley point out IS the problem. 
He is the reason their daughter will never be safe. A millennium spent murdering people has seen to that. Plus there's his family to contend with, and that's where our stories will begin to converge.
If there's anything that scares Finncent, or perhaps excites him, depending on just how far gone he is (answer: very far gone), it is Dahlia's return. She's the one person he spoke about with a sort of hushed voice as if saying her name too loudly or too many times would summon her. 
Little did he know, something of hers has been there in New Orleans the entire time: Freya.
I'm not happy with the development that a witch-child who was taken from her family in their old country has somehow ended up in New Orleans just like her siblings but without their knowledge. It's far too convenient and implausible. I shouldn't care, but I do. Oh well.
The thing is, I like Freya and the possibility for this story. I like the idea of where she and Rebekah – as the two Mikaelson sisters, sticking together – could go; the things they could do. Those scenes in the asylum were amazingly written, filmed and edited. Freya being creepy and sneaky and powerful? Yeah, I'm down with that. Plus, she got rid of Cassie. Ten points for her!
Finncent, being the one child who actually remembers Freya, will likely be the most moved by her return, but how so remains a mystery. Will he be afraid? Or will he be so overjoyed at his sister's return he decides to undo the spell killing Koleb? Because that is the actual worst.
For betraying Finncent, Koleb has been sentenced to die in three days. He won't be able to body jump and will have to perish with his mortal (and hot) body. TRA.VES.TY. People. This is a terrible idea!
Koleb cannot die. Davina needs him. I need him. This is the first time I've cared about the character and that has everything to do with the charm Daniel Sharman brings to the character. He can't die, and especially not because of Finn and his need for vindication.
Stupid Finn!
Here's hoping Davina finds a way to fix this, or Freya comes in just in time to breathe some life into her brother. Or something. Whatever it takes to keep Kol in Daniel Sharman's body, okay?
Despite the fact that he despises vampires, Finncent has no trouble using them as his own personal army when it strikes his fancy. Currently, he has the rest of Marcel's vampires under his spell – all but Josh, who was rescued – and he has Marcel. Davina wanted to rescue him, but that didn't happen and, because it didn't happen, Finn was able to deduce the secret Klaus has been keeping.
But we'll have to watch The Originals online to find out what he plans to do now that he knows. Whatever it is, it won't be good.
What did you think of "Sanctuary"? How do you feel about Hayley telling Jackson her story? What are your thoughts on Freya's return!? Sound off in the comments below!
NOTE: The Originals Season 2 Episode 13 will be titled "The Devil is Damned" and air on Monday, February 9.
Miranda Wicker is a Staff Writer for TV Fanatic. Follow her on Twitter.