The Simpsons Season 26 Episode 13 Review: Walking Big & Tall

Stacy Glanzman at . Updated at .
In classic Simpsons fashion, what started out as a story about a stolen town song turned into Homer joining a "big is beautiful" support group. 
The Simpsons is no stranger to music, but where does the new Springfield anthem from The Simpsons Season 26 Episode 13 stack up amongst the greats?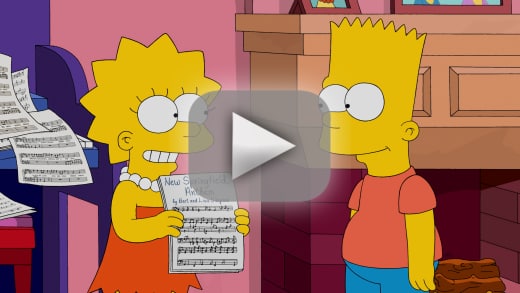 Personally, I thought the song was funny, but it didn't stand out. It's not going to find its way onto a list of greatest Simpsons songs anytime soon. Stonecutters will probably always be my favorite with "Spring in Springfield" a close second. 
I did like the call back to Michael Jackson's episode. It made sense that Bart would remind Lisa that he helped write a song before. It also led to one of my favorite quotes of the night: 
Bart: Thinking back, I'm kinda surprised mom and dad let a crazy man spend all night in my bedroom.
Homer: Simpler times.
It's not like this is the first time Homer's parenting techniques have ever been called into question, but Bart does have a valid point. Lisa's birthday song might be my third favorite song of the series. 
There have been countless episodes over the series' run dealing with Homer's weight. Marge must know by now that it's a losing battle right? Homer's line towards the end about promising to keep yo-yo dieting fit perfectly as did the montage of Homer's weight fluctuations.
We all know the three most important things in Homer's life are food, beer, and TV, but we didn't necessarily know how they were ranked. I guess we've always known food was number one though. "No TV and no beer make Homer go crazy." That is, until he gets distracted by a pantry full of food. 
The scene of Homer walking past all of the other meetings before coming across the "big is beautiful" one was great, as was Comic Book Guy's insistence that everyone take notice of the diet soda. As dumb as Homer is, every once in awhile an intelligent thought sneaks its way into his head: 
I have so many questions for you. First of all, is this floor reinforced?

Homer
If not, I hope they're at least in a room on the ground floor! 
How long was Moleman riding that horse? I wonder if Pharrell is still on his. 
What did you guys think? While I felt the story was redundant, it was still funny and there were some great lines that had me laughing. Be sure to check them out on The Simpsons quotes page. 
We learned a few interesting tidbits:
Hans Moleman was the mayor 30 years ago. It was fun seeing what the older residents looked like when they were younger. Smithers looked the weirdest.
Since when is Groundskeeper Willie Jewish?  
Whacking Day has apparently been outlawed. 
Don't forget you can watch The Simpsons online anytime right here at TV Fanatic. 
Stacy Glanzman was a staff writer for TV Fanatic. She retired in March, 2019.