Peter seemed to learn an important lesson tonight, although we all know it'll be wiped from the fried hard drive of a mind he has by the time the next title sequence rolls around. 
Family Guy Season 13 Episode 15 had Brian change twice, once into an alpha-male and then into a submissive "puss" (as Stewie puts it), and Peter specifically, seems to learn a bit more about why, and just how much, he loves his friend.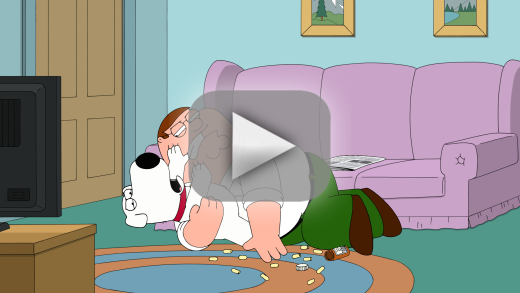 Brian got to experience a few brief minutes of empowerment this week when the roles are reversed and he embraced his more alpha-male tendencies. He spat at Peter to mark his territory, had him running his errands, and was pretty much running the house, all because Peter awoke the beast within by trying to administer suppository pills.
The dog's rein is short lived, however, as he soon gets the Clockwork Orange horror treatment, complete with his eyes plastered open, at obedience school. Lois forced the decision upon Peter, but the latter didn't seem to mind the benefits of a more obedient pet at first (especially one that can tie one mean bow-tie). 
In the end, Peter realizes Brian's initial reaction of biting the man getting weirdly close to his anus, was a justified course of action. And uses this discovery to shock Brian back to his sense.
He's my friend, I miss him.

Peter
Although the core plot was sound this week, a lot of the side gags fell flat. The butch lesbian with the motorcycle, the neighbors down the block, the black and white cartoon, amongst others, just felt like they were taking up space. There were, however, a few hilariously weird moments such as Peter in the jack in the box, Chris giving Peter a bath, and the "calcium mine" song.  
The episode worked best when it was just focused on the dynamic between Peter and Brian.
Peter: I missed you Brian.
Brian: I missed you too Peter.
Peter: And now Im gonna go upstairs and pee in Meg's bed.
Brian: No, we're going to go pee in Meg's bed.
Peter: Good boy.
Chris had his own change in dynamic to deal with when Neil disrupted the fabric of lunch time and bonded with him over their hat wearing capabilities. However, when Meg, of all people, stole Neil from him, it took a boom box serenade for Neil to win Chris back. And I'm glad too because they make quite the pair of misfits:
Neil: Is this a nut free counter?
Chris: Uh I don't know, my dad's might have been on there at some point.
Watch Family Guy online and head over to Family Guy quotes for more highlights from tonight's episode (there were definitely many noteworthy one liners amidst all the obedience school drama).
Next week, on Family Guy Season 13 Episode 16, Peter seems to get his own roast, so that should be pretty great. As always, feel free to leave your thoughts down below!