Hawaii Five-0 Season 5 Episode 21 Review: Ua helele'i ka hoku (Fallen Star)

Amanda Wolf at . Updated at .
"Fallen Star" was a clever name for an hour that involved a convention full of Elvis impersonators and the reappearance of an old case. 
On Hawaii Five-0 Season 5 Episode 21 the team must solve the case of the death of an Elvis among many Elvi, who was unlucky enough to have more than one person interested in his death.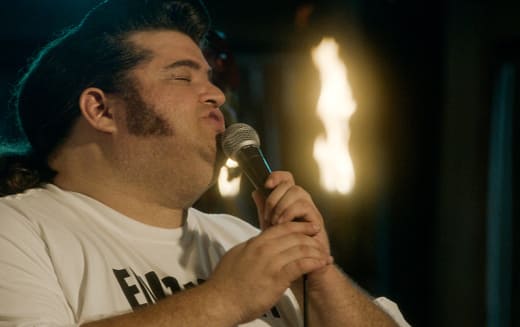 To start this off, my favorite part of this hour had to be that Max and Jerry continued their bromance and attended a concert dressed as Elvis and his long time manager. 
The dynamic that didn't work was between Danny and Steve. It barely looked like they liked each other, and I swear Danny wasn't happy once. 
Instead of working with Danny, Steve had more screen time investigating the case with Grover. Judging by the comments made on Hawaii Five-0 Season 5 Episode 20, I suspect a lot of fans won't like this, even though I thought they actually worked well as a team.
I was also very happy that it was mentioned that Grover went to Chicago to try and prove Clay's guilt, even though he wasn't very successful.
Normally, when I get someone else's pants I don't go on a violent killing spree to get them back.

Grover
Chin's problem with his brother-in-law was also revived and he was making demands of Chin about getting him off the island. His threat at the end was ominous and those pictures of Adam with an unidentified man were not at all what I suspected. I am really interested to see where this story line is going coming into the end of the season. 
The case this week had great comic relief. I enjoyed Steve and Danny both thinking they were on the trail of the murder and then discovering an entirely different case and murder.
I also liked the attempt to tie it in with a past case. However, just like his brother a few episodes ago, this criminal was disposed of way to quickly as well. He appeared to threaten Barry and take his diamonds back and then died in under 10 minutes.
At least he had a really cool scene where his gun came out of a guitar case, even though we all knew it was going to end one way. 
This installment made me a lot more excited for where the season will leave the team at the end. This season seems to be leaning toward everyone facing parts of their past. I suspect Kona and Adam may have to deal with the Yakuza again, and Chin is going to have to deal with his brother-in-law's demands, as well. Of course, we can't forget about Steve and how Joe has been making appearances and mentioned Doris. 
My favorite bits:
Jerry as an Elvis fan
Grover bringing pizzas in his bag 
Kono's face when Jerry was explaining his theory about why Lane was murdered 
The team interviewing the various impersonators 
What did you think about this hour? Did you enjoy the case of the week? Who do you think the man was in the pictures with Adam? Did you see that coming? What are you predictions for the end of the season? 
if you haven't seen it yet be sure to watch Hawaii Five-0 online via TV Fanatic!