Pretty Little Liars Season 6 Episode 3 Review: Songs of Experience
Paul Dailly at . Updated at .
Has the five year time jump already occurred in Rosewood?
Pretty Little Liars Season 6 Episode 3 gave me hope that we would get a decent conclusion to the A storyline.
I must give props to the gals. Who would have guessed that a stint in A's dollhouse would make them mature to a point were they would actually begin to deal with just how messed up their lives have become?
Remember we used to question every choice that came from one of the gals and struggle to agree that it was the best one? The show has successfully managed to reinvent itself and make these characters less annoying.
I completely stand by the way Jason acted when questioned about Charles. He must have been embarrassed to come clean about it. It's not very often you would hear a grown man admit to having an imaginary friend.
Which brings me to the parents.What horrible people would lead their kid to believe that they had imagined a sibling? Jessica DiLaurentis has some explaining to do!
Charles must have been the one to kill her. That's the only outcome that makes any sort of sense, but then again, anyone else who was clued in about the cover up could have killed her off. She wasn't the most mentally stable woman, so the killer probably had many sleepless nights before striking.
I was glad to have Anne back in the mix, but she should have steered clear of the girls. Remember what happened to her last time? The girls receiving the video message was shocking to say the least.
I don't know if Sara is being used as a red herring to throw us off the scent of Andrew, but she just seems to get weirder every week. I get that she was in captivity for two years, but she needs to chill out before she scares Emily,
I think it was a little bit too much of a coincidence that she would cut her hair short. It really makes me wonder if somehow Jason had a sister, rather than a brother. It sounds far fetched, but you only need to look at what went down in the town in the past.
I know that Toby has never been a fan of Alison, but he needs to give the girl a break. If she wants to date Lorenzo, she can! He was completely out of line going to Spencer to try and warn her off him. I don't get why it would cause any issues for him if Lorenzo and Ali become a thing. Does he know more than we do?
The reveal that Andrew was adopted fell flat for me. I'm sure everyone expected this. I did feel really bad for him at the conclusion of the episode when he was released. What if this guy really doesn't have anything to do with this whole mess? That's another life ruined.
I think the thing that A, Andrew hated the most was that we were friends. Ruining that was the biggest thing. I know it was.

Hanna
"Songs of Experience" was a good episode. It looks like we are finally on the right track to get the answers to the central mystery and it's long overdue.
Other odds and ends:
Does Ashley Marin know how to cook? Maybe Hanna just wanted a nice home cooked meal.
Ezria working together was really good. These two need some more screen time soon.
Sara's mom must be wondering where she is right about now, right?
Veronica and Spencer's argument at the conclusion of the hour was very powerful. What is with the witty dialog this time round?
Remember you can watch Pretty Little Liars online, right here on TV Fanatic. Get caught up now!
Note: Pretty Little Liars Season 6 Episode 4 airs Tuesday June 23 at 8/7c on ABC Family.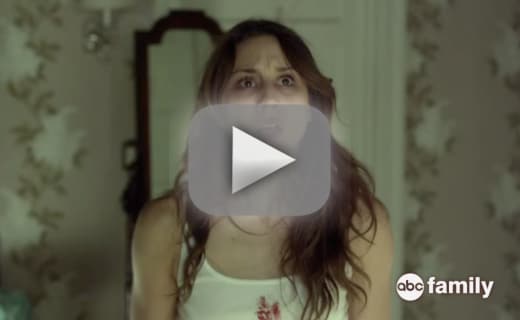 Paul Dailly is the Associate Editor for TV Fanatic. Follow him on Twitter.