We didn't end on a happy note with The Big Bang Theory Season 8, but the it still managed to offer lots of laughs while also dealing with a major loss.
So what episode was the best, which couple was our favorite, and what geeky moment did we enjoy the most? Check out our report card below!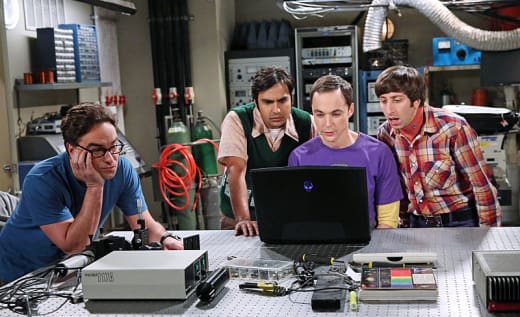 Best Episode: It's a tough choice, but the best episode overall honors Mrs. Wolowitz. The Big Bang Theory Season 8 Episode 18, titled "The Leftover Thermalization," honors her in a perfect way by bringing the entire gang together for a final feast. And thanks to Bernadette, we're also reminded of her voice one last time.
Best Couple: Howard and Bernadette. These two have always been great together, but this season allowed them to shine through the death of Howard's mother and the move into her house. They were a solid couple with some of the funniest moments of the season. 
Worst Plot Twist: Penny and Leonard take off to Vegas to get married? Seriously? As long as it's taken these two to get together, it's disappointing that they would want to run off and elope, but that's what they did on The Big Bang Theory Season 8 Episode 24. To make matters worse, they get in a fight on the way there that makes it seem like their relationship might be in trouble. We won't find out how that ends until next season.
Most Underutilized Character: This may sound strange, but the answer is Leonard. His character was one of the least interesting this season, often playing a supporting role to Sheldon or Penny. The exception? The Big Bang Theory Season 8 Episode 22, when Leonard gives a meaningful, and exceedingly honest graduation speech.
Favorite Guest Appearance: As much as I want to say Nathan Fillion for this one, the best guest appearance comes from Laurie Metcalf as Mary Cooper on The Big Bang Theory Season 8 Episode 23. Christine Baranski was amazing as well, but no one compares to Sheldon's mom.
Favorite Geeky Moment: Leonard and Sheldon taking a detour to Skywalker Ranch on The Big Bang Theory Season 8 Episode 19. This is exactly the sort of thing they would do, and it's even better that Sheldon gets himself in trouble in the process. It makes for a great adventure for both of them.
Biggest Surprise: While it's not surprising that Amy finally decided to break things off with Sheldon, it is surprising that he was hiding an engagement ring. Now THAT's how you do a season finale, you guys!!!
Overall Grade: B+
What grade would you give The Big Bang Theory Season 8?
Need to catch up on past episodes? You can always watch The Big Bang Theory online right here via TV Fanatic!
Ashley Bissette Sumerel was a staff writer for TV Fanatic. She retired in September 2017. Follow her on Twitter and on Google+.