Nashville Season 4 Episode 1 Review: Can't Let Go

Lindsay MacDonald at . Updated at .
Is it just me, or did those summer months feel like torture with no new Nashville? 
They even managed to extend that torture by making us spend the first few minutes of Nashville Season 4 Episode 1 wondering what Deacon's fate was! If you would rather not find out how that major cliffhanger panned out, I'd advise you to stop reading right about now.
MAJOR SPOILERS AHEAD!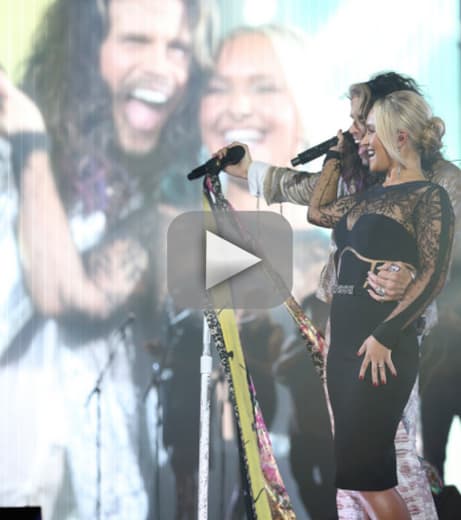 Well, let's all breathe a huge sigh of relief because DEACON LIVES!
I know, I know, it was practically a given that Beverly was the one to code on the table, but still! Those first few minutes where Rayna and the girls seemed to be in full on mourning mode were rough. Very mean, Nashville writers! 
I've had to do a lot of letting go lately. This one? Going to be real easy.

Rayna
Now that Deacon's cancer issues appear to be behind us (if he relapses, I'll riot!), you have to wonder what his and Rayna's story arcs will look like going forward.
For Deacon, it looks to be a future as a care provider for Beverly. Even if she manages to make a full recovery, I'd be willing to bet that she's going to hold a grudge about her brush with death for a long time. After all, she never even wanted to donate part of her liver in the first place. She seems the type to milk her sympathy long past its expiration date.
And Rayna... well this little rumor that her label is a failed vanity project has got to hurt.
After taking all that time to foster new artists, she's pretty much been left with no one. Sure, Scarlett and Gunnar have promising talent, but Rayna will need someone new to prop up her PR issues fast.
Compared to the heavy cancer plot from Nashville Season 3, these image issues for Rayna feel a little frivolous, but maybe that's the point. A girl can only take so much pain and misery before she needs to focus on less dramatic stuff. And it's been a good long while since we've seen Rayna really dive into her music. 
Speaking of image issues, Will's story this season is absolutely going to be one of my favorites.
In case you weren't counting, Will spent more than two years in the closet on Nashville. It's been a long road to his coming out party and... well, no one is throwing him a party. Rude!
I don't belong in my old places. I don't belong in there. I don't belong.

Will
Really though, you couldn't have expected it to be all smooth sailing for Will now that the truth is out. I've got a feeling that the bumps in the road are just beginning, especially where Kevin is concerned. Those two are so damn good for each other – and they make beautiful music together – so let's keep our fingers crossed they make it through this rough patch.
Not much to report on Layla, Maddie, or Daphne, our youngest songstress contingent. Though Jeff and Teddy weren't seen on screen (Oliver Hudson might be too busy screaming up a storm on Scream Queens), they pretty much dominated these girls' storylines. 
I'm particularly interested in Daphne's little bit of bitterness over Teddy's imprisonment and Deacon's new place as Dad. Daphne has mostly been pushed to the background in previous seasons due to her age, but this might be the season we get some serious development of her character. Time will tell! 
And now on to my favorite part of the hour!
Scarlett and Gunnar sitting in a tree, K-I-S-S-I-N-G!
For real though, can these two just live happily ever after already? There have been so many ups and down and Zoey's and Caleb's. It's beginning to make my head spin, especially since we know that those two crazy kids are going to get there eventually. I think most of us are just in it for the killer duets, but we'd also like to see this couple get a real shot, right?
Scarlett: I have a boyfriend, Gunnar. You make me feel like I'm out of control. You make me feel like somebody I do not want to be. He makes me feel safe. And I love him.
Gunnar: But you're not in love with him.
Scarlett: I'd like to be.
Gunnar: Then why do you keep ending up here with me?
If only Scarlett would stop running away from her musical match and into the arms of the world's most boring doctor. Sorry, Caleb, you're just not quite doing it for me.
Finally, we finish with Juliette, our totally out of control starlet. 
First of all, a round of applause for Hayden Panettiere and her amazing range. She portrayed the full spectrum of emotion, from flirty to bitchy to carefree to decimated. She might be all over the board, but she owns every single scene. You can't tear your eyes away from her. 
I just hope she manages to get back in Avery's good graces eventually. The poor guy has been a full-time daddy for way too long, and Juliette could be an amazing mother if she just got help for her post-partum depression.
I don't want our help or you pity, okay? I'm exactly where I want to be. I'm on the top of the world, and everybody knows that your label's a joke.

Juliette
We probably shouldn't expect her to be back in Rayna's good graces any time soon, though.That awful bit of harsh truth she doled out to her former boss was maybe a little too harsh.
That's Juliette for you, though.
Be sure to tune in for Nashville Season 4 Episode 2, and check back here for the review. 
And as always, you can catch up when you watch Nashville online via TV Fanatic!