Who would have thought Paige's intercoms would turn against her?
On Scorpion Season 2 Episode 1, the team is back than better than ever. Okay, so Walter is still recovering, but other than that, we've got ourselves a well-oiled team. Everyone's in sync with each other.
When Sylvester starts to doubt his math, Cabe stands up for him and says maybe something else was wrong. Sylvester, baby, you need to have faith in yourself. The day your math is wrong is the day the universe ends.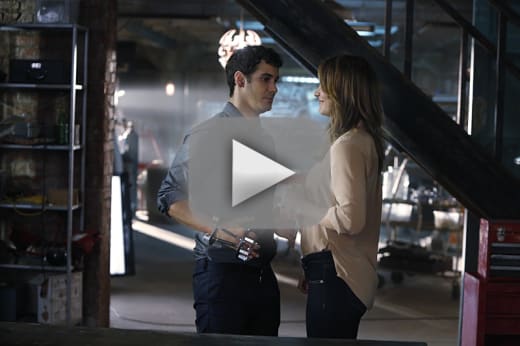 But seriously, everyone was working perfectly together. Paige even took on more of a useful role. It wasn't that she wasn't useful in Scorpion Season 1.
It's just sometimes she was kinda there, and you weren't really sure why. There wasn't a moment during this case where you questioned why she was there. Did you question why she would want to go up into a hot air balloon near a satellite? Yes, obviously, but that's because doing that is just crazy.
Now, Paige is taking over the business sides of things, but not only that, she showed her worth during the case. It's great to see her really feeling like part of the team instead of the outsider who translates the world for the occasionally. Also, does anyone else really hate the phrase, "translates the world"? It basically means that Paige doesn't let the geniuses be rude to people.
Speaking of Walter's recovery, I'm glad that we are seeing the damages from the accident in Scorpion Season 1 Episode 22. Sometimes there will be a big accident like that on TV, and in the course of summer break or winter hiatus, the character will be completely healed with no lasting side effects. 
It's interesting to see characters deal with trauma and have to adjust to their new life. Walter's not used to being unable to figure something out thanks to his dizzy spells, nor is he used to relying on other people to do his coding for him. I'm really excited to see not only how Walter copes, but how the team adjusts to seeing Walter in a less than 100% capacity. Walter's worried it may affect their effectiveness. Do you agree?
Now onto the case....oh I'm just kidding, let's talk about Waige!
I'll admit, I didn't really ship them in season one. I found the concept of them together a little awkward, mainly because Scorpion Season 1 Episode 1 featured Paige as a mother character to Team Scorpion. From there, there were a couple romantic moments, but it wasn't anything that made me change my mind.
After "Satellite of Love," I changed my mind.
Paige: Eavesdropping is a crime, you know.
Toby: Says the woman who assaulted an unconscious man. Felony much?
I'm fully aboard the Waige train. There weren't any traces of a motherly vibe coming from Paige. Not only did Walter and Paige actually talk to each other and open up about things, but they were adorable, awkward, and so cute. Walter being awkward really isn't shocking, but seeing Paige act all funny around Walter was precious. Their chemistry was palpable. It was difficult not to get all giddy watching them. The best moment, hands down, was the hospital kiss footage. I laughed out loud.
Plus, now Waige is sort of forbidden. Walter and Paige both want to forgo their feelings to protect Team Scorpion. It's admirable, and we certainly don't want anything to happen to our band of geniuses, but come on, it makes you want Walter and Paige to kiss that much more.
Thankfully, they did kiss – for science. Yes, science demanded that they make out to test to see if they were attracted to one another. Now, if this was the science that was taught in school, I might have been more interested in it. How long do you think Walter and Paige will last acting professional and not at all romantic?
Okay, okay, guess it's time to finally talk about that case. For the first one back, it was alright. There's normally quite a few hurdles that are thrown Team Scorpion's way during a case, and sometimes those hurdles can get a bit ridiculous.
What was great about this case was that the entire time the goal was the same – alter the satellite's course.
It was all trial and error. The team tried this one method. It failed. They went to the next one. This was a simple case, at least for Team Scorpion, and it allowed more time to be spent on Walter and Paige working out their feelings.
We still got fun little side trips that featured the slight rule breaking that Team Scorpion loves to do, but the case wasn't so complicated that it was hard to follow.
I'm like mold sporing on aged cheese. At first, it's gross, but it grows on you. And eventually, you realize how precious it is. What a rare and wonderful fungus you have. You better hope by then the fungus hasn't moved on.

Toby
The only other big aspect of the premiere, other than Toby comparing himself to mold, was that there's a new director of Homeland Security.
Adriana Molina is hard not to like. She talks fast, mouths off to the President and defends Team Scorpion. She wasn't belittling their usefulness or constantly yelling at them when they mess up and threatening them. Instead, she knew how valuable an asset they are. I like her. What about you?
What did you think of the return of Team Scorpion? Are you happy it's back? Leave me your thoughts and favorite moment in a comment below. Tune in next week for Scorpion Season 2 Episode 2.
Remember, you can watch Scorpion online anytime via TV Fanatic.
Allison Nichols is a staff writer for TV Fanatic. Follow her on Twitter and on Google+.