Arrow Season 4 Episode 7 Review: Brotherhood

Carissa Pavlica at . Updated at .
The gauntlet has been thrown.
It seems that a lot of seeds were planted on Arrow Season 4 Episode 7 for what lies ahead on the remainder of Arrow Season 4. Perhaps we've even been given our hint of who will be found in the grave.
The hour focused on family, giving people the benefit of the doubt and fighting above board. Let's chat about it.
"Brotherhood" was a really interesting hour. Not only was Diggle trying to brush off any feelings of concern for his brother Andy, while Oliver dealt with his desires to bring down Damien Darhk, but Ray Palmer was being introspective. 
We chatted on the Arrow Round Table why Ray made the decision to stay dead, and he gave a great explanation regarding his reasoning.
Felicity: Ray, when you come back from the dead, you're supposed to start living again. What's going on?
Ray: I've been catching up on the past six months, my company, my city, my life, and I feel like Tom Sawyer watching his own funeral, except in my case nobody cares.
Ray went on to explain to Felicity that he wasn't being pitiful, but rather self-reflective. He's been given a unique opportunity (alright, a LOT of people on Arrow have been given the same opportunity because, as Felicity pointed out, death's not permanent anymore) to start over, so he's going to find out what he's living for.
That was a pretty cool sentiment and one that we, and every character within the Arrowverse, could probably benefit from doing. 
Meanwhile, Diggle was really not willing to give his brother the benefit of the doubt. In his mind, he made a decision to sign up with Damien Darhk and that makes him unworthy of the efforts they would go to saving him. He kind of had a point. While he was mind controlled after the fact, Andy most likely volunteered his services initially. That's hard to swallow.
But everyone else will go to the nth degree for their family. Diggle considers Team Arrow his new family, as well as Lyla and Sara. He just sees things differently. That's why when he realized his team was probably in over their head saving his blood brother, he joined them. His Green brother needed him.
All wrapped up in Diggle's perception of family is his perception of right and wrong and darkness and light. 
Oliver: I need to believe that no matter what happens in our lives, no matter how much darkness infects us, I need to believe we can come back from that!
Diggle: It was exactly that thinking that led you to the League last year. It doesn't seem like you learned much from that.
Oliver was walking down a dark path again, willing to do in deep with Damien Darhk and lose himself in an attempt to flush him out. Oliver was completely missing the signals. He wasn't connecting the dots to see he was doing the same exact thing with Darhk that he did with Ra's al Ghul.
Oliver: We are going to take this guy down, and no idea is off the table.
Diggle: Look, you're doing things differently, Oliver. Fighting Darhk from the inside is just fighting Darhk in the shadows. You want to do things differently? You want ideas? Fine. Let's take this son of a bitch down in the light of day!
Nobody but Diggle can lay it on the line with Oliver like that. Felicity gives the softer touch, while Diggle pokes Oliver where it hurts. 
It worked, because Oliver threw down with Damien by moving forward with his hippie crunchy project to clean up Starling Bay. He promised to fight Damien in the light of day, out in the open where everyone can see. No behind the scenes madness, not backdoor deals.
This is going to really light a fire under Damien's ass. 
First of all, Damien told Oliver that may mean he would no longer be running unopposed if he moved forward with his project. Do you think Damien will run for mayor or perhaps back another candidate for the position?
Though that's not what really worries me. While this was going on, we also had Thea and the recurrence of her bloodlust. Malcolm's attempt to make her into Dexter went unheeded. But it might have been a better idea than the avenue she's interested in pursuing.
When Damien laid a hand on her in battle, something happened. We didn't know what it was, but he turned red and black veins stood out. He looked quite confused and said something like *it usually works.* She later told Malcolm that his touch rid her of her bloodlust. Something magical or mystical intervened, and it's her intent that they discover what it was and attempt to make it permanent.
Does that sound like a horrific idea to anybody else?
With the theme of family that ran through this hour and the gauntlet that was thrown by Oliver, the anger that was inspired in Darhk and the idea now swirling in the heads of Thea and Malcolm with Darhk at the core, it seems possible Thea is in the grave. 
So here's the thing. Arrow Season 4 Episode 8, "Legends of Yesterday," airing on Dec. 2 will be the second half of a two-part Legends of Tomorrow crossover extravaganza with The Flash featuring villain Vandal Savage. On Arrow Season 4 Episode 9, "Dark Waters," Green Arrow makes a bold move against HIVE, Malcolm leaves Thea with a warning and things take a horrible turn when Darhk retaliates in a brutal manner at Oliver's mayoral holiday party.
That sounds very, very bad. Do you think Damien can feel how close to death Thea was when he touches her? You know how he feels about people who have dunked in the pit. Do you see what started in this hour taking a sharp turn on Dec. 9? Or am I maybe reading too much into all that is occurring with Darhk, Thea and the upcoming episodes? Will 
It would seem Andy might be a good guy from whom to get answers about Damien if they can release him from his stupor. But didn't Ray pretty much say once the DNA is scrambled, there's no going back? So does that mean Andy's a lost cause? That all the Ghosts are lost causes? Why would you even attempt to save an assassin who is genetically wired to kill forever more? Unless you can create a counter drug to rewire them again.
And we still don't know what's mapped inside the box or what devastation THAT will cause. Holy moly. There is so much up in the air right now!
Alright you guys. What did you think of "Brotherhood"? Any new thoughts on who is in the grave? Will Oliver continue to run for mayor unopposed? Hit the comments!
Don't forget that you can watch Arrow online to catch up if you need to and to be back here on Dec. 1 and 2 for the two-part crossover with The Flash, the promo of which follows!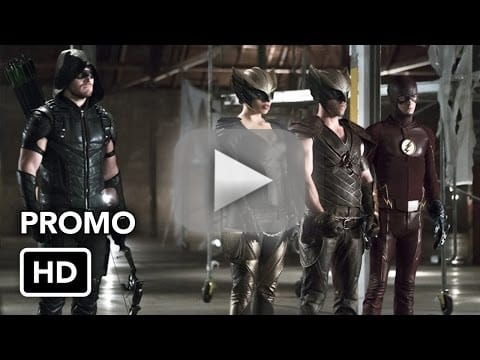 Carissa Pavlica is the managing editor and a staff writer and critic for TV Fanatic. She's a member of the Critic's Choice Association, enjoys mentoring writers, cats, and passionately discussing the nuances of television and film. Follow her on Twitter and email her here at TV Fanatic.