Chicago PD Season 3 Episode 8 Review: Forget My Name

Stacy Glanzman at . Updated at .
Some super secret government encryption chips went missing on Chicago PD Season 3 Episode 8 and our team did not have much to go on in terms of solving this one. 
They received a tip from a NSA informant and thought they were going after drug dealers, but they got more than they bargained for when the lead turned up a dead body instead. 
What did you think of the case?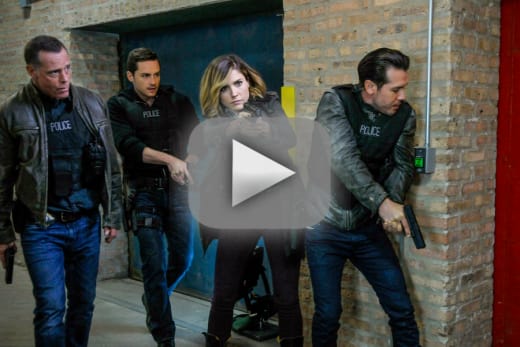 Personally, this was not one of my favorites. It just wasn't holding my interest as much as most of them do, but that doesn't mean it didn't give us some fun moments. 
Lindsay and Halstead's surveillance stake out, for one, cracked me up. 
Lindsay: Look at her, like nothing happened.
Halstead: What, were you expecting crocodile tears? She thinks no one's watching.
Lindsay: A fully committed murderer would stay in character, that's all I'm saying.
Halstead: I'm gonna sleep with one eye open.

The whole point of surveillance is to catch people letting their guard down when they think no one is watching. I guess it's a good thing Lindsay is a cop and not a criminal. 
Besides the somewhat lackluster case, there was plenty of other drama going on to keep us entertained. 
Mouch asking Burgess to get Platt's ring size was hilarious. I had no idea what her plan was when she walked into that bathroom, or how she could tell her size by just feeling her fingers, but Platt's reaction was great. 
I feel like we just made out, like I should make you a mix tape.

Platt
One question though, why did Burgess decide to tell Mouch her size in person with Platt standing right there? I know she did it in code, but she couldn't have just texted it to him? Maybe send an email? It would have been a little less awkward for Platt. 
I mentioned in the Chicago PD Round Table that it would make sense for Ruzek to move in with Burgess and let Olinsky and Michelle have the apartment for awhile. I'm glad that topic was broached. Not all engaged couples live together before marriage, but this is the perfect time for them to start talking about it. 
Well, Burgess is demanding they get their own place, so I guess there's not really much to talk about. Ruzek is getting a little hard to read. I think this marriage thing is just starting to feel real to him. I hope the two of them have a real conversation about it soon.
Atwater has found himself in quite an awkward situation. He wants to be on Captain Whitaker's good side and attend more poker games, but how far is he willing to go for him? You know this favor won't be the last one asked of him, and they're just going to get bigger. It actually reminded me of Voight versus Casey when Voight's son was the one in trouble. 
So Roman seems to be pursuing the mother of the little boy who died, and she may or may not be stable. Is he about to get himself involved in a dangerous situation? It sounds like her ex-husband is not someone he wants to get to know. 
At least he's not pursuing Burgess anymore. 
Your turn, did you guys like the case more than I did or were you more interested in everything else that was happening? 
Was anyone else surprised when Roman and Burgess pulled up to that ambulance and it wasn't Brett and Chili's? 
If you missed anything, you can watch Chicago PD online and catch up. 
Stacy Glanzman was a staff writer for TV Fanatic. She retired in March, 2019.