Nashville Season 4 Episode 9 Review: Three's A Crowd

Lindsay MacDonald at . Updated at .
There was so much relationship drama-rama happening on Nashville Season 4 Episode 9!
I don't even know where to start! The bizarre new love triangle between Rayna, Deacon, and Markus? Maddie's incessant need to be a horrible big sister to Daphne? Colt and Luke's explosive fight about bad parenting? There's so much to cover, so let's dive right in!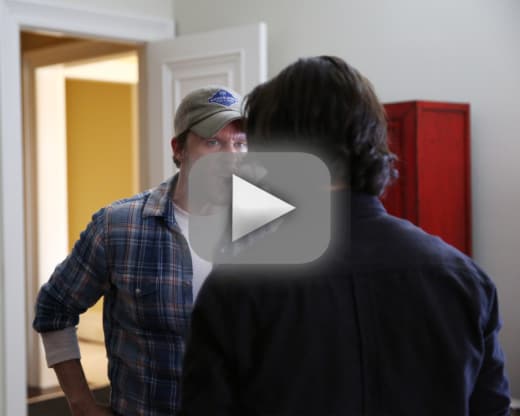 Naturally, I'm starting with none of the above relationships.
Scarlett's swing-and-a-miss with Caleb is where we'll start this review, since it's the easiest to break down. And by break down, I really mean BREAK UP.
Seriously, kids. Break up already. Caleb is sweet and cute and... that's about it. If it wasn't blatantly obvious since the moment they met, there is barely enough chemistry between them to constitute a relationship and not nearly enough to make up for their total lack of compatibility. 
I'm dealing with people who have cancer. Okay? I'm not driving around, singing for a hundred people a night and getting a few free beers out of it.

Caleb
The fact that Caleb so clearly looks down on Scarlett's music career (we get it dude, you cure cancer!) should have been the final nail in the coffin for these two weeks ago. Unfortunately, Scarlett has never been one to cut ties easily. I expect a real break up in the fall finale. Hopefully.
Too bad for Scarlett, Gunnar might not be available anymore once she's a free woman again. 
Gunnar's desperate need to reconcile with Scarlett was an interesting drive for his character earlier this season, but it seems that drive is gone now. His relationship with Erin is going great, he's got a new song, a successful tour, and basically everything he's ever wanted. Has he finally found a way to put his love for Scarlett behind him? Doubtful, but you never know! 
I'm also doubtful that this love triangle between Markus, Rayna, and Deacon will survive into the back half of the season. Things appear to be heading towards a breaking point on Nashville Season 4 Episode 10, if that kiss in the promo is any indication.
You wrote a bunch of Rayna's songs, which means we obviously have the same taste in some things.

Markus
Rather than playing up the love triangle or any mixed feelings, Rayna made it clear that Deacon was her guy and Markus needed to back off. Whether or not he takes that advice – and whether not that will lose him a label and a producer – is yet to be seen. At this point in Deacon and Rayna's relationship though, I'd be shocked if someone like Markus managed to come between them for more than one or two episodes. 
He'll move on to something or someone else after Rayna shuts him down, mark my words. I'll take this opportunity to subtly remind everyone that I've been calling for a Leila/Markus thing since forever. Just saying.
Finally, let's talk about the kids.
First, I want to say how much I respect Colt, even when he's throwing tantrums. Luke made the wrong choice, covering for Juliette and letting everyone believe Jeff's death was a suicide. Colt's rebellion has nothing to do with teenage angst and everything to do with feeling like he couldn't trust or believe in his own father.
That's heavy stuff for a 16-year-old to handle! He might be acting like a bit of a brat, but he's got firm ground to stand on in my book. 
Maddie, on the other hand, has no ground to stand on. Even if she did, I would knock that girl on her butt for the way she's been behaving lately. 
Daphne: You wanted us to be taken more seriously, and I was just trying to-
Maddie: To look ridiculous?
Disrespecting Rayna and Deacon is one thing, but Maddie has been tearing Daphne down at every opportunity, which is absolutely not okay. I get that sisters fight – I've got three, and they've all been varying shades of awful to me over the years. But Maddie took it a step too far, and she just barely managed to course correct and apologize in time. 
On the back burner, we've got Avery and Will struggling to make career choices. Hopefully these two plots get more developed soon, so be sure to tune back in! 
You can also watch Nashville online right here at TV Fanatic!