Crazy Ex-Girlfriend Season 1 Episode 9 Review: I'm Going to the Beach With Josh and His Friends!

Christine Laskodi at . Updated at . Comments
If Crazy Ex-Girlfriend's entire first season can be strung together to create an epic musical, then consider this the end of Act One.
While many things can be said about Rebecca's mental state throughout the series thus far, one thing becomes perfectly clear in Crazy Ex-Girlfriend Season 1 Episode 9.
Rebecca is a better person because she is in West Covina, California.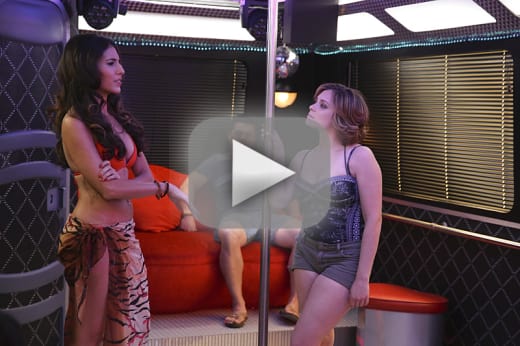 Paula: You are just setting yourself up for another one of your disasters!
Rebecca: What do you mean ANOTHER one of my disasters?
Paula: Taco festival, the Spider's debacle, getting stuck in your shrink's doggy door, begging a client to sleep with your mother, and lest we forget POOPSGIVING?
Rebecca: Those were unfortunate, but random, occurrences!

Early on, Paula lists the many crazy things that Rebecca has done since arriving in the sunshine state, things that include her crazy dance with Valencia at Spider's, getting stuck in her therapist's door, and trying to make her client sleep with her mother. 
Strung together, it seems that, yes, Rebecca has had her share of crazy moments since we met her. But along the way, she's also found a piece of the happiness that she was desperately in search of before she ever ran in to Josh Chan on the gritty streets of New York City. 
Side Note: I love that Paula listed actual events that transpired and that writers didn't include wacky fictional moments. Let's get real. Rebecca's life is colorful enough as it is. There's no need to add any fiction to it.
Paula also points out something that hasn't actually occurred to me, as a viewer. Rebecca has never, over the course of the entire series, actually admitted out loud that she's in love with Josh.
She's alluded to it, sure. Her schemes have all centered around ways to squeeze herself into Josh's life. But she's always maintained that she did NOT move to West Covina for Josh, and that she just needed a change. Pointing that out to the viewer is a key reminder that makes everything else in the hour work.
The bulk of the episode takes place on the saddest party bus ever with Rebecca, once again, scheming to try and get into Josh's friend group. Though, to be fair, she's friendly with nearly everyone on the bus already; everyone aside from Valencia.
Valencia concocts a plan of her own to make the gang see that Rebecca is crazy, and she succeeds when she finally gets Rebecca to admit why she moved to West Covina. Becks begins to spout out her usual lie; she was offered a great job.
Unfortunately, her boss Darryl is also on the bus and he spoils that story for the gang.
It's up to Rebecca to finally suck it up and be completely honest, for the first time, about why she really moved across the country and happens to be in all of their lives.
Rebecca's truthful admission to the group upon being called out for her string of lies is a stellar moment for the crazy ex-girlfriend, and for recent Golden Globe and Critic's Choice Award winner, Rachel Bloom. 
It reminds the audience that we may have lost sight of why Rebecca is in West Covina in the midst of every scheme, every romantic endeavor, and every over-the-top musical number.
Rebecca was unhappy. Rebecca needed a change. She needed hope.
And thanks to a wacky butter ad, and a well timed arrow dipping down, she found that hope in Josh Chan, her former boyfriend, who makes West Covina sound like a place where dreams come true. 
Rebecca: Josh I'm so sorry that I lied. But the real reason that I moved here sounds so insane.
Josh: But see that's just the thing. I don't think it's insane at all.
Rebecca: Wait, what?
Josh: Rebecca, I lived in New York, remember? I know what it's like it's tough and it's cold…I've spent my whole life defending this town to people like Greg. Do you have any idea how proud I am to be the one who told you about this place?
Since the beginning of the series, I've questioned why Rebecca is in love with Josh, why he captures her attention so fervently. "I'm Going to the Beach with Josh's Friends!" gives me so many of those answers. 
Josh is a really happy guy. He doesn't see the world as a trap, the way that Greg does. (More on Greg in a few moments.) He's not cynical about the motives of those around him, as Valencia is. Josh is full of positivity and enthusiastic optimism. 
Josh approves of every move that Rebecca makes, something that her pole dance clearly points out that she's in search of; approval. 
Josh is supportive. He thinks that Rebecca is cool and funny. He sees every one of her achievements as though they are the greatest things that she's ever done. He's full of endless praise for her. 
And he gets it. He's lived in New York and he remembers how lonely and cold it can be. 
So from his perspective, while she may have lied about why she came to West Covina, Josh can forgive her because he completely and totally understands. He couldn't be more proud that he was able to share his happy little corner of the world with Becks. 
West Covina, California. It's so cool you see the bounty of the best town in LA County. It's nirvana, it's heaven, it's mecca. And I'm hopelessly, desperately in love with…West Covina.

And based on his words to Rebecca in the reprise of "West Covina" from Crazy Ex-Girlfriend Season 1 Episode 1, it sounds like he's really starting to come around to his true feeling about Rebecca, ones that are deeper than just the attraction that he's already confessed to.
Which brings about that admission, the one that matters most for our less than sane heroine...Rebecca finally tells Paula that she loves Josh. So much. 
Guys. I think I might be coming around to an ending that actually brings Rebecca and Josh together. I thought that I could never be swayed away from Team Greg, but there it is. 
Rebecca: Is this like a date? Are you guys dating?
Greg: I don't know.
Heather: Do people still use that word?
Rebecca: Um, yeah. Yeah.
Heather: Cool. Dating. Yeah.

I love Greg and Heather and how weird they are together. Greg deserves better than what Rebecca can give to him right now, and Heather genuinely likes Greg. There's no "settling" with her. 
It also feels like Greg's unresolved tension with Rebecca is resolved. She's obviously a bit jealous to discover that her neighbor is dating her former almost-fling, but as far as Greg is concerned, I really think he's over her. 
At least, Greg is over her for now, and Rebecca has fully given in to her feelings for Josh, finally admitting to Paula that she's completely in love with him. So it seems very cut and dry for these romances right now.
But as all fans of musicals know, Act Two is where the real action goes down, and that's where we're headed. 
High Notes:
Rebecca wants to bring fraction flash cards to the beach.
Does anyone else want to see the Darryl/White Josh spinoff?
Darryl's hip new haircut, guys. Also his bean dip. 
I need more songs from Valencia, STAT.
What did you think of the winter premiere of Crazy Ex-Girlfriend? Are you at all surprised by where the story is headed? Be sure to share your thoughts below!
Missed the episode? We've got you covered! You can always watch Crazy Ex-Girlfriend online right here at TV Fanatic! 
Be sure to tune in on Monday, February 1 at 8/7c for Crazy Ex-Girlfriend Season 1 Episode 10, "I'm Back at Camp with Josh!" when Rebecca tries to remind Josh of the summer when they met.