American Crime Season 2 Episode 6 Review: Welcome Back Eric

Samantha McAllister at . Updated at .
Things are really starting to heat up!
On American Crime Season 2 Episode 6, Anne continued her fight against Leyland. I really don't believe Anne is taking things too far. Anne is trying to get some justice for her child and wants to see the school own up to what happened.
If the school had taken some responsibility it wouldn't have gotten this far.
Let's not get ahead of ourselves and discuss, "Welcome Back Eric."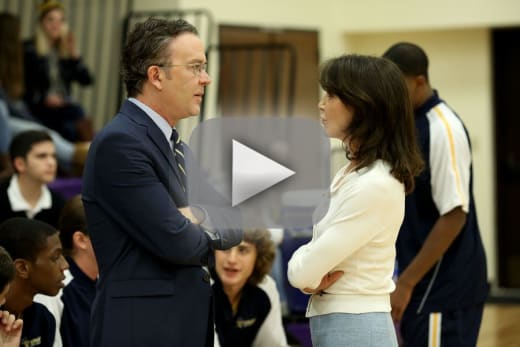 It was a terrible idea for Eric to go back to Leyland. While I respected Dan's speech to the guys about accepting Eric back, they were never going to be open to it. I'm honestly a little shocked Eric's parents allowed him to go back to school after everyone came out about his sexuality and sexual encounter with Taylor.
It doesn't even come down to protecting Eric. Putting him in a situation where students, who can be cruel, will always view him as the kid who had sex with Taylor at the captain's party.
Why couldn't Eric finish his studies at a public school? Or even have his parents look into another private school which would benefit Eric.
Of course Leslie would be the one to want to spin the whole sexual assault case to benefit Leyland. Leslie still continued to turn a blind eye to the growing problem in her school. After hearing about the sexual acts happening at the party she should have immediately questioned the ethics of the students. 
Why do these kids think it's OK to have a sex game called making the team? Instead she continues to make excuses and blame Taylor for everything. Taylor believed he was a victim of sexual assault.
She can't continue to paint Taylor in a negative light because it doesn't fit with how she sees things.
Leslie is continuing to get on my nerves by her constantly putting Anne down as some desperate mother. Should Anne have consulted with Taylor being making the sexual assault case?
Of course, but she felt she was doing the right thing. This isn't about getting money out of the school or even making the school look bad.
Anne has always maintained she wants an apology from the school yet Leslie has always turned it around to make Anne look stupid. Anne was right about the school knowing about the party, and it was even advertised at school, so why isn't the school partly to blame? It's not a secret what happens at these parties.
On the other hand I understood where Anne's lawyer was coming from about the lawsuit. They only had one written statement from one person and it's just not enough to merit a lawsuit.
I honestly look forward to the therapy sessions with Taylor because it's the only time we really learn more about him. He's clearly filled with a lot of anger, rage and sadness – I'm waiting for it to all come out. 
Taylor gets credit for listening to his therapist and confronting his problems head on. I was surprised to hear how Nate affected Taylor. It was heartbreaking hearing Taylor tell Nate how he still remembered Nate's hurtful words.
Was Nate meaning harm? No, but it shows just how much kids listen to those around them.
Hearing Taylor's story gave me an entirely different perspective on who Taylor is. He has always felt like he needed to hide himself to be accepted by those around him.
While everyone wants him to believe no one will cast him out, he saw how people can be. I now understand why Taylor keeps himself so closed off.
Is anyone else a little bored with it? I understand what they're trying to do, but I am just not into it. I feel terrible for Mr. Dixon because he really is trying to do what he feels is the right thing, but he can't make everyone happy. I'm just more enthralled with the Leyland side of things.
In the end, I knew Taylor would eventually be targeted by Eric's teammates. What makes it even worse is Eric had a hand in the entire thing.
Just when I was starting to feel bad for Eric he goes and does something absolutely stupid to try to fit back in with his team. 
I also figured Michael would go after Anne and pull her skeletons out of the closet. It was bound to happen eventually. I'm ready to hear what happened to Anne and why she had to leave Taylor behind. 
Don't feel bad if you missed out! You can watch American Crime online now via TV Fanatic. Just make sure to come back to let us know what you think.
Samantha McAllister was a staff writer for TV Fanatic. She retired in November 2018.