Pretty Little Liars Season 6 Episode 14 Review: New Guys, New Lies
Paul Dailly at . Updated at .
This new A was not kidding when they said they would hide in plain sight.
On Pretty Little Liars Season 6 Episode 14, the girls realized that Charlotte's death was just the tip of the iceberg and that someone is out for them once again. 
I just have to get one thing off my chest: Byron Montgomery is not the killer and has nothing to do with this whole thing. Sure, he may have teamed up with Ashley to delete the footage, but that's as close as he gets to it. 
I get that he wants to play the role of protective father and all, but remember how long it took him to realize that Meredith was a crazy way back on Pretty Little Liars Season 3? He ain't fooling anyone and the writers aren't either. 
It seems like the show is falling back into the pattern of having the girls point the finger at a lot of people before being blindsided and the perpetrator is someone they've overlooked the whole time. 
So far they've blamed Ezra, Sara, Alison and now Byron. This all in a matter of weeks. They should have a book out with everyone they've suspected over the course of the show and they're crazy hypothesis for it.
Seriously though, this new mystery is already tired. It's not exactly new either. It's just a new person playing the villain who has been a major part of the show all along. 
The addition of the old dude mask was a good one. I got creeped out when the person was looking in Aria's window, but the closing scene showed us that this new one won't hide in the shadows. They can be pretty much anyone they want to be. 
The ships have pretty much all sunk in the five year time jump. I'm not entirely against that. It's life and people grow up and move on. The addition of Yvonne was a welcome one. Teen dramas have a habit of introducing these characters and making viewers hate them. 
Thus far, Yvonne, Liam and Jordan have been pretty stand up people and it does show that the show is going on a more mature path. It's just a shame that the liars are struggling to be mature about it all. 
I nearly fell off my seat when Caleb informed Toby that he and Spencer were proud members of Bone Town. Did anyone expect that reveal to come so soon?
I can't help but think that Spencer should have been the one to tell him. There's obviously a lot of lingering feelings from the relationships that took place prior to the time jump and I expect them to be ironed out as we progress. 
Spence we're not an us anymore. You don't get to weigh in on my life anymore.


Toby
For what it's worth, Spaleb are actually a very engaging couple. The two of them are very smart and together the two of them could solve this new A mystery. They have more brains than every other person on the show combined.
Aria really pissed me off with the way she went into Ezra's apartment and checked the golf clubs. She touched them. What if one of them was in fact the murder weapon? Did she not think to wear gloves? Am I over thinking this, or do these girls really need to up their game?
The only one that really seems to have matured to me, is Hanna. She didn't want A to have her lie hanging over her. She's clearly learned how that affects her as a person and doesn't want to be the scared girl she was all those years ago. 
It's not worth continuing to lie if someone is literally watching your every move. There'll be no way out and I'm pretty sure that soon one of the liars are going to get in too deep and won't be able to plead their case.
We're left at point that will make or break this whole storyline. The first three episodes back were very solid, but the cracks have already begun to show and it's anyones guess whether the show is about to fall off the rails, or if this episode was just the calm before the storm.
If this new A really means business, they should start taking out the weaker characters. That would make me more engaged to see the rest of the show. 
Other tidbits from the episode:
Spencer and Yvonne get on so well and I hope it lasts. I wouldn't want to see Toby get all shouty with Miss Hastings. 
Ashley stealing that footage is going to come back and bite her in the ass. Nothing stays secret in Rosewood and she's just played into this new A's hands. 
Lorenzo is going to be furious he couldn't have Hanna in to confess. Is anyone thinking he could be part of the new mystery?
Normally Emily makes the worst decisions with chicks, but the girl at the brew seems nice enough and her comment to Aria about the weed made me chuckle. 
Remember you can watch Pretty Little Liars online, right here on TV Fanatic. Get caught up on all the drama now! Be here with us next week as we run down the next new episode. 
What did you think of "New Guys, New Lies?" Is Byron or Ezra this new A? What did you think of Yvonne? Chat with me in the comments.
Here's your first look at the next episode: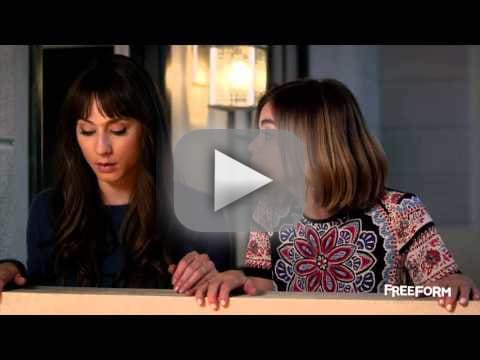 Paul Dailly is the Associate Editor for TV Fanatic. Follow him on Twitter.