Shameless Season 6 Episode 5 Review: Refugees
Paul Dailly at .
Will Lip be able to win back Helene?
That's one of the more pressing questions after watching Shameless Season 6 Episode 5. There's no denying that this was all going to end in tears, but I didn't think it would go down like that!
Amanda is a conniving bitch, but we can't forget how good she was to him. Maybe she was a little too needy, but she made sure that he had everything he needed. Lip seems to have all these girls fall in love with him, but he always wants what he can't have.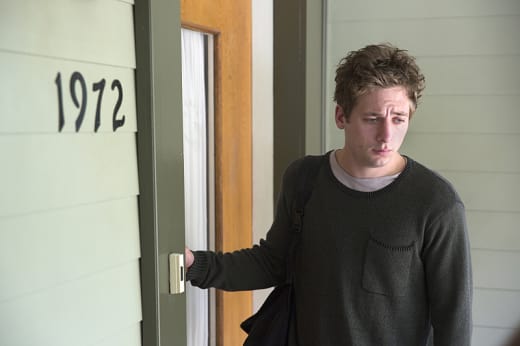 I wish I could say I'm happy he looks to be away from Helene, but I kind of feel sorry for her. She isn't exactly cheating on her husband. They have some sort of weird deal in place, and he probably has his fair share of women on the side when he's away on business trips, but Helene sees something in Lip.
Remember we got some insight into how she really feels about him on Shameless Season 6 Episode 4? Had that not happened, I wouldn't be feeling as bad for her as I do now. She can kiss that book goodbye and probably her job.
We won't have seen the last of her just yet. Lip is going to share the screen with her once more, but she isn't going to be all that forgiving, and no one would blame her. 
She crossed a line when she allowed herself to have that sort of relationship with a student, but they were both consenting adults and it takes two to tango. Lip was stupid to even leave Amanda in the room. The fact that he left his cell phone was stupid, but with her knowledge about the relationship, she would have done something else to make it a hot topic among her peers. 
A lesson for lip would be to think about his actions going forward. He seems to push the chicks who really love him away and that's not going to help him settle down and start a family, or even finish college. 
Elsewhere, the Gallaghers losing their home could actually be a blessing in disguise. That home was a house of horrors for them that kept them reminiscing about all the things that went wrong there. It's time for Fiona to stop pursuing it and just move on. 
She needs to make new memories and that's what will probably ultimately get her to keep her child. It was mature of her to realize that arguing with Sean would not get her anywhere, but Sean was a dick about the whole thing. 
It didn't make sense for him to single out Carl for being in juvie. Sean was incarcerated, too. He should have known before getting involved with Fiona that getting involved with a Gallagher means getting involved with the whole clan of them. 
It remains to be seen exactly what Fiona will do next, but you should all probably expect the new home to be significantly smaller than her previous one. That's what happens when you have limited funds, but to be fair, she doesn't need all the space she had. Debbie and Lip are both gone, and if Ian takes this whole firefighting thing seriously, then he'll be next to go. 
We can't forget about Carl, but he seems like he has it all planned out. His life will consist of fast cars and any girls who will give him the time of day. 
"Refugees" was another solid installment of this Showtime drama. Shameless Season 6 has done wonders for the longevity of the show, and it's clear that there are plenty more stories to tell before this one shows any signs of age.
Other tidbits from the episode:
Did anyone else see that Tony twist coming? Maybe he'll actually get a storyline this time round. 
Is anyone else shipping Ian and his new man already? He seems like a nice enough guy, but what happened to him waiting for Mickey? I guess that's out the window. 
Veronica's rant at Carl about the way he's acting was hilarious. 
Svetlana bringing Fiona down a few pegs was needed. 
The refugee kids look like they're going to cause a whole host of trouble in the neighborhood.
Debbie's storyline isn't all that interesting, but it was a good twist to have the wife hop into bed with her.
Did everyone seriously forget about Chuckie? That kid can't catch a break.
Remember you can watch Shameless online, right here on TV Fanatic. Get caught up on all the drama right now. 
What did you think of the episode? Will Lip and Helene be a thing? Hit the comments with your take on the episode and be with us next week as we run down Shameless Season 6 Episode 6.
Paul Dailly is the Associate Editor for TV Fanatic. Follow him on Twitter.