This is how you do a season finale. 
On American Crime Season 2 Episode 10, questions were being answered while there were still questions left wide opened. Despite the series only having two full seasons under its belt, this was arguably the most powerful one. What makes it even more interesting is how Taylor and Eric never shared a scene together.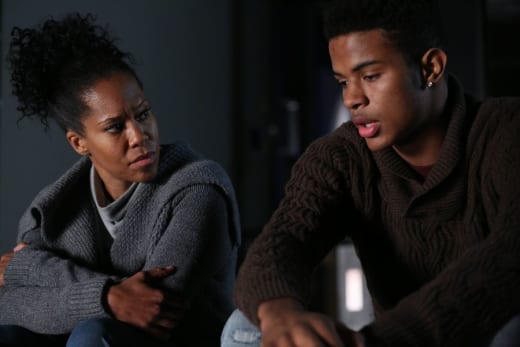 It was such a smart idea to not have Taylor and Eric share scenes because it would tarnish the story. Taylor truly believed he was violated, and he had every right to believe he was, but Eric has always maintained his innocence.
I understood why Taylor would want to take a plea deal. After everything he has been through it would have been so much easier to just take prison time.
I'm still not sure if prison is the right place for Taylor. He would do much better in a mental health facility to help him cope with his anger and try to work out the various things he has gone through. 
It was such an impactful moment seeing everyone involved in the case getting arrested. The sad thing about all of this is it took someone getting murdered for the police to really do anything. Had they taken Taylor seriously in the very beginning and done proper questioning, so many things could have been avoided. 
Of course, it didn't help matters when the parents of the kids were constantly making excuses or being blinded by their actions. The running theme throughout this season seemed to be, if we ignore it then it never really happened.
Dan ignored the truth about what Becca was doing with the drugs. Instead of making her take responsibility for her actions, he broke her phone and told her to not say anything. To make matters even worse, Dan looked like a complete idiot by acting as though he knew nothing about her selling drugs.
Did he really think he was going to get away with saying the texts being released were made up? I gave the school credit for getting the police involved so quickly. It was nice seeing them doing something right for a change.
Speaking of ignoring things, I was incredibly pleased with the way Terri tore into Michael about hiding the statement. Terri really has come a long way since American Crime Season 2 Episode 1. She was no longer blinded by what Kevin may or may not have been involved in. 
Terri wanted Kevin to be honest about what happened. She made some excellent points about how hiding the statement only made Kevin look like a liar. Michael really did make things worse, not only for Kevin, but for his detective friend, as well. At least it opened up some lines of communication between Terri and Kevin. 
Eric's statement was probably the most humanizing. Even though I'll never condone what was done to Taylor because he didn't deserve to be beat up simply for being gay, I now have a better understanding of why Eric helped.
The guys were looking to go after anyone who was different. Learning they threatened Eric didn't shock me at all. 
What did surprise me was the truth about who really released Anne's medical records. I believed Michael was the one who was behind the leak. She was the most cunning and manipulative person. Leslie played the game extremely well, but Dan definitely took the upper hand. 
I enjoyed how they kept various things opened for interpretation. It was fascinating to see how one moment, one decision, can impact the lives of various people.
We didn't need to know what Taylor would plea or if Eric would get into the car because we, as an audience, have a better understanding of who these people are now.
We're left with our own theories of the decisions these people have made. I want to believe Eric didn't get into the car and instead went back to his house. I want Taylor to take the plea deal because it would be his best chance. I never wanted these stories to be wrapped up neatly with a bow because they were all incredibly intricate.
Now it's your turn! What do you think Taylor did? Do you think Eric got into the car?
Don't feel bad if you missed out! You can watch American Crime online now via TV Fanatic. Just make sure to come back to let us know what you think. 
Samantha McAllister was a staff writer for TV Fanatic. She retired in November 2018.