We got a double dose of New Girl and I'm starting to see how they are going to finish off this season. It seems as though the central theme this season is Jess finding herself while also trying to juggle her personal life.
On New Girl Season 5 Episode 15, Jess had to deal with the decision she made in dating Sam again. Was it a good choice? Of course not! Ever since she and Nick broke up, she's gone through a vicious cycle of men who aren't suitable matches.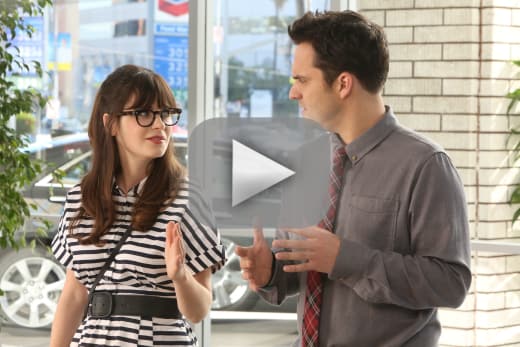 It was pretty amusing watching Nick and Sam try to out-do themselves when Jess was talking about her trip to buy a car. 
It would have been unrealistic to have Nick and Sam getting along with each other and becoming friends. I'm still having a hard time accepting the fact Jess' friends are OK with her dating Sam again. After everything she has been through and everything she has put Sam through it was never a good idea for them to get back together. 
The sexiest car salesman storyline was incredibly boring. At least Nick and Sam were able to make it a little more bearable. Jess should have known the moment she told Sam about asking Nick for help he would show up at the dealership. 
I was happy to see Jess finally get fed up and decide to go after what she wants. I'm really enjoying this new version of Jessica Day. It was time for her to finally grow a backbone, but I hope it continues to grow for the rest of the season. 
Speaking of relationships, who else was loving Rhonda and Winston together? Winston has officially found the female version of himself – he certainly does have a specific type. 
Of course, I knew the moment Winston and Rhonda got married he would somehow be forced to stay married. I'm really disappointed they're going down this road because I really want to see him and Aly get together. Rhonda could also get extremely annoying rather quickly, especially if she keeps up with all of her pranks. 
Things got even more interesting on New Girl Season 5 Episode 16 when Jess had a sex dream about Nick. 
At this point, either put Nick and Jess back together or let them move on with other people. It's becoming repetitive and irritating watching this back and forth. Like I said about New Girl Season 5 Episode 14, there's absolutely no reason to get behind Jess and Sam as a couple. 
No matter who Jess dates, Nick will always be there as a reminder of who Jess used to be with. Sam doesn't stand a chance with her, especially with Nick still in the picture. Even Cece doesn't click with Sam which dooms the relationship even more. It was painful watching them try to have a conversation.
I couldn't help but feel bad for Sam when Jess refused to ruin the helmet. It was actually a sweet gesture on her part, but what really got me was Nick making the decision to stop coming between her and Sam. 
I couldn't blame Nick for wanting the details of the sex dream. It probably would have been easier to just give Nick his things back instead of throwing them out; though I had to admit the entire sex dream was rather interesting. Jess really does have one wild imagination. 
Of course, Ferguson was the one who ultimately stole the show. Ferguson can make even the most mundane storylines better. I completely disagree about Ferguson not having the face of a celebrity cat. I wasn't surprised to see Schmidt try to get Ferguson booked on Avatar. 
It was hilarious when Schmidt poured the catnip all over himself. Schmidt really can be a pretty great friend even if he takes things just a little too far.
My favorite moment was Winston finding out Tripp is threatened by him. I've always been a giant Winston supporter, and I was incredibly happy he finally got a win. 
Now it's your turn! Do you think Sam and Jess are doomed? Do you think Nick and Jess need to finally open up about their feelings? Were you happy to see Ferguson? 
You still have time to catch up before the season finale! Go watch New Girl online now via TV Fanatic. Just make sure to come back to let us know what you think. 
Samantha McAllister was a staff writer for TV Fanatic. She retired in November 2018.