Can Nadia please plan all future parties?
I really enjoyed how they split up the bachelor and bachelorette parties into two episodes. Since they're going to continue on with double episodes it made sense why they would split up the parties. 
On New Girl Season 5 Episode 17, Schmidt had to deal with his masculinity being challenged. Schmidt would be the one to choose, showing what kind of man he is by planning an impromptu bachelor party in Las Vegas with the boys.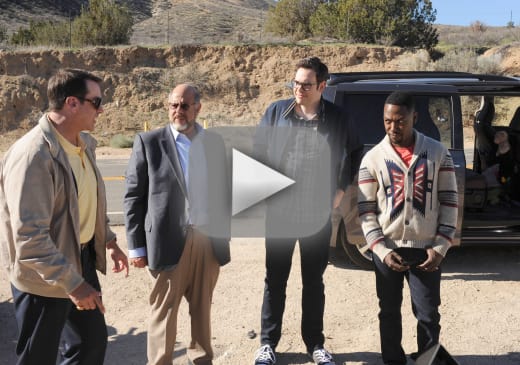 I was actually a little confused by Schmidt feeling vulnerable when it came to his masculinity. While Schmidt may have had some self esteem issues when he was younger, it seems as though he has accepted himself.
I'd also like to think Schmidt wouldn't let some crazy man, who he only knew as Toby, put him in such a weird position. At least Schmidt questioning his manhood gave us the opportunity to see one very interesting bachelor party. 
Was anyone else shocked to see Schmidt trying to light a cigar while trying to drive a motorcycle? At least the small crash he got into led to some hilarious moments at the bar. 
I knew the moment they walked into the bar Schmidt would somehow find himself in some type of trouble. Schmidt yelling his name over and over again was entirely too much, but I had to give Schmidt credit for taking some tips from crazy Toby. 
The entire fight sequence was completely over the top, but it really did work. Of course Schmidt's entire bachelor party would get involved in a bar fight with a bunch of hillbillies. It wouldn't have made sense if Schmidt's bachelor party was normal. 
I can't believe I'm saying this, but Nick's advice to Schmidt was fantastic. Nick can be a moron at times, but he brought up a lot of great points about why Schmidt would make a great husband. Schmidt needs to stop focusing on the flaws he thinks he has. 
Ever since I've known you, you've been there. OK. You're always there. Even when I don't want you there, you're there. That's what a husband does. You fight for me. Thats what a husband does. You care about what I eat. That's what a husband does. You've cooked for me even when I don't ask. That's what a husband does. When I pass out you comb my hair so there's no knots in it. That's what a husband does. So guess what? You're gonna be a great husband to Cece cause you're a great husband to me.

Nick
My only complaint was Winston's continued pining over Aly. I'm ready for the two of them to either get together or for Winston to just move on. 
The partying continued on New Girl Season 5 Episode 18, with what was supposed to be a more low-key bachelorette party, but things definitely didn't go as planned. 
How could Cece not know Jess was going to plan one interesting bachelorette party? I didn't see the whole bong thing coming, but I wasn't surprised to learn Jess has a bad reaction to weed. 
I was not looking forward to seeing yet another show have their characters be high. It's such a gimmicky way to put characters in completely ridiculous situations, but it actually worked out well in this case. 
I couldn't help but laugh when Jess mentioned Coach. I was thrilled someone, even if they were high, finally mentioned Coach.
The best thing had to be Jess and Cece trying to return the bread maker after destroying it. To be completely honest, I wouldn't mind seeing these two high more often. Can you imagine the crazy situations they would get in? 
Despite the craziness of the night, I did enjoy learning Cece is going through basically the same thing as Schmidt. It's interesting to look at Cece, and Schmidt, and see how they are consistently there for the people they care about. 
Both of them are questioning how they are going to take care of each other when in reality they've always been the parents to their friends. An argument can easily be made about the both of them being the smartest people in the loft. 
Of course the most memorable moments came at the very end. Winston finally getting the girl made me extremely happy. The poor guy has had some many failed relationships and it's time for him to have a win.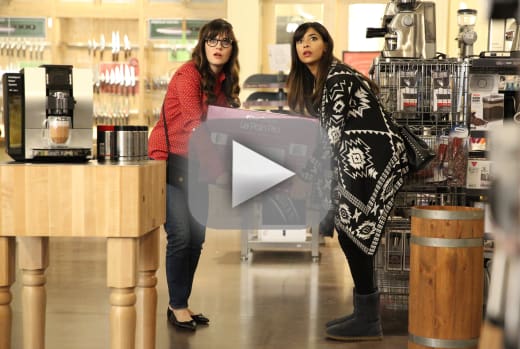 The only thing I question is how a relationship with Aly would work with Winston still married to Rhonda. I imagine Rhonda will be making her grand entrance at Schmidt and Cece's wedding and screw everything up for Winston. 
Nadia throwing a Russian bachelor/bachelorette party was extremely inventive. It was such a smart idea to bring her back right before the wedding and throw an over the top party. Please have Nadia come to the wedding.
Now it's your turn! Did you like seeing Nadia again? Are you happy Schmidt and Cece worked through their fears? Would you like to see a high Jess again?
You still have time to catch up before the season finale! Go watch New Girl online now via TV Fanatic anytime. Just make sure to come back to let us know what you think!
Samantha McAllister was a staff writer for TV Fanatic. She retired in November 2018.