The Americans Season 4 Episode 4 Review: Chloramphenicol
Carissa Pavlica at .
Once again, it became quite clear the lives of Soviet spies have no clear, predetermined path.
While Elizabeth and Phillip worried they might meet the end of the road in Gabriel's safe house, Nina dreamed of seeing the outside again, but never made it out of the hallway on The Americans Season 4 Episode 4.
It's another powerful hour, and one that places in doubt the future of all characters we have come to care about.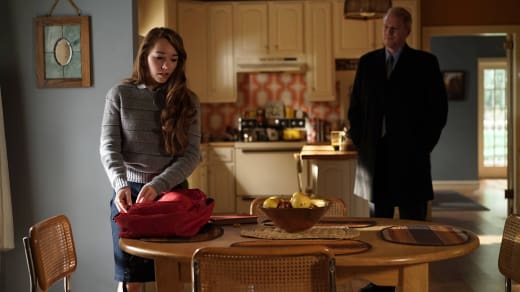 While Nina was thinking only of herself an no one else, she stayed alive. As soon as she changed, caring for another as she did Anton and his desires to see his son, she made a fateful decision that ended her life.
Will we see a parallel road traveled by the Jennings now that Elizabeth is thinking of Paige first instead of her country? At what point does making decisions with your heart become fatal?
Nothing but the belief that she might not make it out of that safe house alive seemed to move Elizabeth. To paraphrase, she told Philip, "If something happens, blame me. Raise the kids here. Henry doesn't even have to know about us. Raise them as Americans. That's what you've always wanted."
Philip didn't like her even thinking like that, but he didn't put up too much of an argument, either. His no was more of a denial that she was going to leave him than it was he would want to raise the kids as Americans and never tell Henry they were spies.
When Elizabeth was well, she and Philip decided together they wouldn't kill Pastor Tim and his wife, but would make a deeper connection with them and with Paige. Considering how much Elizabeth hates religion, that will be a truly magnificent commitment on her part.
It seems iffy whether they can pull that off. Gabriel will need to convince The Center Paige isn't a viable recruit. I'm not sure what would make one a poor recruit, but would they really have much use for such a kid, and would they be willing to accept mistakes and the like in their honor? It seems unlikely.
Paige held it together well during a very tumultuous time, too. She could have very easily fallen apart when her parents skipped out on the Epcot vacation. The little information Elizabeth gave her and the wealth of it knocking around Paige's head could have been a lethal combination.
Instead, Paige even held her own when confronted by Stan Beeman, poking his buzzing little head in where it wasn't wanted. With his cockles raised about Martha, how high are they about the Jennings? Is he skeptical about everyone?
Now that Stan has been inside Martha's apartment, what are the chances he'll look more deeply at the photos he has in his possession and wonder about the wedding photograph. It was kind of dark in there, and he was looking for risque or dramatic items. Did he overlook the photo or did Martha take it to Clark's?
Hopefully the dinner conversation Martha was having with the FBI guy (whose name I can never remember) will throw Stan off her scent. 
I was really proud of Martha. She did great recognizing clicking sounds on her phone and didn't leave too much info on Clark's answering machine and then she said she was having an affair with a married man. It's close enough, even if she doesn't know it. To Martha, Clark is married to his job. And in a way, he is. 
Clark will never leave his job, and Martha doesn't expect him to. The provide comfort and companionship. They're discreet, but she's not wearing wigs or sneaking into motel rooms. It's grown up and honest, probably the most honest she's ever had. If you asked Philip, he'd probably agree, in a very weird way.
Finally, we have Nina, who was still dreaming, something she shared with Elizabeth. Dreams are a big part of The Americans Season 4. I'm not ready to comment on that, but Nina's dream of leaving, walking out into the snow and sunshine with Anton was a nice one to have so shortly before her death.
Maybe is was God's pardon for all she's done. 
I was thinking about how quickly Nina received her sentence after hearing it would be carried out "very shortly," and wondered why they didn't just tell her she would be free instead.
What difference would it have made? Other than instead of her last through being to crumble to the ground in horror, she would have smiled and cried in delight. Either way would end with a bullet to the back of the head. 
At least Oleg doesn't have to stay with his mother now. The promise was he would if his father helped Nina. That didn't happen.
It was a pretty rough call, and we have an interview with Annet Mahendru, who played Nina for some background. She spoke with reporters last week about saying goodbye to Nina, and it was not easy for her. She's still not ready! 
How do you think Nina's fate speaks to what lies ahead for the Jennings? I don't think what has been happening to them is random, and we have followed Nina's story because of it's cautionary nature. Do you agree? 
Drop me a note and remember, you can watch watch The Americans online right here to get more of Nina's story and of the Jennings' as well.
Carissa Pavlica is the managing editor and a staff writer for TV Fanatic. She's a member of the Broadcast Television Journalists Association (BTJA), enjoys mentoring writers, wine, and passionately discussing the nuances of television. Follow her on Twitter and email her here at TV Fanatic.