Crazy Ex-Girlfriend Season 2 Episode 4 Review: When Will Josh and His Friend Leave Me Alone?

Christine Laskodi at .
Rebecca isn't the only one getting a makey-makeover.
Crazy Ex-Girlfriend just got one as well.
Greg finally breaks free of West Covina, Paula made a HUGE decision, and Rebecca – well, she's no Miss Douche.
There's a lot to discuss about Crazy Ex-Girlfriend Season 2 Episode 4, so let's just get right to it.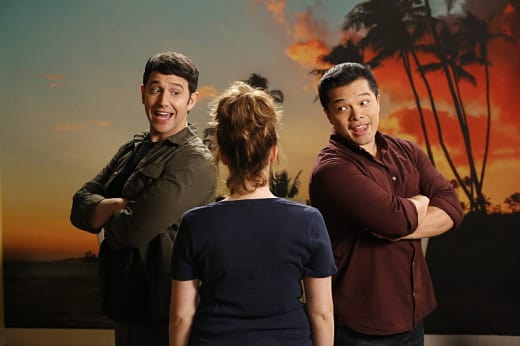 But let's get real, we know the deal so darling let's not tip-toe, this thing we had was not just bad, it was a sh-t show.

Greg
Let's start with that goodbye.
If you've read any of my reviews prior to this, you know that I've been a champion of Greg's from day one. He was THAT guy; the underdog who deserved so much more than the hand he was dealt, yet somehow DID deserve everything he had because he was kind of a jerk.
Greg's final ballad to Rebecca, "It Was a Sh-t Show," encapsulated everything that there was to say about their relationship. They were never meant to be.  They were toxic. They drove each other crazy. They were fun to watch, but ultimately wouldn't make one another happy. It sucks to be on Team Greg, but it's the harsh truth of it.
It's not just the Grebecca of it all that I'll miss in Greg's departure.
Greg was just a great character. I enjoyed every moment of his fear and self-loathing, sprinkled with his charm and cynicism. He had the ability to croon disgusting things, and still make them sound lovely.
Rebecca: Me seeing you on that bridge, that was a sign that we should be together.
Greg: I want to believe that, I do. But that's not how life works, Rebecca. There are no signs. Life doesn't happen to you, you make decisions. And right now, I'm deciding to move forward with my life.
And although West Covina won't be the same without him, I'm also really proud of Greg, in a weird motherly way. Greg accomplished what seems to be the impossible for someone in West Covina; he finally got out, and seemingly for good.
He saw an opportunity to better himself, and he took it. Greg didn't throw away his shot at happiness and a fresh, healthy start.
If Greg can do it, then that means there's hope for all of these messed up folks.
This is also brave and bold on the part of the writers of Crazy Ex-Girlfriend. Writing out a series regular just four episodes into the second season takes guts.
Honestly though, where would Greg have gone from here?
A relationship with Rebecca would have been a disaster. Why taint two likable characters by having them ruin each other? And if there's anything we've learned from classic TV love triangles, it's that they grow stale when they go on too long.
And again, Rachel Bloom has always said that this show is not about 'shipping, though let's be honest, 'ships have dominated the story thus far.
But thankfully, we did get one last love triangle song, courtesy of Rebecca's subconscious.
Greg: Sometimes him, sometimes me...
Josh: Though never simultaneously!
Greg: But one of us was hittin' it usually!
Josh and Greg: We tapped that ass all over this house!
If there was ever a way to say goodbye to this messed up little sh-t show of a love triangle, this upbeat, hilarious tap dance through Rebecca's house was exactly the right send-off.
Massive hi-fives to the writers for the use of "back pati-OH!" and for a cameo from the vegan guacamole man-bun guy from Crazy Ex-Girlfriend Season 1 Episode 4.
Memory Spirits ARE better than Dream Ghosts. I bet Memory Spirits have dental.
Rebecca: I need to move on. We have to say goodbye.
Memory Spirit Greg: Are you sure?
Rebecca: Goodbye, Greg. Goodbye, house.
Let the makeover begin!
Rebecca burned down her house and became an internet joke because of her ridiculous 911 call, during which I'm pretty sure she pooped on her back patio. (Pati-OH!)
It gives her the perfect chance to start over (again) with new digs, and a new view of herself, thanks to Heather and her parents.
I'm a bit hesistant about the big changes ahead; Rebecca and Heather becoming roomies could go either way. I am glad that the shift away from men will leave room for us to get to know Heather a little better, and hopefully Valencia – more on that in a minute.
This week's glimpse into Heather's world was quite entertaining. Her parents were perfectly cast and brought about some of the big laughs during the hour. And Heather's mild amusement over becoming the new Miss Douche was well played by Vella Lovell.
But it is a hard turn for Rebecca to go from being tied up by men (emotionally and physically?) to being a girl's girl.
These next few episodes will be the test of whether or not Crazy Ex-Girlfriend can succeed without 'ships.
That is, unless you're counting Rebecca and Paula, who may also be on rocky ground.
Rebecca: Look, I know something's been up with you lately, and I want to know what it is, really, I mean it this time.
Paula: I just (long pause) - you know, I had a thing. I figured it out. I'm just so happy to see you! You seem so much better.
Rebecca: Yeah! You know I realized that I was trying to change my outside instead of my inside. I mean, it's exactly what I did with Josh and Greg...
Paula had an abortion.
Much like Greg, she made a decision that worked best for her. A major decision about her future...
...and didn't share it with her best friend.
On one hand, Paula not talking it through with Rebecca seems right. For one thing, she was so undecided about law school, resigned to the only choice she thought she had.
But Paula's husband, Scott, was right there in the thick of it, reminding her that she could have it all.
Really, the story should be about Paula and Scott. Not Paula and Scott and Rebecca. And Scott did not disappoint in his role as a supportive partner. (Thank goodness Rebecca saved their marriage.)
Rebecca was so involved in herself that, while she could listen to Paula, she wouldn't really LISTEN to her. It was illustrated several times in the hour. Paula knew that she couldn't rely on her best friend for support.
Take the moment above as a prime example. After a long pause like the one Paula gave after Rebecca point blank asked her what was going on, it seems pretty obvious that there's something she isn't sharing.
Rebecca, in her usual self-centered way, takes Paula's words at face value and dives right back into herself.
As Paula makes the decisions that will define her future, it wouldn't surprise me if more and more of those decisions don't include Rebecca. Because maybe, just maybe, Paula is seeing everything that Greg did before he left.
Their friendship might just be a sh-t show, too. And Paula deserves better.
Rebecca: OMG, sorry, for a second, I thought that person housing a doughnut over there was Valencia!
Heather: What? No, Valencia would never eat a – oh my god, it's Valencia.
Guys, Valencia is finally back – and she's eating carbs!
I'm happy to see that Valencia is still in the fold, and that she wasn't written away when her relationship with Josh ended. There's still so much I want to know about Valencia.
But right now, the only thing I want to know is why she's housing that doughnut. What has befallen Valencia in these past few months? Is she still so good at yoga?
Next week's episode cannot arrive fast enough to satiate my need for all things Valencia.
So, what do you think TV Fanatics? Are you sad to say goodbye to Greg? Are you happy with Paula's decision to pursue her career? What are your thoughts on the show's makeover? Sound off below!
Got that tap song stuck in your head? You can watch Crazy Ex-Girlfriend right here at TV Fanatic and rewind it over, and over, and over again!
Don't forget to head back next week for Crazy Ex-Girlfriend Season 2 Episode 5, "Why Is Josh's Ex-Girlfriend Eating Carbs?" which airs Friday, November 18 at 9/8c on The CW!