How to Get Away with Murder Season 3 Episode 8 Review: No More Blood
Paul Dailly at .
That was a strange turn of events. Right?!
Frank tried his best to go back to the way things were before on How to Get Away with Murder Season 3 Episode 8, but he may just have sealed his own fate in the progress. 
Frank really does feel like he's the one to blame for everything, but he doesn't seem to understand what murdering more people could mean for him. It's all getting a bit out of hand now.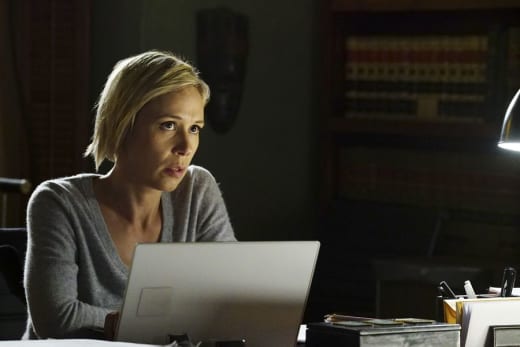 Bumping into the woman the woman who tried to get him to turn on Annalise was not one of the best twists. It felt like it was just thrown in to have Annalise finally come to terms with the fact that she was not the one who caused the death of her child. 
It's becoming easier and easier to read Frank by the week. He will do whatever the heck Annalise says in order to stay in her good books. It's pathetic and part of the reason why he needs to be the one under that sheet. 
There was a time when Frank was one of the most mysterious characters on television, but now he's turned into one of the worst. All he seems to be is a mere plot device to wipe people out to advance the plot. 
That's not a good thing. It was great that Laurel told him how she felt about pretty much off the bat. She was right. Why should she have been the one to wait around for longer after Frank dodging her calls and keeping things from her?
Maybe Frank was so blinded by love that he thought Laurel would be waiting for him, much like the way he was waiting for Annalise to forgive him. He needs to man up, or just be under that sheet. 
I definitely don't think he will kill himself. Annalise may have been screaming otherwise at him at the close of the hour, but she's probably only doing that to prove to heself how expendable he is if she takes him back on as her in-house hitman. 
If Frank does somehow kill himself, Bonnie will not forgive Annalise. We've witnessed Bonnie question Annalise's authority several times throughout the course of the show, so it would make sense. 
With Frank and Nate the only ones unaccounted for, it's increasingly likely that Frank will be the one to go. Out of the two, Frank has been on the show much more. However, his death really won't harm anyone. It will serve as a reset for the series. 
Laurel has made it clear she's done with him, but I would not be surprised if she did sleep with him and the baby is his. That would just cause conflict between her and Wes because she lied to him. 
Also, what was the point in Wes and Laurel getting up close and personal in the hospital? It's almost like they wanted to rub it in poor Meggie's face. Unfortunately for Meggie, she was never really fleshed out, so she won't be that much of a loss. 
Wes getting the subpoena was a predictable twist. There was no way the Mahoney family were going to let him go without a fight. All of the stuff with the burner phone was just ludicrous and far too convenient for me to even care about. 
Did anyone else find it heartbreaking that everyone was looking for Connor after fire, but he was getting hot and heavy with Thomas? Who would have thought of that? Absolutely no one, that's who. 
I'm officially over caring about Connor and Oliver as a couple. Yes, they had an argument, but Connor hooking up with Thomas was the ultimate betrayal and I can't wait to see how it plays out when Oliver finds out the truth. 
"No More Blood" was a weak installment that was just there to keep us further away from the truth. Usually the twists keep me hooked, but there was something about all of them tonight that just felt like the writers had given up trying to make a coherent plot. 
Stray thoughts:
Nate really needs to not get involved with Annalise or the Keating 5. There's a good chance he could be the one to die in the fire, so he needs to steer clear. 
Asher answering Michaela's phone was so damn rude and Michaela will not let him hear the end of it. 
Annalise telling Wes and Michaela she was happy for them was a surprising turn of events. Annalise seemed poised to get jealous. 
Does anyone else care for Annalise helping her boss? The storyline seems to be lost between the bigger ones. 
Remember you can watch How to Get Away with Murder online right here on TV Fanatic. Get caught up with the latest drama now!
What did you think of the episode? Hit the comments below!
Note: How to Get Away with Murder Season 3 Episode 9 airs November 17 on ABC.
Paul Dailly is the Associate Editor for TV Fanatic. Follow him on Twitter.