Well, that was hard to watch.
On Quantico Season 2 Episode 7, the lesson of the week was enhanced torture. The fact that torture was a lesson wasn't shocking by any means. At some point, the recruits were going to learn about this. However, did we need to have so much torture in the present and future storylines?
You go from torture in the present to torture in the future, and it was a lot. It was clearly done to show a connection between the lesson and the terrorist plot, but it made a lot of the hour uncomfortable to watch. Personally, the worst part was Diana being tortured in the future. I was turning my head away from the screen.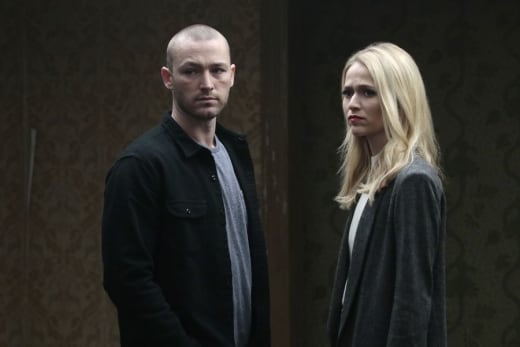 The hour would have benefited from less torture, that's for sure. It would have been better if the future Alex and Diana scenes happened next episode. This would have allowed the viewers to have a break from the violence. Did you mind all the torture scenes?
Is it bad that I like that Alex is being edged out of the undercover operation?
During season 1, Alex was the queen of Quantico. She excelled at everything. She was the head of her class. She almost seemed too perfect to be human, and her flawless hair did not help her case.
This season, however, Alex is struggling. She isn't doing a horrible job or anything, but everything isn't coming easily to her. 
This makes her more relatable. You can root for her. You want her to succeed. Last season, you couldn't really root for her in the same way because she was already kicking ass. Now, you are hoping that Alex proves herself and proves that everyone was wrong to give up on her. 
Hopefully, Shelby joining forces with Nimah and Ryan will force Alex to rely on Harry a bit more with her mission. I'm all for Harry and Alex teaming up. Harry has a tendency to make things so much more entertaining. Plus, his relationship with Alex is a lot more fun to watch than Alex and Ryan's relationship.
While this is painful for me, that pain is a minute. Your pain is the long haul because now you know what it feels like to truly hurt someone. See, for the sociopath who has no empathy, torture is easy, but for the best operatives, when it is them under the water under the rack, the rope, the knife, they'll remember somewhere inside that their torturer is a person who feels the same guilt, shame, and discomfort that they do. There are no two sides to this. Everyone goes through it to know how to use it. No one gets away with it.

Owen
The only storyline that Harry can't make better is the one he's in with Sebastian. Sorry, they aren't entertaining to me.
They both seem to love to push each other's buttons and feed off pain. It's not my thing. I'd rather we stop focusing on them all together. What do you think of Harry and Sebastian's storyline?
Let's jump back to the future storyline, shall we?
Miranda framing her lover was expected and kind of lame. Her reaction to whatever that guy's name is being found with the phone was eye roll worthy. Were we supposed to buy your totally fake sounding reaction?
Shelby needs to step up her game. She already suspected that Miranda was involved with the terrorists, and even though Will got her to think otherwise, Shelby can't count out Eric Boyd's message.
Miranda, who has never had a public display of affection at work, makes out with her boyfriend where anyone could see, and now the boyfriend has the phone? Come on, Shelby!
This is random, but the strange episode titles have been bothering me, so I looked them up. Apparently, LCFLUTTER is a CIA cryptonym (aka code words or names), and it refers to a polygraph. I wonder why that was the title of this episode, where there wasn't a lie detector test involved. Any theories? 
You can Google the other episodic names to find out what they mean. I've been using this website. This is a really interesting way to title episodes. I'm loving it.
What did you think of the episode? Leave your thoughts and conspiracy theories in the comments.
Remember you can watch Quantico online via TV Fanatic.