The Vampire Diaries Round Table: Steroline and...Satan?
Miranda Wicker at .
We're not sure ANYONE saw that ending coming on The Vampire Diaries Season 8 Episode 2. Stefan and Caroline are engaged and planning their happily ever after! At least until Damon gets wind of his brother's happiness and does something to ruin it. Again.
Sure, he's not ENTIRELY himself these days, what with Sybil taking over his brain and all...
Anyway. Jump into the comments below with your answers to this week's The Vampire Diaries Round Table discussion!
STEROLINE JUNE WEDDING IS A GO! React:
Paul: I am so shocked they went the engagement route so quickly, but I'm also really happy! Hopefully nothing bad happens. 
Amanda: The engagement took me by surprise, but I couldn't help but smile. I love those two together. Stefan's proposal was perfectly sweet. 
Miranda: I did NOT expect that at all and sort of thought #SterolineJuneWedding was a fandom wish and not something that would come to pass. I'm pretty excited to see Caroline plan a wedding though. The girl does know how to throw a party.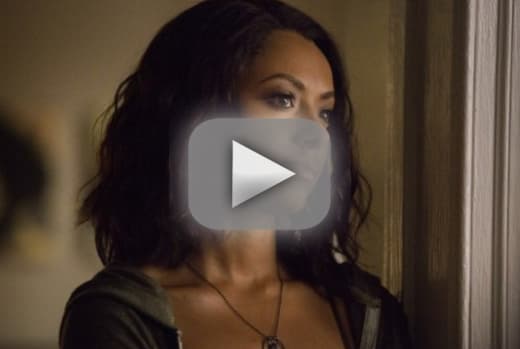 How will Sybil replacing Damon's memories change things moving forward?
Paul: He's going to not even care about Elena, but that will take some of his pain away, I guess. 
Amanda: It looks like Damon will be loyal to her now, but I'm more curious if he'll act like he's in love with Sybil since that's how he felt about Elena. 
Miranda: Has anyone but me noticed that the last two female big bads we've had on this show have actually looked like Elena? A little? That crazy huntress with the Hellstone and now Sybil. I'm pretty interested to see how his personality changes now that he thinks he's been reunited with his love.
Which do you like better: Alaric as a hunter or Alaric as Indiana Jones?
Paul: Alaric as Indiana Jones! His storyline has been great so far this season and I can't wait to see what becomes of it.
Amanda: I completely agree with Paul. Alaric is at his best when he's in the midst of solving a mystery or going on an adventure. After his disappointing storyline last season, I'm glad he's back to be the old Alaric. 
Miranda: I pretty much love Alaric any way we can get him. I would love him even more if someone handed him an Indiana Jones hat.
What's up with the symbol and the fork?
Paul: I have no idea. Nothing good will come of it.
Amanda: Probably something having to do with hell.
Miranda: I'm *sort of* disappointed at more references to Hell this season. I thought we'd gone there with the stone and now it looks like Satan is going to be our final big bad? What?
Will Bonnie get her magic back?
Paul: 100 percent yes. 
Amanda: It may take all season, but yes. 
Miranda: I wish this would happen sooner rather than later. To be honest, I'd really just like to see her trying to get her magic back. How awesome would it be if we got a callback to The Vampire Diaries Season 1 and Bonnie was crying or something and a feather started to float?
Check out this preview of The Vampire Diaries Season 8 Episode 3: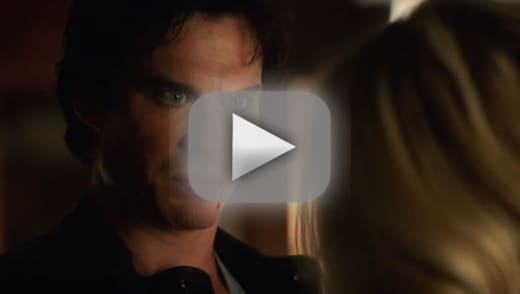 Miranda Wicker was a Staff Writer for TV Fanatic. She retired in 2017. Follow her on Twitter.