The Vampire Diaries Season 8 Episode 2 Review: Today Will Be Different
Miranda Wicker at . Updated at .
AHHHH! OMG! WHATT!! YOU GUYSSSSSS! The Vampire Diaries Season 8 Episode 2 was the best, happiest, craziest episode of The Vampire Diaries we've had in a long, long time. LONG TIME!
And it was sad and scary and even more sad, but mostly really freaking amazing.
I'm now firmly Team Steroline. FOREVER.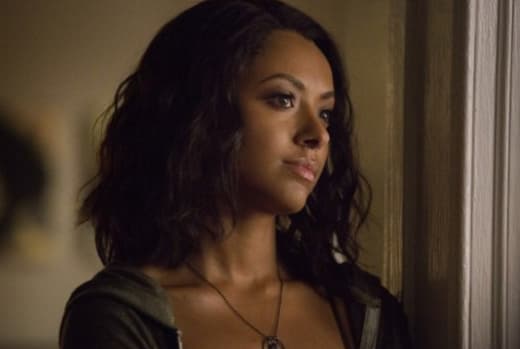 STEFAN AND CAROLINE ARE ENGAGED!!!!!!111!! Engaged. Legit planning a wedding engaged to be married for literally ever and ever since they're vampires and they can't really die. 
That proposal was beautiful and perfect and I LOVE LOVE.
I will probably begin some sort of crazy mail-in campaign if the writers attempt to undo or mess with this happiness as the season continues, particularly if it seems like they're not going to right the ship before the series ends. For ONCE let a couple be happy and why not Steroline? 
Bonnie and Enzo are in a very dangerous place right now, what with Sybil finally discovering Enzo's last bastion of humanity. Damon's memories of Elena have been replaced with Sybil who, probably not coincidentally, looks a lot like Elena. It's not like either of those couples are going to be happy for a while, you know?
So yeah, it's Caroline's turn. Hell, it's Stefan's turn. #SterolineJuneWedding is going to be the Mystic Falls event of the century!
This was just...this was a whopper of an episode, guys. Start to finish I was into it. I'm still sort of meh on the "Dear Elena" diary entries because we don't really need them to move the plot along, but if that's the weakest part of the story, so be it, I guess. I'll live.
I think I'd prefer if Bonnie were writing the entries because her life is intricately connected to Elena's, and that, to me, is the most compelling story right now. 
If there's truly no loophole to this spell, then Bonnie is fighting to get Enzo back so that she can grow old with him while he stays a vampire. She is fighting for him knowing their time together is limited, so even though I'm super excited about Stefan and Caroline, I'm really interested in Bonenzo.
It just about broke my heart into a million pieces when she finally had a moment alone with him and he wouldn't even look at her because he's been trying SO hard not to think about her so that Sybil can't use that against him. He's fighting a war on two fronts.
And now Sybil knows about Bonnie because Damon was the weaker of the two of them. (Weaker? Stronger? I can't...I don't know.)
Damon has been carrying on like he's flipped his switch, doing Sybil's bidding, seeming to take pleasure in the hunt for the most evil humans around, and the entire time, he's dreaming of his first meeting with Elena. All of his pretenses weren't enough to protect his most precious secret, and all it took was Stefan to bring him down.
Not killing Sarah Salvatore at Stefan's urging brought about Damon's downfall, but in that moment when Damon let her go, Stefan knew he hadn't lost his brother completely. Then he saw it. He saw the change in Damon after Sybil mind-wiped his memories and rewrote them so that he's uniquely devoted to her now.
It's interesting because he doesn't seem to love Sybil. He just seems to follow her loyally. Maybe we'll see that relationship progress as the season continues. Or maybe we won't. Maybe that's not what she wants from Damon. 
Maybe her game is just killing men and not sleeping with them first.
Thanks to Damon, Bonnie's in trouble now. Again. There's no way her life isn't put on the line multiple times between The Vampire Diaries Season 8 Episode 3 and the end of the series. 
It will really suck if she never gets her magic back. Really. Maybe Ric and Georgie could throw a little research about restoring magic her way, you know?
Would that kill them? Because she might be the thing standing between them and Sybil when it all goes down. Or it'll be that weird fork Georgie found.
Seriously. 
Here's hoping a quick stab to the abdomen with that thing is all it takes to get Sybil back into her cave. And let's hope the twins know how to seal that cave back up again and for good.
Get a look at The Vampire Diaries Season 8 Episode 3 now, below to see how at least one uninvited guest responds to the news of the impending wedding!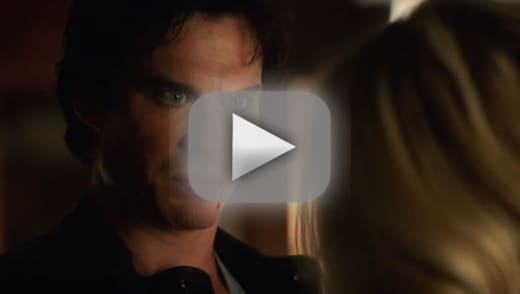 What was your favorite part of "Today Will Be Different"? (I know, I know. Steroline's engagement! AHHH!) How will Damon come back from Sybil's mind control? Sound off in the comments below and be on the lookout for The Vampire Diaries Round Table, coming soon! Don't forget you can watch The Vampire Diaries online right here!
Miranda Wicker was a Staff Writer for TV Fanatic. She retired in 2017. Follow her on Twitter.