Teen Wolf Season 6 Episode 9 Review: Memory Found

Allison Nichols at . Updated at .
As far as filler episodes go, it wasn't all that bad.
On Teen Wolf Season 6 Episode 9, Scott, Malia, and Lydia's goal was to remember Stiles.
This meant that flashbacks made up the majority of the episode, which isn't an awful thing, but it meant that the hour was not all that thrilling.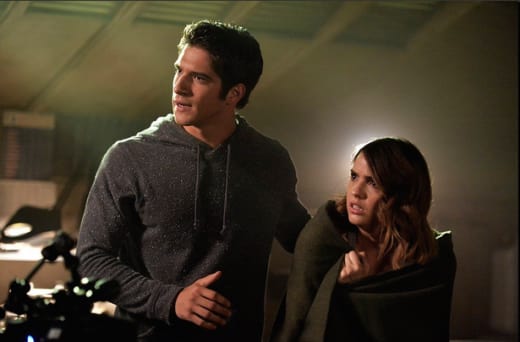 Overall, the hour was just okay. The novelty of seeing old scenes from previous seasons wore off pretty quickly.
The hour is just a little on the boring side.
However, Malia, Scott, and Lydia's emotional flashbacks, the memories they were searching for, those were the highlight, and they made sitting through this filler episode worth it.
Those flashbacks tugged on the heartstrings.
We obviously remember all of these scenes, so the best part of all of this isn't watching them again, it's seeing Lydia, Scott, and Malia react to that memory.
It's the moment where everything comes rushing back to them.
Lydia's moments, for instance, were when she realized when she first fell in love with Stiles, and then how she never said, "I love you," back to him.
Man, I don't know about you, but I was tearing up.
Lydia: That's when it happened.
Scott: When what happened? Lydia, what do you mean when what happened?
Lydia: When I kissed him, that's when it all changed.
While the abundance of flashbacks wasn't my favorite thing, it was nice that Malia, Scott, and Lydia each had a chance to remember Stiles.
Scott could have been the only one who needed to remember for everything to work.
Scott's memory being powerful enough to open the rift would have made sense, but being able to reflect on the connection
Stiles made with all three of them was much more powerful.
What was really, really lame was the light in the tunnel where someone who might be Stiles was standing.
I mean why?
It could have ended with Lydia, Malia, and Scott opening the door.
I honestly would have preferred that we just saw their faces and saw them react to (assumedly) seeing Stiles again.
The silhouette bit did not work.
What did you think of all the flashbacks? Did you enjoy this trip down memory lane?
At the start of the year, Stiles was trying to find a place for you guys to live after graduation. He said you were getting an apartment together? And I remember saying something to Stiles, something like, 'it's not always a good idea to live with your friend, even your best friend.' Stiles said it wouldn't matter because you guys weren't just friends, you guys were more like brothers.

Malia
In terms of moving the plot along, this episode did almost nothing.
Fighting off the Ghost Riders is no longer fun.
We've been there and done that how many times now?
Character fights Ghost Riders. Ghost Riders take character.
Ghost Riders move on to fighting and taking the next character.
Repeat the cycle until everyone in the vicinity is gone, and then move on to the next location.
Theo and Liam teaming up did make things more entertaining.
These are two guys who are total opposites, and forcing them to work together is the perfect recipe for fun. Maybe the two of them can get a buddy cop spin off!
Was anyone else surprised that Theo sacrificed himself to save Liam?
I didn't think Theo had a sacrificial bone in his body. 
Theo: You want to bring them all here, every single one of them?
Liam: That's exactly what I want to do because that means the Ghost Riders are here, that means they're not trying to get to Scott.
Theo: You don't care if they get to you?
Liam: They'll get to all of us eventually.
Theo: You! You're going first! That's the only reason I'm with you because while their busy wrapping a whip around your neck or shooting a hole in your head, I'll be running the other direction! I'm on your side as long as it helps me.
What did you think of the episode? Can you believe that the winter finale is next Tuesday?!
Leave your thoughts and hopes for the midseason finale in a comment below.
Remember you can watch Teen Wolf online anytime via TV Fanatic.