Suits Season 6 Episode 13 Review: Teeth, Nose, Teeth
Paul Dailly at .
Poor Rachel. 
On Suits Season 6 Episode 13 she was denied access to the bar. This was due to someone on the board wanting Harvey to do something to guarantee her place. 
At first, it seemed like all of this was on the heels of Rachel's relationship with Mike. All roads lead to Mike on this show, but I'm this story took an unpredictable route. 
That said, the idea of Mike taking the bar and returning to Pearson Specter Litt is a bit of a stretch. The series has excelled with everyone picking up the pieces following Mike's jail stint.
Mike parting ways with the firm was like a breath of fresh air. It would be great if he got his happy ending, but I'd much rather it was somewhere away from PSL. 
Mike: You're never going to believe it, but they have me supervising a third year law student, thinks she knows more than me.
Harvey: You mean, you have a you?
Mike: She is so much worse than me.
Harvey: Is she constantly talking about what a great memory she has? Does she have a man purse?
Mike: You done?
Working in the legal clinic has helped give the character a meaningful storyline. His interactions with Marissa and Oliver were part of the reason the legal clinic worked so well.  
Marissa and Oliver knew he was a good guy and that's part of why they got close to him in the first place. The three bonded over their love of serving justice.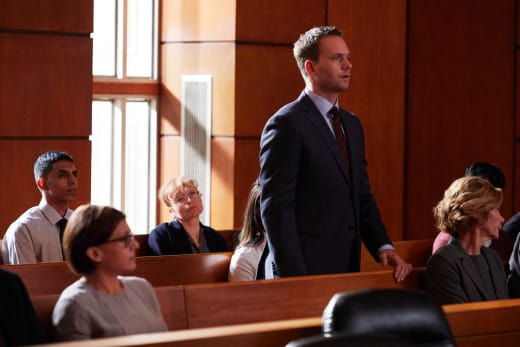 Unfortunately, Sofia's case was a bit like fighting a losing battle. For a start, Oliver was not good in the courtroom. We found that out on Suits Season 6 Episode 12. 
Then, the loss of Marissa dealt the case a huge blow. There was no chance of them pulling it back. It was a lost cause when Oliver screwed up... again.
Linda was one of the more interesting characters on this hour. Her exchanges with Mike were a marvel. You could tell she was really good at her job and really gave everyone a run for their money. 
Sofia's situation was sad, but I can't help but get the feeling that she's not as innocent as she would like us to believe. It's been uneasy to watch because I have no idea whether to believe everything she says. 
The potential healthcare costs for her son are going to pile up and she just can't afford to pay it.
However, with Mike unable to speak in the courtroom and Oliver dropping the ball, it looks like things are only going to get worse for the young mother. 
Nathan was not approachable about any of it. Mike wanted to put Sofia first, so getting Nathan into the courtroom would have been a good move to ensure there was a glimmer of hope. 
All Nathan seemed to care about was going to the movies. He seemed to have think he could get away with doing what he wanted because he devoted five years of his life to law, or something. 
The morale in that clinic if Mike leaves is going to be very low. It would be way more interesting if Mike managed to get Oliver and Marissa to move over with him.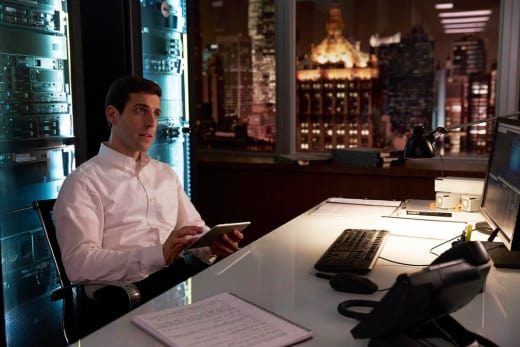 Does anyone else think Benjamin should become a more prominent character? He reminds of Elliot from Mr. Robot. Creating The Donna was a bold move. 
She could have easily thought he was being a little bit odd. In true Donna fashion, she took it all in her stride. 
Donna may appear to be someone who is completely hilarious, but she wanted Benjamin to know that there was so much more to her than her witty one-liners. 
Donna: Oh, hello Benjamin. Have you come to manipulate my hard drive? Debug my processor? Reboot my motherboard?
Benjamin: Please, I just need to update your vox in piece.
Donna: If I wanted my vox updated, I would be talking to someone with a lot more experience than you.
She needs to find a way to get Benjamin working on the same floor as her so we can get to see more of their meetings. The conversations between them are always amazing. 
Aside from the Donna and Benjamin scenes, Donna shared a scene with Rachel. It resulted in the below conversation:
Rachel: So, anyway, I said to Louis 'I don't care if most of the associates start in the bull pen, I am not giving up my office.'
Donna: That's great, Rachel, but I'm on my third glass of chardonnay and I don't think you called me over here to tell me you submitted your application to the bar, or that you're putting you foot down with Louis.
Rachel: You're right. I called you over here to tell you that I put my foot down with Mike.
Donna: You finally told him to pick a hair style and stick with it?
Was that great comedy timing, or what?
Did anyone else really care about the drama with Louis and Tara? I mean, this relationship seems more like a business arrangement than a real thing.
Louis has been unlucky in love in the past, so his knack for jumping into things was pretty much warranted. He would take anyone that gave him attention.
Struggling with Tara's baby daddy being around was natural, but he should have been prepared. 
Meeting with Harvey did him the world of good. It helped him understand what he needed to do in order to move on.
Will Louis really be able to be in the same room as the man who got his wife-to-be pregnant?
It seems like one of those storylines that will eventually lead to Tara and Louis calling time on their romance. 
"Teeth, Nose, Teeth" was another solid episode of this USA Network drama series. The show is still a hoot, but will it be able to stay good if Mike returns to the firm?
Other tidbits from the episode:
Louis turning to Harvey for relationship advice was really mature. They are trying to work on their friendship and it's pretty great. 
Rachel being annoyed by The Donna was surprising. I was sitting her laughing my head off. Maybe Donna should give Harvey one of them. 
The comment about Gretchen's choice of coffee from The Donna was hilarious. 
Will Harvey really be able to sway the bar to let Mike in?
Remember you can watch Suits online right here on TV Fanatic. Get caught up now!
Over to you, Suits fanatics! What did you think of all the developments? Get caught up now!
Note: Suits Season 6 Episode 14 airs February 15 on USA Network.
Paul Dailly is the Associate Editor for TV Fanatic. Follow him on Twitter.