Arrow Season 5 Episode 17 Review: Kapiushon
Paul Dailly at . Updated at .
It looks like Adrian got what he wanted and broke Oliver Queen.
On Arrow Season 5 Episode 17, Chase continued his crazy tactics to get Oliver to confess to being a murderer, but it took a lot of time.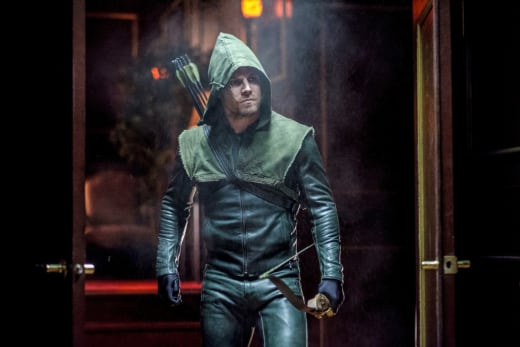 It took a fake death to make him crack, and it was pretty dumb. Throwing Artemis into an apparent fight with Oliver made it seem like there was a redemption arc coming for her, but no one would ever believe she was actually a good person. 
If Adrian did not give a damn about killing Doris, then the chances of him caring if Artemis died were even slimmer. I had to laugh at the apparent death Adrian gave her by throwing her off-screen. 
If the actress was already in the episode, why would she be killed off-screen? It just made zero sense and took away from the suspense.
Oliver has made a lot of stupid decisions on Arrow Season 5, but listening to that girl about anything is up there with his silliest moments. 
Adrian chanting "confess" at Oliver like it was going out of fashion reminded me of Cersei's walk of atonement from Game of Thrones Season 5. 
I half expected something like this to happen: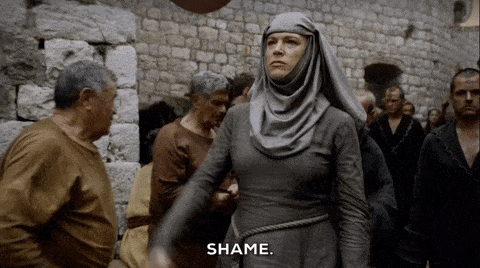 Could you imagine Oliver being dragged through town and talked down to in order to confess his sins? It would make for an interesting scene, but it's too ballsy for Arrow to go with. 
All of the developments on this episode felt very forced, which is a shame because Arrow Season 5 Episode 16 gave me hope the series could get back on track. 
Adrian was just annoying for the most part. Forcing Oliver to think about the truth was one thing, but letting him go seemed like a bit of a cop out. 
I do think Adrian got what he set out to achieve: Oliver disbanding Team Arrow. Now, I can't say that was a surprising development. It's been evident for quite some time that Oliver's been struggling to keep it together. 
The only way I would have been happy with Oliver making his getaway would have been if Thea showed up to save the day. It's doubtful the team would not have called her to let her know Oliver was missing for six days. 
Also, was the media not running rampant with the news he was missing? The sudden disappearance of someone with Oliver's prominence in the community would have raised some questions.
It appears that logic is going out the window on this particular episode, I'm afraid. I did like getting to see how Oliver became a killer. It seemed like he was having a constant power struggle with himself about what would make him feel better. 
Going after Kovar was always part of the plan, but did we really need him to survive? He's poised to become the final villain of the season now, and I just want the inevitable fight to come and go. 
Malcolm being involved felt like something that was thrown in at the last second to make the whole thing make sense, but it doesn't really. 
Malcolm vies for power, but why did his being in cahoots with Kovar not come up before now? Are we to assume that Malcolm really did not know Oliver was the one who tried to murder Kovar?
It's all a bit farfetched, and I'm not digging it. If the powers that be were sidelining a lot of the characters, they should have at least crafted an episode that was worth it. 
I stopped caring about Artmeis when it was revealed she was the traitor. There was nothing the show could do to make me change my stance on it. 
Now, it looks like we're in for a while of Oliver claiming the team is disbanded. Don't get me wrong, everyone could be doing with a break, but with Prometheus pulling the strings, there's no time to take a vacation. 
Maybe when this whole thing is done Oliver will be able to get a break. 
"Kapiushon" was an uneventful hour that made me roll my eyes on multiple occasions. We need to get some meaningful plots before it's too late. Anatoly was the MVP of the episode in his mission to save Oliver, so I'm thankful he'll be back. 
What did you think of all the drama? Are you tired of the developments? Sound off below!
Missed an episode? Remember you can watch Arrow online right here on TV Fanatic. Get caught up now. 
Note: Arrow Season 5 Episode 18 airs March 29 on The CW. 
Paul Dailly is the Associate Editor for TV Fanatic. Follow him on Twitter.