The Walking Dead Season 7 Episode 14 Review: The Other Side

Sean McKenna at .
The introduction of the Hilltop on The Walking Dead Season 6 Episode 11 opened the doors to a variety of possibilities, especially delving into various new communities.
And while Jesus was a fantastic addition to the series, I've found myself enjoying the stories taking place within the Hilltop less and less.
Sure, there have been some solid moments, and seeing Rick reunite with Daryl on The Walking Dead Season 7 Episode 8 at the Hilltop is a great example.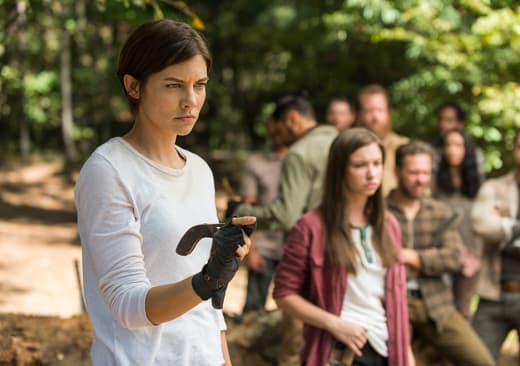 But those two characters aren't really the "regulars" at the Hilltop, so it almost feels like a cheat of an example.
I just haven't really cared about the likes of Gregory, Maggie, Sasha or Enid in the same way that I've been invested in say Morgan, Carol, Ezekiel or even Benjamin over at the Kingdom.
And unfortunately, The Walking Dead Season 7 Episode 14 focused pretty solely on those Hilltop characters.
I hoped things might play out differently, but ultimately, it was a less than engaging hour.
The biggest issue was Sasha and Rosita's stupid plan and the fact that they just had to follow through on their own.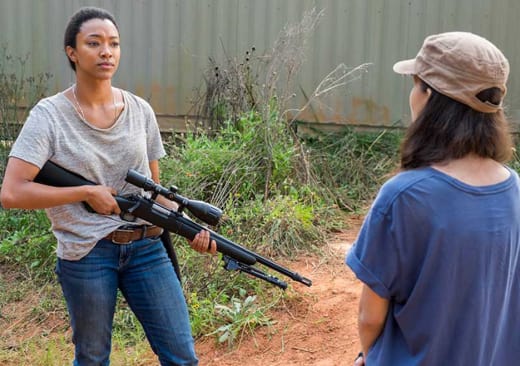 Even Jesus and Enid tried to talk a little sense into them, which was a relief to at least see, but Sasha and Rosita clearly weren't going to be swayed.
And listening to Rosita talk about how they should be getting close to Negan because a far away shot could be missed was laughable, seeing as she missed killing him at basically a few feet away on The Walking Dead Season 7 Episode 8.
Also the explanation about how Rosita knew about how to handle explosives, while at least providing an answer, just felt like an easy way for the writers to explain things.
As did how she knows how to do pretty much anything. It just felt forced rather than organic.
As for their actual chance to shoot Negan, sure, I'll buy that Sasha couldn't get a clean shot, but to have to go raid the compound on their own?
That doesn't make any sense.
Yes, Eugene was there and Maggie's doctor was there (Negan's lucky there was another doctor.), but that was the reason for abandoning their shoot from far away plan?
Eugene refusing to escape was an interesting twist, and I can see him having a part to play once Sasha is captured.
She's going to get captured.
The whole "it's not your time" wasn't some dramatic and emotional moment.
It felt cheesy and ridiculous, especially because it felt like an insane suicide mission.
She was all guns blazing. Did she really think she was going to get to Negan?
The whole thing was just frustrating to watch.
I just worry that Daryl's arrival (at least, I think it's Daryl, but it wasn't a clear view) will wind up getting him killed because of Sasha and Rosita's terrible plan.
Now that would truly be frustrating.
I was surprised Gregory hasn't revealed anything to Simon, considering his deals, but I can totally see his ability to get into the Sanctuary having some type of play down the road.
And him threatening Jesus? Not cool. Not cool.
The true shining moment, however, was Daryl apologizing to Maggie about Glenn.
It was heartbreaking to see, but it was a necessary scene to have.
At the same time, for Maggie not to blame him also was a huge moment to go with it.
For her to essentially forgive him and call on him to work with her was great for her character.
So easily she could have flipped out and chosen to blame him, but it would have been a step back from all the work she has done in moving forward and building her new leader self up.
It was definitely fitting.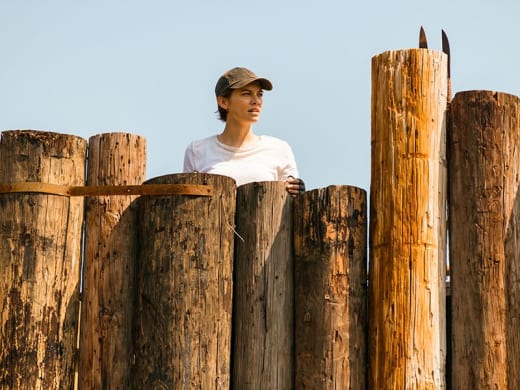 From the opening scene, I could tell this was going to be a tedious episode, and I found myself bored where I should have been thrilled or on the edge of my seat.
There was a moment where I was unsure if that guy would find Maggie and Daryl and what might come of that, but overall, it was waiting for something truly interesting to happen.
I can't help but think back to The Walking Dead Season 7 Episode 5's Hilltop adventure after trudging through this latest one.
I just wish I was more invested in these characters that are in this community.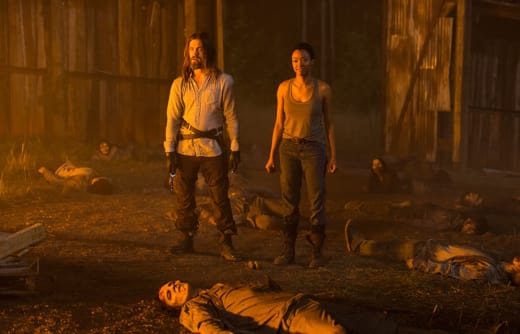 The end of The Walking Dead Season 7 is near, and I'm looking forward to putting Rick and company back at the forefront.
Time to just move on from "The Other Side."
What did you think of Sasha and Rosita's plan? Should Maggie have forgiven Daryl? Do you want more Hilltop episodes?
Sound off below, and be sure to watch The Walking Dead online at TV Fanatic.
NOTE: The Walking Dead Season 7 Episode 15 airs March 26 at 9 p.m.
Sean McKenna was a TV Fanatic Staff Writer. He retired in May of 2017. Follow him on Twitter.