Riverdale Season 1 Episode 10 Review: The Lost Weekend

Justin Carreiro at . Updated at .
What's the old saying again: "It ain't no party like a Riverdale party"? That seems right...
Archie and friends may not be as wholesome as once thought. As shown on Riverdale Season 1 Episode 10, they like to party. And party they did.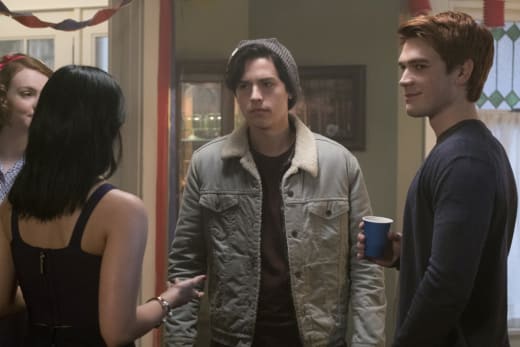 We sometimes forget that Riverdale is a teen drama, after all. These characters follow the same tropes. "Chapter Ten: The Lost Weekend" was all about house parties and underage drinking.
I liked how Riverdale showed Archie's slow progression into an alcoholic spiral. His attitude changed, his movements became erratic, and he slammed into rock bottom. K. J. Apa did a good job; it's hard to pull off acting drunk without it looking cheesy.
Kudos for the camera work when Archie collapsed in his bed. The colors shifting and the spinning of the room suited his delirious state. It perfectly worked to show Archie's mind at the time.
Poor Jughead. He didn't get what he wanted for his birthday. Nobody was listening to him.
While Betty had great intentions as his girlfriend, she didn't give him the quiet night he wanted. That's a big problem and constant in his life. My heart went out to him, especially when he went through all the reasons he and Betty shouldn't be together.
Betty: Why are you getting so upset? It's just a party, Jug.
Jughead: It's not just a party. It's the fact that you don't know, or even care, that this is the last thing I would want. You did this for you to prove something.
Betty: To prove what?
Jughead: You're a great girlfriend? I don't know. Doesn't it ever occur to you how different we are, like on a cellular DNA level? You're a straight-A student, a cheerleader. For God sakes, you're the perfect girl-next-door.
Betty: I hate that word.
Jughead: I'm the damaged, loner outsider from the wrong side of tracks. Betty, come on, who are we kidding?! We're on borrowed time.
Betty and Jughead is the couple that has slowly won me over. At first, I hated them together; I preferred her with Archie. I was wrong.
Lili Reinhart and Cole Sprouse have great chemistry together. The tender moments they share together are so sweet, and while Jughead is right from an objective look, the fact that they're so different is one of the reasons they work. Opposites do attract, after all.
I'm happy they worked it out and are still together. We need a good, stable romance to survive for the time being on Riverdale.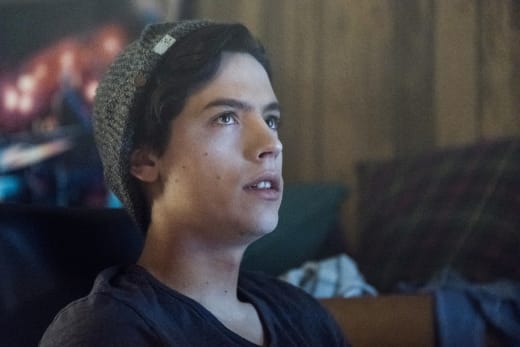 Was anyone else creeped out by Betty singing "Happy Birthday"?
Don't get me wrong, Lili Reinhart has a beautiful voice. She should sing more often. I fully support having Betty join a band with Archie and the others to hear her sing again.
The problem, however, is that she was scary. The tone slowed down, her eyes looked glazed over, and I was equally as scared as Jughead. Something was very off about this moment.
I fully believe this ties back to the "darkness" she referenced to Jughead while at Pop Tate's Chock'lit Shoppe. She had her sights set on the perfect birthday celebration. She was going to get it!
Betty: I should've told you about Chuck, but I lied. And instead threw you this party you didn't want.
Jughead: Why did you?
Betty: Something is very...very wrong with me. Like, there's this darkness in me that's overwhelming. Sometimes I don't know where it comes from, but I think that's what makes me do things.
Can we all agree that party was epic? I wish my high school parties looked like that. It was so much fun.
There was confetti, music, countless people, and obviously drama! Cheryl bringing out the game of Secrets & Sins was a fun addition. This twist finally revealed most of the looming secrets many of the characters tried to hide. (Anyone remember Ms. Grundy?!)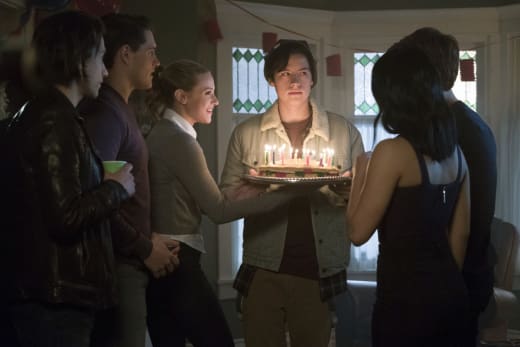 It's a shame Cheryl decided to team up with Chuck. Chuck is my least favorite of the villains. Ethel may have forgiven him, but he's hiding something.
FP Jones did the right thing by throwing him out. Chuck didn't need to admit Betty's state during the interrogation with Veronica. That was a low blow on his part. He clearly likes dominating people, especially women.
Cheryl: Secrets & Sins, it's like Truth or Dare in which we own our truths by telling it like it is. I'll start the game with...Veronica Lodge.
Veronica: Naturally.
Cheryl: Let's begin with the day you and your mob wife of a mother came to town for a so called fresh start. Tell us Veronica, what's so fresh about defiling Archie Andrews in a closet?
Veronica: That was your doing...
Cheryl: Moving on! To dear Daddy Lodge, isn't it true that your father, from prison, illegally purchased the drive-in land? Which makes me wonder, what else is he doing from behind bars?
Veronica: Well, I can't speak for my father, but I can think of someone with a very dirty secret. Specifically, Cheryl killing her very own brother.
Cheryl: Everyone knows how much I loved my brother.
Veronica: Exactly. But did you love him maybe in ways a sister shouldn't love a brother? And as you got older, Jason started to think it was strange, unnatural. So he chose Polly over you, so you shot him between the eyes with one of your father's many hunting rifles.
Kevin: This is riveting. I. Can't. Breathe.
With putting Chuck aside, Cheryl still has her queen status. She took back the power after losing to Veronica during the dance off was a devastating blow.
Did anyone else find this scene awkward? It didn't make any sense as Cheryl's reason to get revenge on Betty and Veronica.
Archie is just...the worst...when it comes to dating. He keeps jumping from one person to next. He needs a reality check.
Valerie was right to dump the cup on him. He was drunk when he tried to talk to her, and he kept blocking her. That was messed up territory!
I was shocked to see Archie and Veronica hook-up. I thought this romance was over, but there have been slight hints ever since Riverdale Season 1 Episode 6. There's some potential for this to become a real romance. Though, knowing Archie, their fling might not last long.
Archie: I tried to help my dad, Ronnie.
Veronica: Archie, what did you say?
Archie: I told him not to sign the divorce papers, and I don't even know why. It's not like I even want them to get back together. Veronica, why do I keep doing this? I keep wrecking things.
Veronica: Welcome to my life. Every day I feel like there's a new secret, a new lie about my parents about what they've done. I don't want my mom to be guilty, Archie. I really want that to be a lie.
Speaking of Veronica, do you think she overreacted a tad about the testimony?
Don't get me wrong, it was important and could help her father get out of jail. However, I didn't quite understand why she reacted so harshly. Her father is evil. I know it. You know it. She knows it.
Archie hitting the bottle over his parents finalizing their divorce made sense. But her spiraling seems random by comparison. It's a very dramatic thing for Veronica to do. It suits her character, but it seemed off.
I'm happy that more people are getting involved in the Jason murder investigation and town drama. We can't forget the mystery anchoring the first season.
Veronica deciding to help was a nice touch to get the group together. However, Alice now paying closer attention is simply perfection. I loved the scenes of Alice with the binoculars and her confronting FP Jones. She knows something is going on.
Even with the overprotective nature, she's a clever person. I have a feeling she'll discover a key piece of evidence or uncover one of the mysteries. My money is on her revealing that Joaquin is dating Kevin only to get information.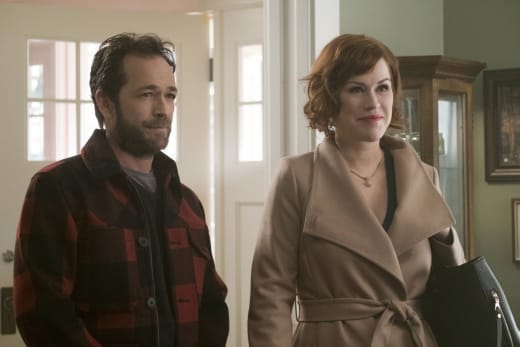 Big twist: Archie's mom is back in town. And, better yet, she's Molly Ringwald. (Please watch some '80s movies if you're not familiar with her work.)
We don't know much about her character yet, except that she's separated from Fred. I felt sad for Archie when he revealed that he chose to live with his dad instead of his mom. He's obviously beating himself up for even having to make a choice.
Hopefully, with his mom around, he'll enjoy a normal life and fix his bad habits. Maybe Cheryl is right, and he does have mommy issues? Nana Blossom has already proven the Blossoms are psychic...
What did you think of "Chapter Ten: The Lost Weekend"? Will Cheryl's game have negative side effects in the future? Is a new romance brewing between Archie and Veronica? What will happen now that Mrs. Andrews is in town?
If you missed the latest episode of Riverdale, you can watch Riverdale online via TV Fanatic. Come back here and let us know what you think.
Justin Carreiro is a staff writer for TV Fanatic. Follow him on Twitter.