Starting a new job can be stressful, but Alex took "getting off on the wrong foot" to a whole new level.
On Casual Season 3 Episode 6, Alex began working as the IT guy at a marketing company, and his first impression was less than stellar.
Elsewhere in the episode, Laura learned that actions have consequences, and Valerie found herself reconnecting with Jennifer and Jack.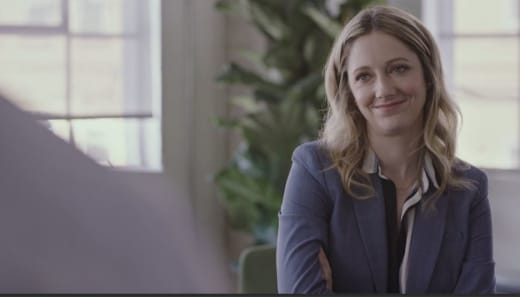 Alex has always been a little smug, but watching him fail at his new job was not satisfying. It was just uncomfortable. 
To be fair, his co-workers really laid their love of the previous IT guy on thick, and the woman who needed her computer fixed was extremely impatient and rude. The whole office environment felt weirdly passive-aggressive.
I'm just the IT guy, right? It's not like I have feelings or pride or anything resembling human emotion.

Alex
Subtly has never been Alex's strong suit. His anger at being talked down to came out hard and loud. 
Despite his outburst, Alex was given a second chance by none other than the COO/acting HR administrator, Judy. I had no idea Judy Greer was going to be on Casual Season 3, but I am thrilled she is.
Judy Greer has always been a talented actress, and it's baffled me for years that she isn't more of a household name. Frankly, she steals most of the scenes she's in, so she should be a great sparring partner for Tommy Dewey, who plays Alex.
I could definitely see Alex falling for someone like Judy. She seems to understand that he's probably too smart and creative for this job. She also didn't like the previous IT guy, so that's got to make Alex happy.
Look, I'm 36 years old. I'm out of money. I'm keeping a horrible secret from my sister. I'm living alone. Actually, that's not true. I have a cosplaying roommate who's been here for two weeks and already has more friends than me. You know, it's funny. When things are going well, you never think about it. It's just normal. But when things are bad, it's like every minute you spend thinking about how things used to be, and how you wish you'd appreciated it more. I'm sorry. That was sentimental and embarrassing.

Alex
Even though this is not the job he hoped for, I'm curious to see where this story line goes. At least it's getting him out of the house and around new people.
Sometimes I think Alex just needs to release some of his neuroses. I hope he can join in on the Magic: The Gathering game and relax.
Leon is an underused character. Whenever he pops up, I always wonder what he was up to off screen. Like who was that woman lying down on his bed? 
Alex uses Leon a lot for his own selfish purposes, so I'm glad Leon managed to make friends with Rae and her group as they played the game. If Leon is forced to watch over Alex's house all day, he should get something out of it.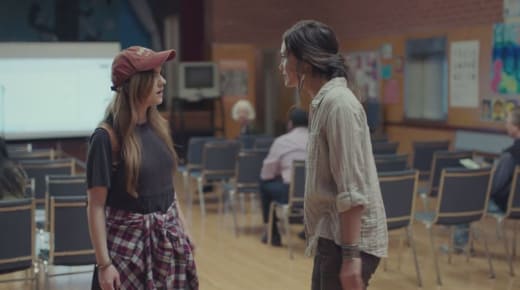 While Alex was starting his new job, so was Laura. Joining Casey's community outreach group, she was once again working to get signatures.
I've said this before, but Laura is struggling to find a path. While I think she should get a degree, I don't think Laura is heading in that direction.
Her hookup with Todd was predictable and disappointing. He just looked like a douche-bag. I feel like Laura's bar is so low at this point when it comes to potential love interests. 
Casey rightfully fired Todd for his indiscretion with Laura. It doesn't matter if Laura wanted to have sex with him, he was still her immediate superior and he should have known better. Frankly, I have a feeling Todd had done that before.
Casey: Todd was your direct supervisor. He removed you from your post and took advantage of you.
Laura: Oh my God, I feel like I'm in a bad Lifetime rape movie. He did not take advantage of me. I wanted something and he gave it to me.
Casey: An older guy, an adult, in a position of power. I mean, that's predatory.
While I think Casey made a lot of sense, I can't help but feel like there are some sparks developing between her and Laura. This would obviously complicate matters, considering Casey just fired Todd for sleeping with someone who's barely an adult and his subordinate. 
Casey seems like a decent person, so if anyone is going to make the first move, my bet is on Laura. I don't know what I want to see happen with these two. Love-interest or not, I think Casey is someone Laura can probably learn a lot from.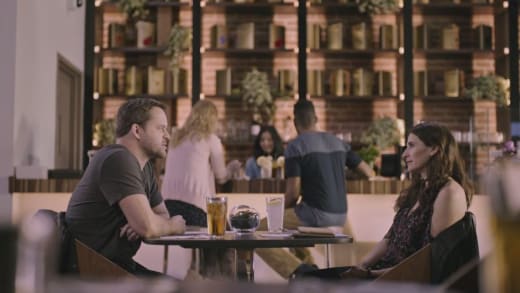 Valerie's story line was definitely the most lackluster. Aside from the hilarious run-in she had with the barista's girlfriend, I wasn't all that invested in both her interactions with Jennifer and Jack. 
I don't know you. We don't know each other. Also, girl code? Really? Did you see who we elected as president? The code is cracked. Enigma has fallen.

Valerie
I think Jennifer acting as Alex's therapist was beneficial, but she's sort of blah as a friend to Valerie. I'm not saying Valerie was in the right by getting her in trouble for revealing Jack's sex addiction, but Jennifer's response could have been more understanding.
As far as Valerie's lunch with Jack, it was all sorts of uncomfortable. At least their text messages later on flowed more naturally. They were also very flirty, so I won't be surprised if they end up back together.
So over to you! What did you think of the episode?
Sound off below, and don't forget you can watch Casual online anytime via TV Fanatic!
Amanda Steinmetz was a staff writer for TV Fanatic. She went into retirement in June of 2027. Follow her on Twitter.