Nashville Season 5 Episode 16 Review: Not Ready to Make Nice

Tiffany Staton at . Updated at .
The secret is out!
On Nashville Season 5 Episode 16, Scarlett is tricked into talking about her relationship with Damien, Juliette has a problem with Hallie and Maddie and Daphne try to work through their issues.
Starting with a storyline that completely came out of NOWHERE, Juliette thinks Hallie is suddenly trying to steal Avery from her.
I thought it was comical at first — how paranoid and insecure Juliette was being — but by the end of the episode, it was obvious there were deeper issues here.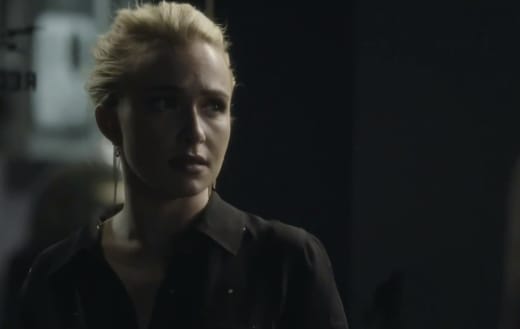 It's easy to forget because Juliette is such a force to be reckoned with, but she is still recovering from the plane crash. Sure, she's walking and even performing but she hasn't gotten treatment for the emotional damage she suffered. Not just from the crash, but from her entire life.
She's never dealt with her emotions, preferring instead to brush them off, run from them or ignore them completely.
Her mom was an addict and chose drugs over Juliette for the majority of her life. Her dad died when she was very young.
These are two of the most important relationships in a person's life and if they're severely flawed or even non-existent, it makes sense that it would impact every relationship in that person's life.
I'm not exactly sure how, but these feelings were triggered during or after the plane crash. We saw glimpses of them on Nashville Season 5 Episode 13 as Juliette was inundated with memories of her father.
A father is the first man a girl loves. If she loses him too soon, maybe she never trusts that love again. Maybe a loss like that stops her from ever being able to love that freely again.
Whether it stems from her childhood or a trauma as recent as the plane crash, there's something she's not dealing with and she's having a hard time keeping it inside.
It has caused dizzy spells in the past, and now it's poisoning her relationships with Hallie and Avery.
You've got problems. Lord knows we all do but don't take them out on the people who love you.

Hallie
The idea that there is something going on between them is just absurd. He is her producer. She is just like any artist he's worked with before. While they are both kind, attractive musicians, that's really all they have in common.
Avery has proven time and time again that he loves Juliette, but her insecurities won't let her accept that. She's always on the defensive, waiting to be screwed over again.
Juliette's issues were especially hard on Hallie who had just been dumped by a married man.
On Nashville Season 5 Episode 15 she talked about how safe he made her feel; now she felt lost and alone. The only thing missing was Celine Dion's "All By Myself" as she heated a can of soup on the stove of her dark, empty house and cried.
I feel bad for her, I do, but the guy was married. What did she think was going to happen? They all say they're going to leave their wives but how often do they actually follow through? Probably even less when there are kids involved.
Juliette shouldn't have unloaded her feelings onto Hallie, but Hallie shouldn't have gone home to wallow in hers either.
Life's crazy. The highs are so high; the lows are so low.

Hallie
She's not alone; she has the choir and friends from church. Not to mention a multimillion dollar recording contract. I get that sometimes you just need to sink into the despair, but don't stay down for long, girl. You have a bright future ahead of you.
Scarlett is also struggling. So much so that she let slip to a reporter that Damien is actually the father of her baby.
Well, she didn't really slip up, she just agreed a little too much with a comment the reporter made about Damien's powerful charm. Said reporter was talking about her own affair with Damien and she recognized something in Scarlett's expression.
That or she was lying the whole time and simply set Scarlett up in hopes of getting a juicy interview.
Damien wants something, Damien gets it, right?

Reporter
Either way, she found the scoop she was looking for and ran with it. Straight to the presses.
Again, I'm having a hard time sympathizing with Scarlett because she keeps making stupid decisions.
First, she has sex with two men, if not at the same time, so close in time that she didn't know who the father of her baby was. Second, why wasn't she on birth control? Why didn't she insist Damien use a condom? She's a smart woman. She should have known better.
Now, as she struggles to deal with the consequences of those decisions, she's taking Gunnar along for the ride. Only he's not sitting beside her in the passenger seat, he's hanging on for dear life from the bumper, being dragged over every stupid bump.
She needs to decide once and for all if she loves him and wants to be with him, or if she's just clinging to him because she doesn't want to be alone and/or deal with her current situation alone.
The only scene I didn't dislike was the one she shared with Deacon.
Their relationship continues to be #familygoals. Deacon, quickly becoming the go-to for any and all advice, delivers again.
Scarlett is worried she won't be a good mother to her unborn (SPOILER ALERT) baby girl. Her uncle assures her that no parent knows what they're doing; they just love their kids and the rest follows.
We saw this as Deacon tried to force Maddie and Daphne to talk about their problems, but failed every time.
Although, he definitely succeeded with his reminder on Daphne's phone.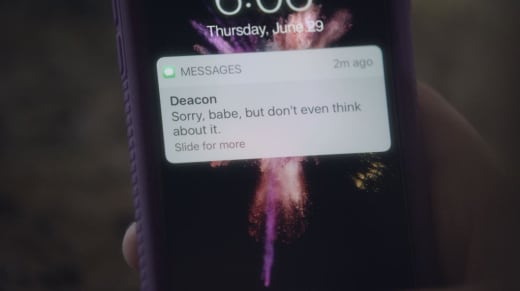 He means well but Deacon is still learning how to be a parent himself. He only learned he was a father a few years ago; now he's a full-time, single stepdad as well. Not to mention, he doesn't have the best track record when it comes to his own relationships.
The one thing he is good at, however, is loving the people he loves. So that's what he did.
Fortunately for him, sisters always come back to each other. They may yell and say horrible things first, but sisters forgive because family is more important. It's the most important thing in this world and Maddie and Daphne know that.
Their talk was sweet and sad and perfectly true to life. Also, true to life was their bouncy duet to end the episode, albeit most sisters don't have a luxurious studio to record in. Most of us had to jump on the bed, using a hairbrush as a microphone.
Side notes:
Deacon stared at Jessie's flyer a little too long for it not to mean anything. Is the show really going to have him move on so quickly?
The internet wants to name Scarlett's baby! Now that we know it's a girl, what name would you suggest?
I love that the most severe punishment Deacon could come up with was to take away Daphne's phone.
I don't think that's the last we'll see of Liv. I can't shake the feeling that something bad is going to happen to her.
What do you think Will sees on Zack's phone? Will we finally see his true colors?
Let me know your thoughts in the comments!
If you missed this episode or just want to watch it again you can always watch Nashville online via TV Fanatic.
Tiffany Staton is a staff writer for TV Fanatic. Follow her on Twitter.