Suits Season 7 Episode 3 Review: Mudmare
Paul Dailly at . Updated at .
It turns out, Pearson Specter Litt is not as well managed as we thought it was. 
Suits Season 7 Episode 3 found all of the principal characters raising their voices because of what they felt their colleagues were doing wrong, and it was a bit much.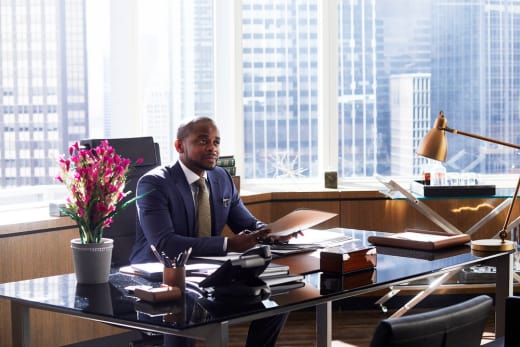 For the first time in a long time, I felt bad for Mike. He was very clear about wanting to work pro bono cases as well as the usual ones, but I did not expect his pro bono case to be dropped because of a "conflict of interest."
As soon as Harvey gave Mike the go-ahead to press on with a second pro bono case, it was evident there were going to be many hurdles in the way. 
The case was personal to Mike because he knew how bad the prison system was when he was in the slammer. Chris was dead, and his father already felt like he failed him, so Mike wanted to ensure the same thing did not happen again.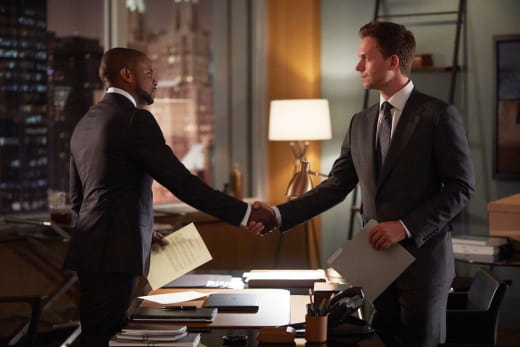 Mike went about it in the right way. He tried to get some information from the guards, but their hostility made it abundantly clear there was more to the story than met the eye. 
Maybe they should have been nicer, and then Mike might have been less suspicious. They just made it too obvious they were hiding something. 
I don't even want to get into how much of a coincidence it was to find the pub one of the guards frequented, but it helped advance the plot. 
Although the prison was understaffed, there's no way to know that it was the reason Chris died. It seemed more like it was negligence because he said he was having difficulty breathing. 
The case grew arms and legs with every single reveal, and my heart broke when it seemed like it was going to be dropped and there would be no justice. 
Thankfully, Oliver was on tap to take on the case after another argument with Mike. Despite feeling betrayed by Mike, Oliver did know that his former colleague was trying his best.
It's difficult for him to see eye-to-eye with Mike because of the lies and, of course, Mike working for Pearson Specter Litt. Going forward, it'd be good to see them collaborate on cases and return to being friends. 
I'm sorry everyone, but I just can't with Louis anymore. He can't help but act like a petulant child, and I can't even think about that dream at the top of the hour.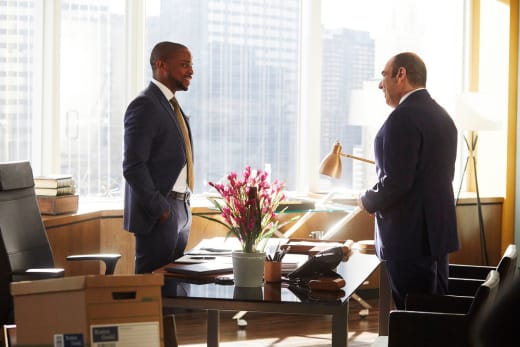 Obviously, he and Harvey turned a corner after Jessica's absence, but his obsession with Harvey and whether he and Alex become close friends is just too much. 
It's frustrating to watch because this is a character who we thought had turned a corner on several occasions, but it all seems to come back to his obsession with his employees and such. 
I don't think Tara was the right person for Louis, but it was fun to see him happy on Suits Season 6. Through three episodes of Suits Season 7, it's like the powers that be don't know what to do with him anymore, so making him shout at people is the best foot forward. 
Elsewhere, I was glad we circled back to Rachel taking on the associates. It seemed like they were going to take up the bulk of Rachel's arc this season, and I was looking forward to it. 
Being undermined, however, is not a good thing, and Stephanie went too far by trying to be smart with her. I had a difficult time getting on board with Stephanie because she could have turned to Rachel from the get-go to air her thoughts on what she was being asked to do. 
There's a difference between making your boss aware you would like to try some other things and just being plain rude and continuing to defy orders. 
By taking on the associates, Rachel was always going to either sink or swim, and I actually felt like Donna was looking out for her when the shouting match kicked off between Rachel and Stephanie. 
I could see why Rachel was irate with Donna, but she should have known that Donna would never do anything to hurt her intentionally. 
Donna was right that Rachel was sinking during the argument, and it's difficult to watch a friend in a situation like that. For that, I'm firmly on Team Donna. 
I'm glad the two friends made things right with one another before the episode was over. Having everyone fighting was stressing me the hell out. 
So, Stephanie is gone, and Donna was right to pull the trigger on her departure. What Louis did to her was not right, but Stephanie made it clear she was not ready to follow orders. 
If she were going to follow orders, she would have felt guilty and dealt with the case she took out of Rachel's hands in a prompt manner. 
"Mudmare" was not my favorite episode of Suits. I understand the stakes needed to be raised to show that these people are struggling in the aftermath of Jessica's departure and that decisions needed to be made, but they could have done it without yelling at one another. 
Also, Jessica left quite a while ago, so they should be starting to find their feet right about now. 
Other tidbits from the episode:
Is anyone else enjoying the addition of Paula as much as I am? She's right to be worried about how it looks to date a former patient. I hope that she and Harvey manage to weather the storm and realize what they have is worth fighting for. 
Where the heck was Gretchen? I'm not a fan of her disappearing. I would have loved to watch her tell every single character how dumb it looks for them to be bickering. 
Even though there was a lot of beef between them, it was great that Alex and Mike managed to squash it quickly. 
Remember you can watch Suits online right here via TV Fanatic. Get caught up now!
What did you think of "Mudmare," Suits Fanatics? Hit the comments below!
Note: Suits Season 7 Episode 4 airs August 2 on USA Network. 
Paul Dailly is the Associate Editor for TV Fanatic. Follow him on Twitter.