Suits Season 7 Episode 6 Review: Home to Roost
Paul Dailly at . Updated at .
Mike Ross should really stop lying. 
On Suits Season 7 Episode 6, Mike learned the hard way that lying to those closest to him could mean dire consequences. 
Unfortunately for Mike, it meant the case was thrown out, and Oscar Reyes and the other families lost out on money and an explanation of what happened to their family members who were failed by the prison system. 
It was obvious weeks ago that this whole thing was going to end in tears, and just like Rachel said on Suits Season 7 Episode 5, Mike's word is no longer worth much. 
As difficult as it would have been, Mike should not have pushed Oscar to not accept the money. However, Mike is a character who knows how flawed the system can be for individuals, so part of me thinks this has become a passion project of his. 
Oliver having to go it alone in the courtroom was needed need for his character's progression. We watched him get scared on Suits Season 6 every single time he was put under pressure.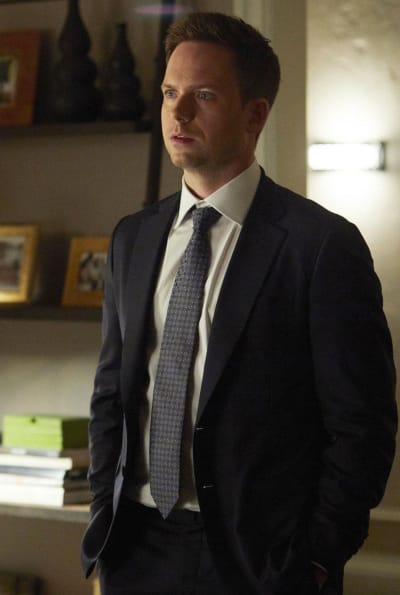 This was his time to prove to everyone that he could get results. Then Alex had to go and spoil it all by showing up, but he previously warned Mike to stay away from it. 
Harvey was brutally honest with Mike, and for the first time since Jessica departed, he came across as a worthy replacement. His reaction was similar to the way Jessica would if she was caught up in all of the drama because of one of her employees. 
It was horrible that Rachel was put on the spot once again, but it gave her the nudge she needed to give Mike the ultimatum she should never have had to give him in the first place. 
There definitely is hope for Mike because he chose to give up on the case, but I wonder who he is going to get to take on the case now that it's been tainted.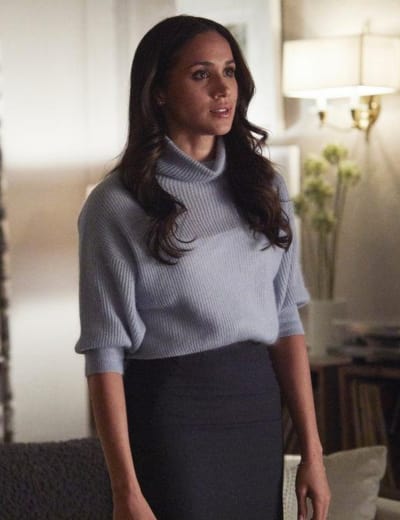 If Mike finds a way to slither his way back on to it, I will lose a lot of respect for him. 
Now that Harvey has confronted Alex about his involvement in the case, we should get some more insight into his motives for going nuclear on Mike for having anything to do with it. 
Let's talk about Louis. He proved that he had turned a corner, and it's exciting to have him becoming more aware of the ramifications of his actions. 
It's a shame that it took a sexual assault lawsuit to make him apologize to Stephanie, but the fact that he actually went and followed through with the plan, in the end, proved he knew he had done wrong. 
Stephanie's lawsuit did come out of the left field, but she opened up to Louis about being 34-years-old and feeling lonely. She connected with him on a level I never thought was possible. 
Stephanie has been very defensive in the few episodes of Suits Season 7 she has appeared, but she did not get the best start when Louis took his Tara-fueled anger out on her. 
I do hope, however, that this is not the start of a romance plot between the characters. It would seem too forced when you consider the circumstances. 
Louis does not work well in relationships, and that's why he went off the rails earlier in the season. He needs to stay single and stop obsessing about every woman that gives him attention. 
Then, love will come around when he least expects it. 
Harvey and Paula have been an engaging enough couple, but it's difficult to look at Paula as anything more than a placeholder for Donna. 
Paula is a great character, but a Harvey/Donna endgame has been teased all along, so it's difficult to get on board with anything else.
It was evident that she was going to overthink Harvey not telling Donna because Harvey did go in depth about their relationship during his therapy sessions. 
That's what you get for dating your former therapist, Harvey. 
Donna's reaction seemed natural. She was so sure in her heart that something was going to happen between them, and she was blindsided by the revelation that the man of her dreams had moved on with someone else. 
It was good that she recognized she made an error by lying and owned it soon after. It was difficult for her to admit she was floored by the reveal, but if she let it play on her mind and not come clean about the lie, it would have been worse in the long run. 
"Home to Roost" was a solid episode of this USA drama series. The characters are at exciting times in their lives, and the drama is flowing. 
Other tidbits from the episode:
Where the heck is Gretchen? She's been left on the periphery for most of the season. 
Seeing Katrina trying to help Louis was a treat. She has not had much of a role on the show since she returned, but that could be attributed to shooting 12 Monkeys. 
Did anyone else think someone would turn to Holly for help to get Stephanie to drop the lawsuit?
What did you think of the episode? Are you glad Mike's case was thrown out? 
Sound off below!
Remember you can watch Suits online right here via TV Fanatic. Get caught up with the latest drama. 
Note: Suits Season 7 Episode 7 airs August 23. 
Paul Dailly is the Associate Editor for TV Fanatic. Follow him on Twitter.