Gotham Season 4 Episode 12 Review: Pieces of a Broken Mirror

Lisa Babick at .
Welcome back, old friends. All of you.
A number of stories unfolded on Gotham Season 4 Episode 12, as we caught up with almost everyone including someone we haven't seen in a long, long time.
Some of it made sense, some of it not, but considering how much was actually unpacked, Gotham did a good job of not making the hour a cramped mess.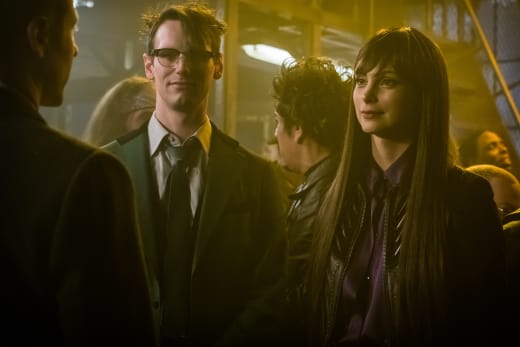 Jim is on another quest. (Surprise. Surprise.)
This time his quest is to confess apparently, but no one seems to want to listen. At least not the person to whom Jim most wanted to make his confession.
Bullock had no interest in joining Jim on his pity fest and was quick to call him out at the bar. The only reason Bullock even called the cops was to help out Alfred, but he had to know that Jim would probably show up at some point.
Related: Get Comic Con HQ via Amazon Channels to Stream Original Series, Past Comic-Con Panels & More!
I would imagine the nice lady at the brothel informed him that Captain Gordon was looking for him. And I imagine it stings every time someone says, "Captain Gordon."
Bullock tried the best he could but got caught up in all of Penguin's shenanigans. If you think about it, Jim had no place telling Bullock he was wrong considering all the wrong Jim has done during his time.
And that's where all of Bullock's anger comes from. How can he get taken to task for all of his wrongdoings while no one ever calls out Jim for all the bad stuff he did? I can't remember if Bullock killed anyone, but Jim did.
Even if Bullock did, he would have at least owned up to it and not acted like he was better than God. If I was Bullock, the idea of Jim getting away with everything would have pissed me off, too. 
But this time around, Jim is going to have to deal with things on his own. What he really should do is turn in his badge and confess to the entire City of Gotham. Tell people that he's not their white knight. 
Despite all of Jim's wrongs, he has actually done more good than bad and even the bad stuff he's done has turned out to be for the greater good.
Related: O.J. Simpson: The Lost Confession? To Air on Fox Opposite American Idol Premiere!!
But Bullock doesn't see it that way. At least not now and maybe never again.
On a side note, isn't it interesting that all of the people Jim has burned at some point have ended up in the Narrows? Alfred. Bullock. Lee? Jim has a special something about him for sure.
Speaking of Lee, it wasn't going to take long before Jim found out the love of his life was living it up in the Narrows. I'm glad their reunion happened sooner rather than later.
Jim, I don't know what it is, but you're not good at keeping secrets. You didn't come down here because you miss me as a cop. You came down here to confess. You want me to be your priest, well, sorry, pal. I'm not interested.

Bullock
Jim knows he ruined Lee, and it was evident on his face that he felt responsible for her being in the Narrows. What he doesn't realize (mostly because he only thinks about himself) is that she has become something more in the Narrows. She's become a hero.
I don't quite understand the whole "Unified Narrows" political movement, but I like the idea of her being in charge and wanting to bring something positive to an area of Gotham that has been negative for so long.
Who knows if she'll be successful, but I'm all in for whatever Lee is doing as long as she stays far, far away from Jim. Please don't let them get back together. She's been doing so well without him. Let her be her own queen.
Jim's former Queen, Barbara, did a great job of telling Jim only so much about who "The Doc" was. Does she really think she still has a chance with Jim? It's funny watching her try to be seductive around Jim, and I always wonder if he really has no feelings for her, or if he's just pretending.
Barbara is such a better fit for him than Lee, but the chances of Jim and Barbara getting back together are about nil. Too bad.
Related: Ch-ch-changes: How to Handle Evolving Casts Without Killing the Show
That commercial Babs and the girls made was so corny, but I loved it. 
I also loved the new, new and improved Ivy. Actually, I was just surprised to see Ivy at all. It has been so long since we've seen her around I thought maybe Gotham decided to drop the whole Poison Ivy storyline.
Apparently not. Hopefully what we saw isn't just a one-time thing. This new Ivy is wickedly good, and a Selina and Ivy team-up would add some extra fun spice to Gotham.
Would Selina abandon Babs and Tabitha, or will she play both sides?
Ivy has never been part of the ladies' club, but her new powers should gain her immediate access. I can't see Babs pushing her to the outskirts anymore, but, at this point, Ivy doesn't really need any of them. 
If anything, they will need her. What she's got is more powerful and potent than any gun!
So, what did you guys think?
Did you like catching up with everyone, or did you think it was a bit much?
What do you think about the new Ivy?
Will Butch and Tabitha reunite? Will Bruce grow up? How long before Bruce goes looking for Alfred to bring him home?
Hit the comments and share your thoughts! 
If you need to catch up, you can watch Gotham online right here via TV Fanatic!