Scandal Season 7 Episode 14 Review: The List
Paul Dailly at .
Olivia Pope may have a ray of hope. 
On Scandal Season 7 Episode 14, the disgraced former Chief of Staff took on a case of a young woman who seemed intent on carving a career path just like hers, all while trying to take down the villainous Cyrus. 
Scandal is well-known for all of the double-crosses, but "The List" was a surprisingly satisfying affair that reiterated with a big bang that this show is coming to an end very soon. 
If you watch Scandal online, you will know that Olivia has been struggling to get on good terms with her former allies, and well, who can blame them for not wanting to hang around with her?
The moment she gets a whiff of power, she thinks she's the most critical person in the world, and that she has the power to put hits out on anyone who looks at her the wrong way. 
Even Abby, who has long been an advocate of Olivia's was on the fence about joining in on the fight against Cyrus. 
Related: Scandal Review: Army of One
When Olivia took the news to her, it was almost like she was going to say, "Who the f--k are you?" when she answered the door. 
In any case, Olivia needed to be brought back down to Earth, and that's why Abby took her comments on board. Abby knows as well as anyone that Cyrus would throw anyone under the bus to become President of the United States. 
The man is that desperate. The show is gearing up to have him as the final villain, and I'm surprisingly alright with that. 
Cyrus is a character who should have been written out of the series in its earlier days, but like good old Rowan Pope, he's still parading around and wasting valuable screen time. 
That's why I'll be glad when the other characters all come together to take him down for good. But there's a significant possibility he will have contingency plans at every hurdle he comes across. 
Related: Scandal Star Plots TV Return!
Just look at the way he managed to turn the tables and put Charlie into the frame for creating the virus. I would not have put it passed Huck to have lied about the virus just to get closer to Quinn. 
With Charlie in police custody, Scandal Season 7 is very likely going to conclude with all of the gladiators gladiating their way to victory one last time.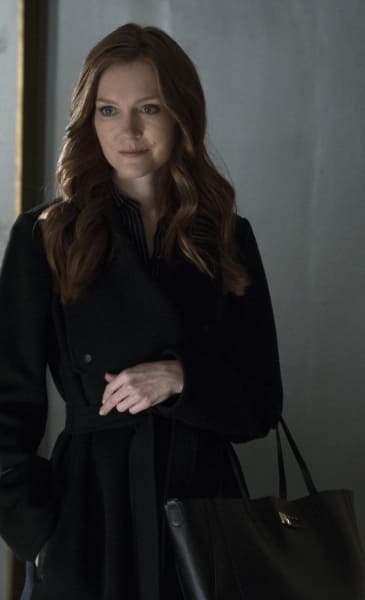 Quinn showing up at Olivia's door was her way of waving the white flag. She knew there was no way she could take on the White House without Olivia Pope at her side. 
This is the redemption arc Olivia needs for fans to be able to get on board with her getting a happy ending because let's face it, she's getting back with Fitz before the series ends. 
I can't be the only one who wants to barf when the pair are in the presence of one another. There's been too much back and forth to care about them riding off to Vermont. 
But there were multiple moments that made it look like Fitz liked what he saw of Olivia. She genuinely cared about people again. 
I know who you really are. … You're at the top of the heap, and everyone knows who you screwed to get here. … She couldn't see how disgusting this place is, and how you fit right in. She was better than you because she wouldn't play this sick game. She followed you into the swamp and it sucked her under.

Alisha's Father
That's a far cry from the tough as nails version of the character we've witnessed for much of the show's run. 
The case involving Alisha was heartbreaking. The poor girl thought she landed the internship of her dreams, and her life was cut short because one man felt like she was not good for a full-time position if she did not put out. 
Related: Penn Badgley Drama "You" Gets Premiere Date at Lifetime!
From the startling opening scene, there was a sense of uncertainty because the woman could pop up at any point with the gun. 
My heart skipped a beat when her body wound up in the morgue. I did not expect her to kill herself, but it just goes to show the effect this man had on her. 
Jake: Clearly, I misread the situation.
Mellie: I am not starting an affair in the Oval with a subordinate. … I will not be another Fitzerald Grant and Olivia Pope. Nor am I interested in sleeping with someone who was slept with Olivia Pope.
The sooner Mellie comes up with this new legislation for sexual harassment, the better. The case clearly struck a chord with her, and I wanted to smack Jake when he put his hand on her hand. 
What even was that? Did he think Mellie was just going to roll over and start sleeping with him? Mellie can cut through the BS as well as the next person, so I loved that she put him in his place. 
Mellie reiterating that she was not her husband made me chuckle a little. Is it bad that I love when anyone throws shade at Fitz or Olivia?
I live for that, and if you hit the comments with some GIFs of some tea being spilled about them, I may just be your BFF for life. 
Fitz: Did I cross the line?
Mellie: No, that was different. We crossed that line together.
All told, Scandal is heating up as it heads for the finish line. With some tweaks, the show could go out on a strong note. 
But this is Scandal, and it seems intent on being a disappointment. 
What did you think of the episode? What will become of Charlie? 
Hit the comments below!
Scandal returns March 29 on ABC!
Paul Dailly is the Associate Editor for TV Fanatic. Follow him on Twitter.