Who can you trust to have your back? That was the question on Blue Bloods Season 8 Episode 20, and at times, the answer was surprising. 
Especially for Danny, who found his arch enemy, mobster Victor Hugo, was surprisingly helpful in tracking down a cop killer.
Victor Hugo has been one of the more entertaining criminals on Blue Bloods Season 8. Remember when he sent a singing donut to humiliate Danny at work?
Danny may have admired Victor's expensive car, but he had no love for the man himself, and the feeling was mutual. 
Although, as seen in this Blue Bloods quote, Victor reveled in antagonizing Detective Reagan. 
Well, if it isn't my favorite defective.

Victor Lugo
As much as I enjoyed their ability to irritate one another, there were many aspects of this case that had me rolling my eyes, such as, when Molly Chavez ran out of the apartment building.
Why was Danny the only cop to chase after her? Baez and an entire ESU team were there too. And wouldn't it have been smart to keep an officer or two outside the building just in case things went wrong? 
Thankfully, while Danny pouted, Baez's detective brain was working, as she called in Molly's description and forwarded her photo to have her picked up on surveillance cameras. 
RELATED: Get CBS All Access via Amazon Channels for Hit Shows, Exclusive Originals & Live TV!
Also, I know that Hugo could probably find out how effective the city's surveillance cameras are by doing a Google search, but if I were Danny and Baez, I'm not sure I would have been handing out information quite so freely.
Victor is a mobster who is going to get out of prison and be committing crimes in the near future. Why give him the heads up on what he needs to avoid to get away with them?
And I know that giving Victor his phone allowed him to send Danny a message to save the ESU team from the booby-trapped apartment, but would a cop seriously give an incarcerated mobster a cell phone? 
Finally, why would the police have released Molly Chavez before raiding that apartment and arresting their cop killer? If they let her go before the raid, she could have called Derek, and hidden her mother. 
Granted, Danny and Victor's chemistry made this storyline entertaining, but the plot holes were an annoyance.
Elsewhere, Erin looked happy, which is an emotion we don't often see from her, and Anthony noticed.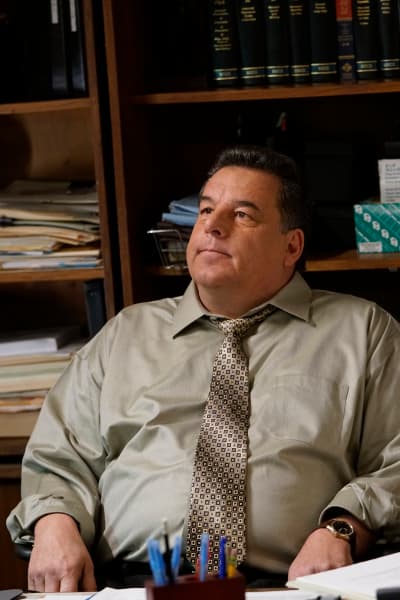 Erin was having fun bantering back and forth with Anthony over his colorful use of the English language, and he seemed just as delighted with it as she was.
Erin: Why thank you, I left my English to Brooklyn dictionary at home.
Anthony: Wow, you're just a boatload of one liners today.

But her mood changed quickly when she pushed her friend to share his opinion of her dating her ex, Jack Boyle. 
Let's face it, Anthony was in a no-win situation. All he knows about Jack is what Erin told him, and even she admitted that most of that hasn't been good. 
Erin and Jack have gone back and forth for years. The Reagan family can't stand him, and other than the current smile on Erin's face, I can't say I've found a lot to like about the guy over the last eight seasons. 
RELATED: CBS Sets Season Finale Dates For The Big Bang Theory, NCIS & MORE!
When the license plate on that car came back with Jack's name, I thought the same thing that Anthony did, that Jack was cheating on Erin. 
Although, the one thing that bothered me was that if it were a company car, wouldn't it have been registered to the company and not in Jack's name? But I'll let that one slide. 
I was happy that Erin wasn't angry at Anthony for his big brother routine with Jack. Erin obviously means a great deal to him, and he only wants to see her happy. 
If Jack can keep that smile on Erin's face, then I'm for that too. 
Then there was the Sergeant's exam. I was shocked to find out that they only offer the exam when they feel they have positions to fill and that it's been six years since the last one. 
I must admit, I was disappointed in Frank. 
He went from chickening out and leaving the application in Jamie's bag because he couldn't even broach the subject with his son, to pulling his partner in to ask her if Jamie was taking the exam, to outright pushing him to do it. 
Speaking of Eddie, I liked how she handled Frank. She didn't think it was right to share private conversations she'd had with her partner, but she did admit that Jamie gave her his application. All that was missing was her encouragement for Frank to talk to his son. 
Jamie was right. The conversation about his career is well-worn territory. Jamie has made it clear that he loves his job and is happy right where he is. How many people can say that? 
Of whom much is given, much is expected.

Frank
I thought that line from Frank as he walked out the door was a low blow. Jamie gives back to his community every day as a beat cop. He gets great satisfaction from helping regular people, and he's smart enough to know he'd do a lot less of that as a boss. 
Jamie's ego doesn't need the accolades or the promotion, but you could feel the waves of disappointment coming off of Frank and Henry at that Sunday family dinner, and that's not fair. 
The family legacy shouldn't be more important than Jamie's happiness. 
RELATED: CBS Renewals: Which Major Show is Missing?
The best thing about this Sergeant's exam is that if Eddie becomes one, perhaps her personal relationship with Jamie can finally move forward!
Tell me TV Fanatics, was I the only one who was bothered by the details of the Victor Hugo story?
Was Anthony out of line in confronting Jack, or just being a good friend?
And should Jamie take that exam?
With only two episodes left this season, check back from my review of Blue Bloods Season 8 Episode 21, and until then, you can check out the Reagan family dinners and watch Blue Bloods online here at TV Fanatic. 
C. Orlando is a TV Fanatic Staff Writer. Follow her on Twitter.