Siren Season 1 Episode 6 Review: Showdown

Yana Grebenyuk at . Updated at .
Danger is closing in on both Ryn and Donna, with their varied views on humans putting them both at risk of getting caught by the wrong people. 
Although right now it looks like Donna is the one that we need to worry about, with a few different groups gearing up to catch her in the ocean.
On Siren Season 1 Episode 6, Ryn and Donna still struggled to see eye to eye on the issue of humans. Ryn comes around and expects Ben to side with her, but instead, he tries to keep her from killing anyone which she accepts as him not choosing her. Meanwhile, Dr. Decker will stop at nothing to find Donna.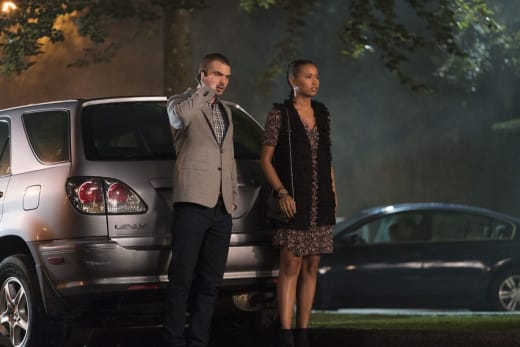 Xander is also around there somewhere, and he finally gets clued in a bit more about how very real mermaids are when he ends up following Donna when she goes back into the ocean
Xander isn't at the center of the mermaid adventure but this time around I felt like he should have been.
He is one of the few people who isn't clued into what is happening and more and more it is starting to feel like that is a disservice to the story.
Xander's determination could prove valuable to the group so why not use his skills and need to know the truth?
All of this could just be me wishing that we saw more of this character because he genuinely has a lot to offer and it would be nice to see more of that curiosity as part of the team.
Although, it does look like with him seeing Donna and being there for her transformation that maybe Xander will play a big part now.  
Where is my damn mermaid?

Xander
Ryn and Donna have hit a rough spot in their relationship, but who is right?
Ryn got to spend time with humans who only want to help her and the rest of the mermaid population. It is no wonder that she imprinted on them a bit and isn't looking to hate every human.
But Donna was treated viciously; there is no way she could gloss that over just because her sister said she spent time with nice people. 
Related: Watch Real Lives, Real Stories, & Real Celebrities on Reelz Channel via Prime Video Channels!
Somehow I find myself agreeing with Ryn more, which might have to do with the fact that this is more her story and there was more of a focus on Ben and Maddie as well.
Donna's journey isn't a mystery, but we only got small previews into her life, she is still a stranger from time to time, and thus it isn't as easy to be on her side right away.
Ryn knows that right now it is safer to be with the humans that she trusts, maybe if Donna gave them more of a chance she would see that she can trust them at least. 
This man, he hurt her.

Ryn
Ben probably had one of the biggest roles to play this time around and seeing him stand up for Ryn feels like that is exactly what his role is meant to be.
He is at his best when he is trying to help someone, so Ben in a protective mood at that fundraiser was exactly what we needed to see. 
It isn't exactly great that it ended on a sour note with Ryn leaving Maddie and him because he refused to understand how much Donna was injured.
I know mermaids tend to grow murderous, and Ben was trying to prevent them from happening, but this is the only way Ryn knows how to react, and there is no easy answer here, but obviously, he made her feel like he wasn't on her side.
Related: Enjoy UNLIMITED access to thousands of Movies and TV shows with Prime Video. WATCH ANYWHERE. CANCEL
The best thing he could do right now is to make sure that Ryn knows that he is still going to choose her first, not a random human who hurt her sister.
Also at some point, he and Maddie need to talk because it is getting ridiculous.
Both of them are kissing Ryn, not hiding it from the other but also not defining what exactly any of this means. This will only end in more drama, trust me. 
I know what she did to you.

Ben
Dr. Dereck is just hanging around, and it is getting hilarious.
Ben heard the siren song as well yet he can keep it together far better. Dr. Dereck is obsessed with Donna, and that is exactly what is going to put him in danger if he doesn't let up.
Related: Enjoy UNLIMITED access to thousands of Movies and TV shows with Prime Video. WATCH ANYWHERE. CANCEL
There is also the small issue that Donna wants nothing to do with him. Maybe he didn't want to harm her, but he did and just because he thinks he cares about her doesn't mean that he does.
In fact, him looking for her in any context creates more problems for Donna and her sister.
This dude honestly needs to take a break and reevaluate precisely where he thinks he is going with all of this. 
You like human.

Donna
What did you think of the episode? Are you excited about where the story is going? Do you wish we saw more of something? Do you wish we saw less of something?
What do you think about Ryn and Donna's relationship? Where are things headed next? Let us know what you think below.
And don't forget that you can watch Siren online, right here on TV Fanatic!
Yana Grebenyuk was a staff writer for TV Fanatic. She retired in April 2021.