Blue Bloods Season 8 Episode 21 Review: The Devil You Know

Christine Orlando at . Updated at .
Officer Eddie Janko got to play the hero on Blue Bloods Season 8 Episode 21 when she saved the life of a stolen baby.
I was a little surprised that Jamie was so willing to call it a day when their shift had ended. I know that the case was officially in the hands of the detectives, and they've taken some flack for overstepping in the past, but this was a missing newborn. 
Jamie's usually the one who follows his gut feeling, and Eddie always has his back. This time the roles were reversed.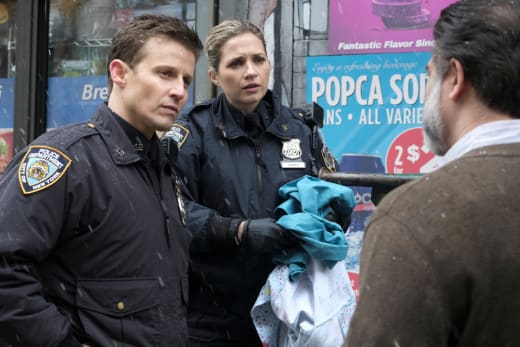 I didn't blame Eddie at all for wanting to continue the search, and her hard work and determination paid off.  
There were a couple of moments that surprised me.
The first of which was that neither Jamie nor Eddie climbed down that fire escape to follow Alice. If she could do it while holding a newborn, I'd think one of them should be able to catch up to her rather quickly. 
RELATED: Get CBS All Access via Amazon Channels for Hit Shows, Exclusive Originals & Live TV!
The other was that they didn't try to find the source of the crying in the park more quietly. Instead, they were yelling for Alice, which only spooked her and made her run, which certainly wasn't safe while holding the baby. 
Eddie stuck to the truth while trying talk Alice down. I think I would have just played along with the baby being hers, but either way, it worked. 
Although the entire scene had me holding my breath, because what were the odds that Jamie could catch the child if Alice threw her? 
I don't want to think about that.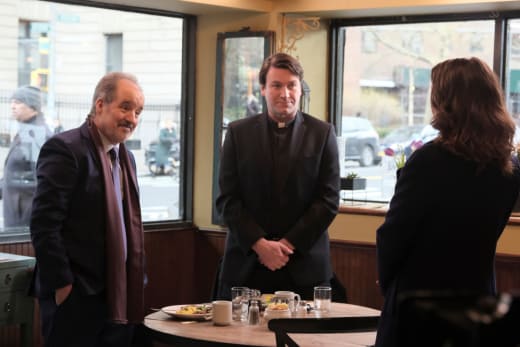 Elsewhere, Erin got blindsided by a priest. 
I understand that the Catholic church wants to see the best in people, especially someone who is writing their organization's youth league big, fat checks, but I didn't buy the innocent look on the priest's face. He knew he was setting her up and deep down he knew it was wrong. 
John Romano was a mobster willing to do anything to save his son from a prison term, and I have to give him credit for being creative. 
He hired a hitman to murder an entire family and then used information about the hit as leverage to save his son. He even offered Erin more information in the future, which I'm sure would have been equally tainted. 
RELATED: CBS Sets Season Finale Dates For The Big Bang Theory, NCIS & MORE!
I was curious as to whether the hitman had any idea he was being set up. If not, I can't imagine he'd be very happy about it, and I'm sure he could seek his revenge whether he's free or behind bars. 
It was easy to see why Romano's son was facing a prison term; the guy was an idiot. He was annoyingly cocky because he knew his powerful daddy would save him, but he couldn't keep his mouth shut long enough to save himself. 
The two best things to come from this case were Anthony and Danny agreeing with one another, and then their conversation about Erin while they sat in the car on the stakeout. 
These two might butt heads at every turn, but they are both good cops, and they both love and respect Erin, even when they disagree with her.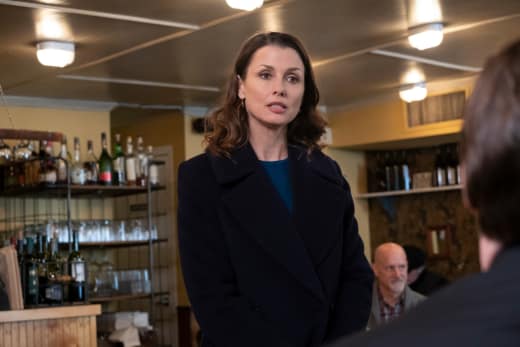 Then we come to the timely case of privacy vs. public safety. 
Should companies have the right to keep their technology private, even when doing so could hinder law enforcement from preventing future tragedies? 
Or as Frank put it in this Blue Bloods quote...
Terrorists have weaponized your product, Mr. Post, as sure as if it were an airliner or a rented box truck, and you're going to sit here and tell me that people's privacy deserves your protection but their lives do not?

Frank
Once again I enjoyed Frank and Kelly's give and take on the subject. The issue is complicated, and neither was necessarily wrong. 
I like that they can argue serious issues like adults and still walk away respecting one another even when their point of view differs greatly. 
Personally, it seems to me that there should be some sort of a compromise. If law enforcement has a warrant for the information, couldn't the company itself open the phone, therefore not having actually to hand over the technology to do so?
I realize it's complicated but shouldn't there be an answer that isn't all or nothing for each side.
RELATED: CBS Renewals: Which Major Show is Missing?
Frank used the personal approach to get backdoor access which worked for this case but won't help the NYPD for the next. I suppose this was shown as a short-term solution because there isn't a current long-term solution in real life to mirror it. 
We've only got one episode left in Blue Bloods season 8. Jamie and Eddie are at the top of my must-see list for this season finale. The lines keeping their relationship professional certainly look blurry to me. I'm hoping they make the leap to a personal relationship on Blue Bloods Season 8 Episode 22.
You tell me TV Fanatics, what do you want to see with this season's end?
Don't forget, you can watch Blue Bloods online any time right here at TV Fanatic.
C. Orlando is a TV Fanatic Staff Writer. Follow her on Twitter.