Shameless Season 9 Episode 4 Review: Do Right, Vote White!
Paul Dailly at .
Political fervor hit the South Side on Shameless Season 9 Episode 4, and it couldn't have been more timely. 
At times, "Do Right, Vote White" felt like a PSA about the pitfalls of not voting at all or not voting for the right person, but it represented the change in direction this Showtime hit needs. 
Frank and Fiona had distinctly different views on who should win. Frank's side wanted to blame the immigrants for the lack of opportunities in the South Side. Well, that's the story Frank was telling everyone who would listen. 
Frank always thinks of the money, and that's why he took on the role of the campaign manager. Fiona is business-minded and wants to make sure the person she votes for is going to bring her hometown back from the brink and allow her businesses to flourish. 
It's difficult to praise Fiona because of the incentives she was throwing in to get her customers to vote. Who's to say that these youngsters turning up at the polling stations were not just voting for someone else and taking the pin for the free pie and nachos? 
Frank: Military service is for losers.
Lip: Spoken like a true patriot.
There's no telling the lengths people will go to stay nourished when their back is against the wall. The fight at the polling station, however, was one of the best moments of this show in years. 
Terry Milkovich returning was a perfect blast from the past, and it was typical of him to want to join forces with Frank and the other drunks of the borough to prevent voters doing what they were supposed to do. 
Shameless has always focused on the social issues plaguing people in the most deprived areas in the United States of America, but it does so in such a comical way that it makes it seem not as bad as it actually is.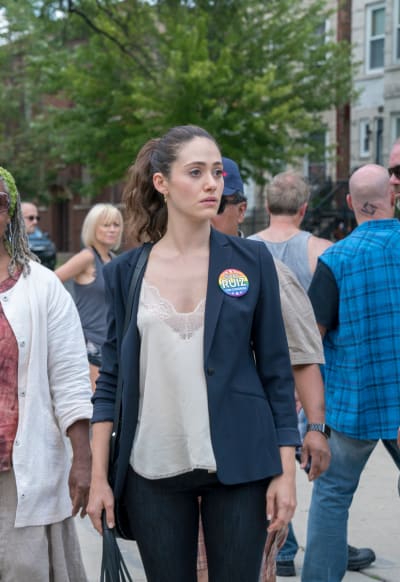 Perhaps that's why the show has been so successful, but it lost its way for a while. It was just chugging along while ideas were being thrown out there to see which would stick. 
There are going to be a lot of changes with Mo White in power. Putting a man in power who has been accused or convicted of some form of sexual assault does not sound all that foreign in today's climate. 
It's downright awful, but with the #MeToo movement, it's clear Shameless is aiming to be as topical as ever. Mo White is a horrible old man who is going to cause a lot of problems for everyone. 
Related: Shameless Shocker: Emmy Rossum Departs
I dare say Fiona and Debbie will be joining forces to find enough people to take him down before Shameless Season 9 is over. 
Despite being all about taking down the patriarchy, Debbie never had much to work with as far as the political storyline goes. 
Lip: No.
Liam: I'm not feeling so good. I think I'm coming down with something.
Lip: Buddy, it's not happening. You're going to school. Go.
Liam: It's a waste of time. I'm not learning anything. Could you just homeschool me?
Instead, she was shacking up with Alex and screaming from the rooftops that she was a lesbian. She was confused and wanted a sense of belonging. 
Her whirlwind relationship with Alex reeked of desperation. She knew the woman for all of a few days, and she was moving in with her and talking about the future as though they had been together for years. 
Debbie is still at a young and impressionable age. She's thinking about the negatives in her life. Her relationships with men have been duds, so she thinks she absolutely has to be gay. 
She failed to realize that she enjoyed her trysts with both women and men, but the way she spoke about male genitalia implied that she could be bisexual. 
The thing that irked me about this plot development was that Debbie failed to realize that. In her mind, you are either gay or straight. 
Frank: Just like her mother, ready to spread her legs for a any guy with a wallet chain and a flaming skull tattoo.
Lip: Still father of the year, Frank.
She never left in wiggle room for there to be an in-between. Hell, even Alex immediately assumed that Debbie was a straight girl. 
Maybe I'm jumping the gun here and dragging aspects of the storyline before it's even played out. Time will tell whether there's more to this plot than meets the eye. 
There was a certain chemistry between Debbie and Alex that Debbie never had with any of her previous partners. 
Deep down, she seems very confused and will need to do a lot of soul-searching to find out who she really is and carve out her future accordingly.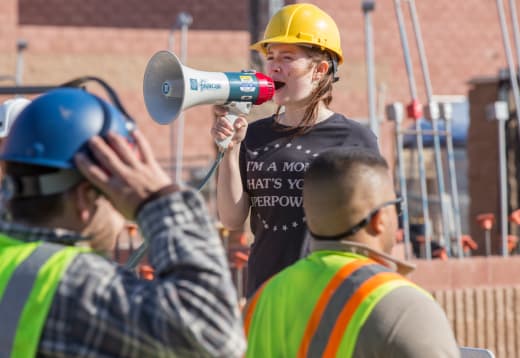 It's a real shame that Ian was so dismissive of her when she turned to him for help. Then again, Ian isn't exactly in the best place with the whole Church of Gay Jesus storyline. 
The positive here is that the plot appears to be dying out. Ian knows the dangers of being an internet sensation and seems ready to bring it to an end. 
The way he's acting would imply that he's back on his medication and was going through the manic state associated with bipolar disorder when he started blowing up vans and other crazy things. 
It remains to be seen whether he can turn this movement into a good thing. It's global, but with people acting out and blowing up vans, it could get real messy.
The storyline that tugged on my heartstrings was Lip trying to become Xan's legal guardian. If you watch Shameless online, you know that he took the kid in when her aunt skipped town, leaving the kid to likely make her way into the system. 
After Lip kidnapped Xan from the hospital on Shameless Season 9 Episode 3, I figured there would be a lot of blowback, but there was nothing. The authorities have no clue whether Xan was with Lip for a good or bad reason. 
They never investigated because if they did their job, Lip would be arrested. 
Related: Get Showtime via Prime Video Channels for Award-Winning Original Series, Hit Movies, Sports & More!
Xan's mother showing up was quite the surprise.  Lip's immediate assumption was that she was only there to get the kid to accept checks for money probably stemmed from him having Frank and Monica as parents. 
Xan's mother should have really opened up about why she left her daughter, and more importantly, how she was going to give her a better life. 
Becoming a prostitute was not precisely what Lip needed to see, but it was enough for him to know that a life on the streets was not the way forward. 
Selling the bike for the money was a selfless move that reiterated that he's one of the nicest men on all of television.
That final scene was raw with emotion, and while I expected the mother to take the money and leave without Xan, the emotional reunion confirmed there was a genuine connection between the mother and daughter. 
With Lip giving them the money, there's a good chance we'll never see them again. If that is the case, it's going to leave Lip looking for something more. 
Related: Shameless Season 9 Expanded
He wants to be happy, but the relationship side of things does not work for him because he's found that every woman thinks he's boring as a result of his sobriety. 
Finding love requires a lot of perseverance. Someone will pop up when he least expects it. He deserves his happy ending. 
"Do Right, Vote White" represented a considerable return to form for the series. Will it be able to keep up the pace? 
Other tidbits from the episode:
Did anyone seriously expect Liam to remain in the lower classes in the school for much longer? He's proven he's different from his siblings.
Carl going head-to-head with the kid for the recommendation for Westpoint was hilarious. How many more times will Carl have to prove that he's one of the most resourceful teens on his side of the tracks before people take notice?
The Alibi Room getting off the list of "rapiest bars" happened a little too quickly for my liking. It would have been best told over a longer arc. This isn't something that just gets brushed under the rug. 
Are we actually going to find out what life is like inside the nursery with the twins pretending to be the one person or not? Forgetting about storylines is not a good idea. 
What are your thoughts on the latest installment? Did you expect there to be more returns for the 100th installment?
Hit the comments below. 
Shameless continues Sundays on Showtime. 
Paul Dailly is the Associate Editor for TV Fanatic. Follow him on Twitter.