NCIS: Los Angeles Season 10 Episode 1 Review: To Live And Die In Mexico
Dale McGarrigle at . Updated at .
So, was last season just a dream? Should we have had Chris O'Donnell coming out of a shower?
Much of what most viewers didn't like about NCIS: Los Angeles Season 9 seemed well on its way to being undone on NCIS: Los Angeles Season 10 Episode 1.
And that's fine with me. The thing most worth retaining from last season was Sam's moving onto a boat with his own guard sea lion. The SEAL living on the water was just so appropriate.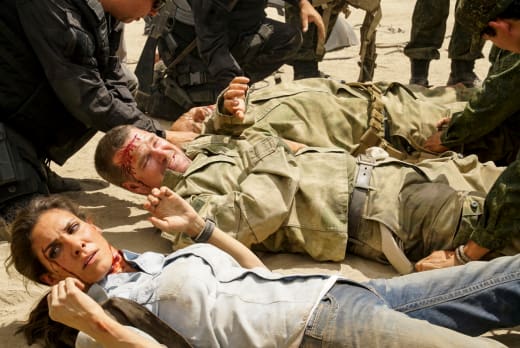 Let's address the biggest problem from last season -- Mosley.
Sure, the idea was to shake up the comfortable team dynamic at the Office of Special Projects, under Hetty's benevolent rule.
But that direction stems from the rather specious logic that there was something wrong with the status quo. You want to change things up, do it like on NCIS: Los Angeles Season 8, during Daniela Ruah's maternity leave. That way, it's short-term, and it's not open-ended.
Related: NCIS: Los Angeles Season Finale Review: Ninguna Salida
I get that's what happened in essence during Hetty's Vietnam odyssey last season. But when they brought in a new director who was making change for change sake, it just didn't feel organic. Plus, when Hetty returned, Mosley needed to disappear.
But she didn't. And to make matters worse, she rubbed Hetty's nose in her authority every chance she got. At least Granger came around after a while.
Yes, the team learned about Mosley's private pain and cut her some slack as a result. Mosley did come around to the OSP way for doing things, at times. But too often she was just trying to prove she was in charge.
The real crime was that Sam, Callen, Kensi, and Deeks wouldn't have even been in Mexico in they hadn't been on an unsanctioned mission to rescue Mosley's son Derrick from his gunrunner father on NCIS: Los Angeles Season 9 Episode 24.
And Hidoko would still be alive.
I didn't mind Hidoko. Unlike her boss, she learned how to fit into the team, in whatever role she got. Her fatal flaw was being too supportive of her mentor despite Mosley's obsession.
Related: Watch NCIS: Los Angeles Online: Season 9 Episode 23
Every member of the team had suffered a loss, so of course, they headed south, with no plan and little resources or support, to find Derrick and return him to his mother.
That they did. They just couldn't pull off another escape against overwhelming odds from unfamiliar territory.
At least they got a little help from Aldo Turk, although I kept expecting him to do more. The dog-in-the-duffle trick paid off, in the short term. Then he went away until the quartet took their separate journeys to the hospital and he met up with them again.
One big plus was that Deeks and Kensi became Densi again. Kensi's struggle to keep Deeks alive long enough for him to get help certainly put them back on the right track. Maybe we'll soon be back to hearing wedding plans again.
Was it obvious the former priest and his wife weren't the good Samaritans they claimed to be? Yeah. Fortunately, Kensi picked up on that fact in time to overcome both of them and race Deeks to the help he needed.
Related: 21 Hard-Working Characters
Why was Kensi the last team member standing? Because she's the biggest bad-ass of the bunch.
Sam and Callen's friendship shone through again, as each struggled through their injuries to try to find help for each other. Granted, they ended up being saved by a boy whose English was better than he let on. But Sam did perform the surgery to release that trapped air from Callen.
Mosley ultimately saved the day, by shooting Spencer and a couple of his thugs. That was the only way that Derrick was ever going to be safe, anyway, was if Spencer was dead.
Although she was absent, Hetty's touch was felt throughout. She's why Admiral Kilbride showed up, the latest in her long line of former colleagues to help out.
She was also the one who arranged for the NCIS team to show up at the hospital with an evac chopper. Better late than never, I guess.
Related: Get CBS All Access via Amazon Channels for Hit Shows, Exclusive Originals & Live TV!
I vote for Admiral Kilbride to take over OSP. You can't go wrong with Gerald McRaney playing a character who is large and in charge. I'd love to see more interaction between Kilbride and the meerkats in Ops.
I would have to think this was what was necessary to get rid of Mosley for good. She not only broke policy, but she also broke laws and got an agent killed and three others severely injured. It's time to retire.
I doubt it will be that easy, but one can hope.
To catch last season while it still holds any relevance, watch NCIS: Los Angeles online.
Will you miss Hidoko? Will Mosley be gone? Will things go back to some semblance of normal? Comment below.
Dale McGarrigle is a staff writer for TV Fanatic. Follow him on Twitter.