Blue Bloods Season 9 Episode 7 Review: By Hook or by Crook

Christine Orlando at . Updated at .
Luis Delgado was back on Blue Bloods Season 9 Episode 7 and I was thrilled to see the charismatic, calculating hitman's return.
Back when we were led to believe that Delgado had been decapitated by his own cartel because Danny had set him up to look like a rat on Blue Bloods Season 9 Episode 1, I thought it was a waste of guest star, Lou Diamond Phillips', talents.
With Delgado's reappearance, he obviously kept his head, it looks as though the hired gun may be around to set fire to Danny's world a while longer.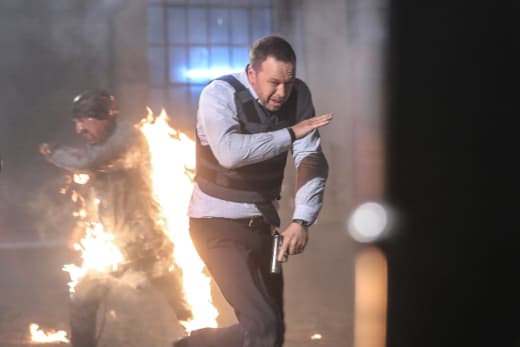 What's a little sad is that instead of rooting for Danny to finally capture the man, I was actually rooting for Delgado to get away. 
Yes, Delgado is a hired assassin, a despicable human being who brutally murders people for a living. There's no reason why I should like him, and yet I do. 
Baez: I think someone else should find Delgado. It's way too personal between you and him.
Danny: I'm not gonna go off the rails if that's what you're thinking, okay. I promise.
Baez: You already did. Do you really want to put us in the crosshairs?
Danny: Look, I'm going to get that son of a bitch, no matter what it takes. If you don't want to be a part of that then I suggest you walk away on this one.
Baez: You really want me to walk away?
It felt as though Danny belittled anyone who tried to talk some sense into him during this case. 
Baez was right. This case is personal for Danny and it clouds his judgment. Going to Delgado's family home without any backup could have blown up in his face. 
Related: Get CBS All Access via Prime Video Channels for Hit Shows, Exclusive Originals & Live TV!
And telling DEA Agent Molina she didn't know what she was dealing with was ridiculous. Trying to take down drug cartels is exactly what the DEA does. It's this woman's entire career!
Unfortunately, working with one horrifying criminal to take down an even more horrifying criminal is part of the game. As evil as Delgado's line of work as a hired assassin might be, Jose Rojas probably has several more just like him on his payroll.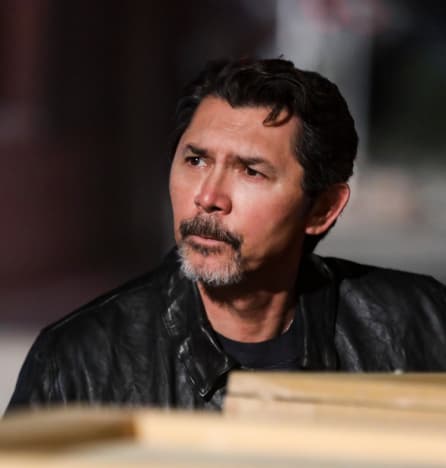 As much as I understand Danny's overwhelming desire to capture the man who set fire to his home, Agent Molina and even Delgado himself, warned Danny that whole families are often eviscerated in this all-consuming drug war. 
I still wonder if Delgado was simply taunting Danny by telling him the cartel was responsible for Linda's death. There would have been easier ways to kill her than causing a helicopter crash.
Were they hoping that the loss of his wife would derail Danny's desire to continue on as a cop? That's the only reason I can think of for them to kill Linda and not take some sort of credit for it before now.  
But if it is true, then I wish Danny would consider that in leading this fight he is putting his sons' lives, and possibly the rest of his family's, in harm's way. 
Related: CBS Cheat Sheet: Is Criminal Minds Really in Danger?!
Danny has every reason to want to take down Delgado and this cartel, but I wish he'd be smarter about it because pure emotion will never win against someone as calculating as Delgado.
Elsewhere, Erin got caught in the middle of a no-win situation. 
Frank's response to Jose Cortez felt over the top and perhaps that's because it was Abigail's husband who was shot. 
Cortez was arrested for drug possession. Background checks showed no other charges or warrants against him in New York or other states, so he was considered a first-time offender and offered $500 bail. They had no way of knowing the man was wanted for murder in another country.
Danny wanted Interpol background checks done on every person arrested. I have no idea what kind of time or cost that involves but I'd guess it's prohibitive. 
Frank insisted on higher bails set for all offenses. He's right that most drug dealers can come up with $500 but most poor people can't, which leads to low-level, non-violent offenders being stuck in jail until their trials.
That could be months or even years. People lose their jobs, their homes, and their children before anyone even decides if they are guilty or innocent. 
Related: Former Blue Bloods Star Amy Carlson Books TV Return!
But what bothered me more than anything was the fact that no one was asking why Cortez shot those police officers. Did someone pay him to do it? Was he angry he got arrested and was getting revenge on any cop he could find? 
Even murderers usually kill for an actual reason and I couldn't believe no one seemed to care what the reason was here.
But Erin's new position as Bureau Chief, and her boss' willingness to use her as a buffer, will have her and Frank butting heads more often and she's going to have to figure out how to deal with that so that it doesn't make Sunday dinners so miserable.
Erin: Pop told me I took the press conference personally. I was expecting you to act more like a protective father than the P.C.
Frank: And what do you think?
Erin: That my mistake was acting like a respectful daughter, letting you have the last word.

Finally, we get to Jamie meeting Eddie's mother.
I'd almost forgotten that Eddie's real name was Edit and I couldn't help but laugh when Lena quipped that Eddie was using a boy's name and Jamie a girl's as they've encountered that mix up previously on the job. 
Lena's bluntness waffled between humorous and hurtful. Part of me loved that she had no filter, pointing out Jamie taking his incredibly expensive education and then becoming a cop, or this Blue Bloods quote...
You must see the humor in this, Edit. Your father's in jail and you are marrying the police commissioner's son. That's going to make for some very interesting wedding conversation at the reception, don't you think?

Lena Janko
I can't say she's wrong.
I felt for Eddie. The Reagans do resemble a Norman Rockwell painting compared to her family, but I wouldn't mind seeing Lena interact with the Reagans on occasion.
The best part was Jamie deciding to face Lena head on and not back down. This woman is going to be his mother-in-law and Jamie, while always being respectful, set the tone for their relationship moving forward.
He even earned Lena Janko's respect by being the only boyfriend of Eddie's she couldn't scare off. 
So TV Fanatics, do you want to see more of Lena Janko?
Did Erin deserve the flack she was getting from the rest of the Reagan family?
And is Danny's crusade only putting his family in more danger?
Check back from my review of Blue Bloods Season 9 Episode 8, and until then, you can watch Blue Bloods online here at TV Fanatic.
C. Orlando is a TV Fanatic Staff Writer. Follow her on Twitter.