Last Man Standing Season 7 Episode 9 Review: The Gift of the Mike Guy

Rachelle Lewis at .
Holiday traditions and helping others were at the forefront of Last Man Standing Season 7 Episode 9.
Mike and Ed's relationship evolved once again, as they came together to help veterans.
Thanks to a gift from Mike, Ed realized he wasn't needed at Outdoor Man. Sometimes even with the best intentions of the giver, a gift does not go over well.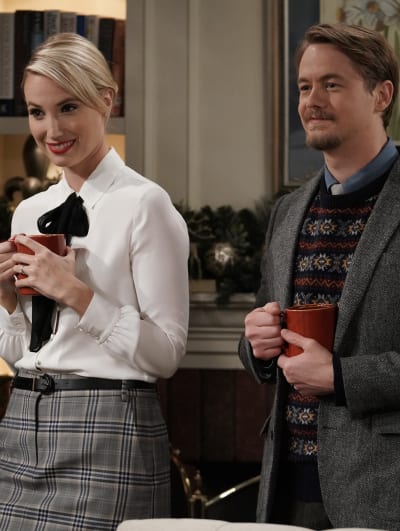 Mike knew right away Ed hated his gift. Ed's actions were what gave him away. Actions do speak louder than words as long as people are paying attention, and in Mike's case, he was listening.
It didn't take Mike long to get to the root of why Ed hated having a street named after him.
Everyone needs a place where they feel like they belong. Ed no longer felt that at Outdoor Man.
Ed: What are you doing here?
Mike: After your little performance at work, I thought I would stop by and find out why you hated my gift?
Ed: I didn't hate it. I loved it. Best gift I ever got.
Mike: And the Oscar goes to anybody else. Come on, why did you hate it?
Ed: Alright, alright. I didn't like it. You know who gets streets name after them? Dead guys!
Mike: This is why I gave it to you this year and not next year.
Ed: It made me realize my career at Outdoor Man is really over.
Mike: Do you also realize you can come back to work any time you wanted?
Ed: When a man wakes up in the morning he needs to realize he has a purpose. See, I am not needed at Outdoor Man. I realize that now, thanks to you.
Mike: It doesn't sound like you are very grateful.
Ed: I actually am. I need to look forward Mikey, not backward.

However, he did feel his purpose moving forward was talking and assisting veterans at the VFW.
Even though Ed was only bartending at the VFW, it made him feel needed. He listened to the people there except when they requested drinks such as a Cosmopolitan. But, when it came to important life issues, Ed was all ears.
Related: Enjoy UNLIMITED access to thousands of Movies and TV shows with Amazon Prime Video
I thought Mike understanding why Ed disliked his gift would be the end of that story. I was pleasantly surprised when it was taken to the next level.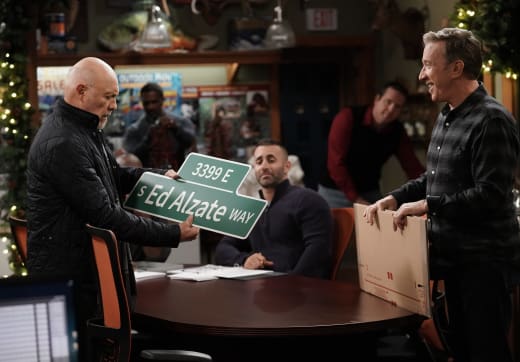 My heart warmed as he and Ed talked about helping veterans and creating a place for their unique skills at Outdoor Man. Assisting veterans is such an important topic and creating a story based around that idea is just fantastic.
Plus, Ed has been lost since his retirement, which is, sadly, something that happens to a lot of retirees. Now, with his new position, he will be needed at both Outdoor Man and the VFW -- something that has been lacking in his life since retirement.
Mike: I want people looking for a place to apply their unique skills.
Ed: You talking about veterans? These people?
Mike. Yes, and I am looking for someone who knows these people's specific skill set so we can match them to the correct position. Ed, we need you.
Ed: I would say you are just being nice, but we both know that is not your strong suit.

I feel like this story is a great reminder that everyone is valuable. Sometimes people just need a little help with the next chapter of their lives.
It can be challenging as a young adult to find the balance between creating new family holiday traditions and honoring long-standing family traditions.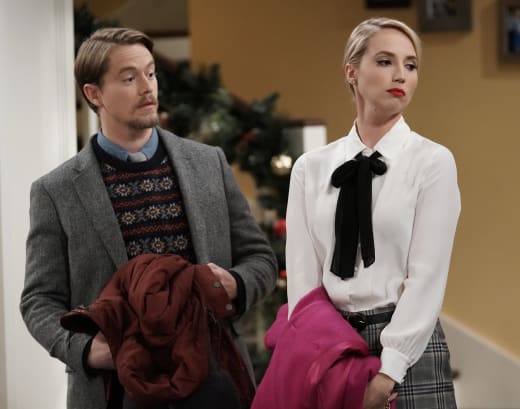 Kristin, Ryan, Kyle, and Mandy initially decided to skip Baxter tree-decorating night to attend the Nutcracker. Vanessa handled the fact that she and Mike would decorate the tree alone like a trooper. It helped that she had wine and spiked eggnog.
Vanessa embraced the change. Her kids, on the other hand, found themselves drawn towards the long-standing Baxter tradition over the Nutcracker.
Mandy: Kyle and I have plans tonight.
Mike: You're not going to help us decorate the fire hazard?
Vanessa: They are being cultured Mike. They are going to the Nutcracker with Kristin and Ryan.
Kyle: Yeah, I have never been to the ballet. I can't believe they get to wear slippers at work.
Mike: Well buckle up. It is three hours of people dancing and occasionally prancing.

That is kind of the way it goes. Kids grow up wanting to start their own holiday traditions but can't quite let go of those special family traditions.
Mandy and Kristin each had a particular job when it came to decorating the tree. Mandy was in charge of ornaments, and Kristin was in charge of candy canes.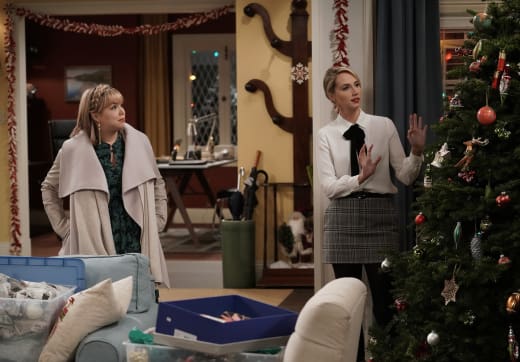 Both were fine with going to the Nutcracker until they started watching their mom do their specific decorating job. Once Vanessa began decorating, they changed their tune and were unwilling to give up their designated jobs.
Family holiday traditions are important, but they can also be taken for granted. It is easy to assume those traditions will always be there.
Related: Last Man Standing Season 7 Episode 8 Review: HR's Rough n' Stuff
I think that is how Mandy and Kristin felt until they realized the family was going carry on without them.
Neither Ryan nor Kyle had the best family environments growing up. Being part of the Baxter family has allowed them to embrace new, loving holiday traditions.
One of my favorite moments was when both Ryan and Kyle got emotional over the stockings Vanessa made them. Nothing says you are officially part of the family like a homemade stocking.
My family also has a homemade stocking tradition, which is why Kyle and Ryan's emotion resonated with me.
Related: Family Guy Pays Tribute to Carrie Fisher With Emotional Eulogy
There was only one thing missing when Kristin, Ryan, Kyle, and Mandy ditched the Nutcracker for Baxter tree decorating night -- Eve.
Vanessa being the intuitive mom she is knew Eve should be there and called her. The family was complete with Eve and her witty remarks.
Mike: How did you do this?
Vanessa: Well, when all the kids decided to stay and help decorate, I called Eve and convinced her to hop on the bus.
Eve: Yeah, which sounded horrible, so I took an Uber.
Mike: Wait a minute. You took an Uber?
Eve: Yeah, you owe me $111.

Mike's vlog was finally back! The topic was, of course, Christmas presents. It is so hard to find the right present for someone. But, it is even harder to fake that you really like a gift when you hate it.
Per usual, his insight into the holiday season was full of truth, wit, harsh words, and sentiment that hits close to home. He may not be eloquent, but Mike definitely knows how to get people thinking with his vlog.
It is one of the reasons I like it so much. Mike gives me food for thought.
Last Man Standing Fanatics now it is your turn.
What are your favorite holiday traditions? Have you kept them from your childhood, or have you created them with your chosen family as you've grown older?
Share your thoughts the below comments section or connect with TV Fanatic on Facebook and Twitter.
Remember you can watch Last Man Standing online anytime!
Rachelle Lewis was a staff writer for TV Fanatic. She retired in 2019..