Outlander Season 4 Episode 7 Review: Down the Rabbit Hole

Carissa Pavlica at .
I guess the odds are pretty good that two people traveling through the stones at different times will wind up with two of the worst characters we know.
Outlander Season 4 Episode 7 detoured a bit from the novel from what I gather after watching and doing a quick bit of research. 
To be honest, the coincidences felt like too much.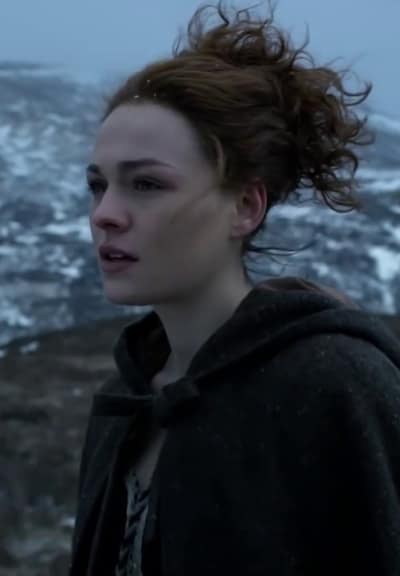 There are a lot of things that seemed highly unlikely when it came to "Down the Rabbit Hole," but maybe that's why it was named after a fairy tale.
Why was Brianna wandering through the middle of a snowy mountaintop when we caught our first glance of her? Was a map going to help her in that particular location, or should she have maybe stuck to the nearby road that she walked to a bit later?
That was odd. 
Related: Outlander Season 4 Episode 6 Review: Blood of My Blood
Tumbling down a ravine, spraining her ankle, and needing to ice it in the freezing weather was par for the course given the fact we're following a romance novel, but seeing a house miles in the distance and hobbling all the way there before nightfall and passing out as she arrives were ridiculous.
I don't know why it seemed like a better fit for the series for Brianna and Laoghaire to be duped into forming a modest and temporary friendship at the expense of their sanity.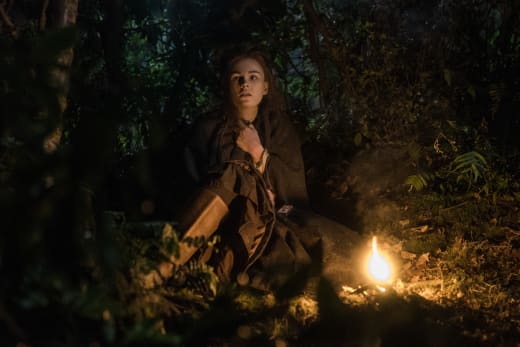 What we learned while Brianna was visiting is that Jamie settled in quite nicely with Laoghaire's family while Claire was in the 20th Century. Jamie indicated that, too, but hearing about reading bible tales to the girls made it more personal.
At the time, Laoghaire didn't know who Brianna was, so there was no need to embellish her life with Jamie for any reason. What she said was likely true, and from what we know about Jamie, he was a good husband and father to her girls.
Laoghaire: Must be a good man, this Frank Randall, to have raised a daughter such as you.
Brianna: Yes, he was. He died some years ago.
Laoghaire: I'm sorry to hear it. It sounds as though he'd never leave you by choice, only by God's hand.
It's a shame their discussion had to become so heated once their true identities were revealed to each other because, until that time, it would have been nice to think (I'm an optimistic pessimist -- sue me) they might be able to mend the rift between their families.
The best part about Brianna's arrival in Scotland was taking the time to think about Frank. I'm not sure what it was that drove her to think so much of him, but he was right beside her throughout her journey.
I'd like to think she was sharing with him what she wasn't sharing with us -- the sheer amazement that she put her hands onto stones and was back in time. 
Related: Outlander Stars on Their Interesting, Relatable Couple and Upcoming Emotional Roller Coaster!
It's something both she and Roger seemed to take for granted even though it should have been the single most significant step either of them had taken in their lives. 
Sharing her love of history with her dad, it makes sense memories of him would come pouring through to Brianna, and that satisfies me as her reaction to what a momentous occasion it was to be walking the hills of Scotland in the 18th Century.
And it was so good to see Frank again. 
Brianna: Daddy, it's me. You can tell me.
Frank: [kneels in front of her] Bree. I'm sorry. I'm sorry I can't.
Brianna: It's obviously important to you.
Frank: It was everything to me, aside from you.
Brianna: And mama.
Frank: You should go home, Brianna. She'll be worried about you.
Brianna: She'll be fine.
Frank: Go home, Brianna, please. Go home! Brianna, someday, I promise you'll understand.
Brianna: Maybe someday, I won't care.
Brianna was wrong. She does care now that she understands why Frank couldn't talk with her about the things that most upset him in their life, just as much as she would have been upset if he had tried to explain to her what it was that was bothering him.
Even if his appearance was only to send him off for good this time, seeing Frank always warms my heart, and his approval of his daughter's journey made me cry.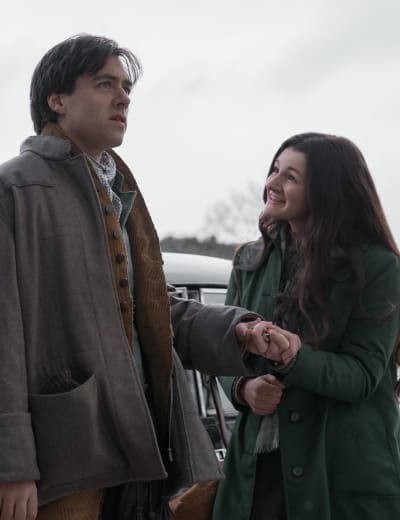 Roger took a brief moment before going toward the stones to mark the occasion. Like Brianna, he would fall immediately into the wrong company and find himself a couple days ahead to the Americas, but perhaps not as safe as Brianna was with Laoghaire.
Related: Outlander Season 4 Episode 5 Review: Savages
Who would have guessed that Laoghaire would be the safer choice for Brianna in the long run?
The odds, though, were silly low that Roger was going to want to board a ship with Stephen Bonnet as the captain, right? He's back in Scotland on the very dock Roger was on the very day he wanted to leave?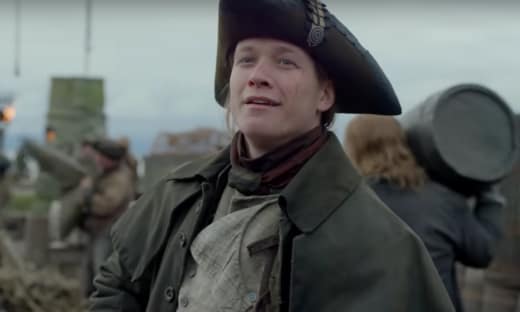 Bonnet was every bit the animal he's been purported to be as captain of his ship, but it's hard to imagine what anyone else would do differently on a small vessel when confronted with smallpox on board. 
How do you quarantine when there isn't enough room for people to stretch their legs? I guess you let the disease spread and others die.
Roger and Bonnet are at loggerheads, and it doesn't make a lot of sense why Bonnet allows Roger to speak to him as he does in front of passengers and crew, but it works for the story, so that's what we get.
Related: Get Starz via Prime Video Channels for Captivating Original Series & Hit Movies!
The entire hour hinged on Brianna's memories of Frank, and I'm ready for the next chapter of the story.
What did you think? After you watch Outlander online, be sure to come on back here and leave your thoughts below!
Carissa Pavlica is the managing editor and a staff writer and critic for TV Fanatic. She's a member of the Critic's Choice Association, enjoys mentoring writers, conversing with cats, and passionately discussing the nuances of television and film with anyone who will listen. Follow her on Twitter and email her here at TV Fanatic.