Law & Order: SVU Season 20 Episode 12 Review: Dear Ben

Jack Ori at . Updated at .
I love when characters come full circle.
Peter Stone has always been a complicated character, wounded both by his dysfunctional relationship with his father and his inability to take care of his sister's mental health needs.
And on Law & Order: SVU Season 20 Episode 12, his problems paid off, not only giving viewers a window into his pain but allowing him to make up for his past by being a father figure to Noah.
The elder Stone's inattention to his son's obsession with baseball has long been a theme in Peter's backstory, but this story took it to a whole new level.
Throughout the hour, Stone learned new things about his father's absence from his life growing up that challenged his belief that he was always low on his dad's priority list.
The Infinity Rapist case tied everything together, forcing Stone to confront the fact that his workaholic dad did love him despite his inability to show up for his ball games and to use that pain to get a confession out of the Infinity Rapist.
I would wait outside the DA's office until the lights went out. Sometimes he wouldn't get into his car until after midnight. It was me he cared about, not you. Me he loved!

Edgar
What would Ben have said if he knew the object of his investigation was under the delusion that Ben studied him not to catch him but because he loved him?
Would he have milked that for all it was worth to catch the guy while secretly feeling guilty that he had created this situation by being so obsessive?
Would the young Peter have understood, or would it have been another strike against the father he resented so much for putting work over his needs?
Related: How Law & Order: SVU Has Evolved Over The Years
No one will ever get answers to these questions, of course, and knowing what his father meant to the Infinity Rapist has to have added to Peter's pain.
I loved Benson telling Peter to forgive his father. Peter's turmoil was evident as he admitted Benson was right but that he still couldn't do it.
And then Stone showed up to play catch with Noah.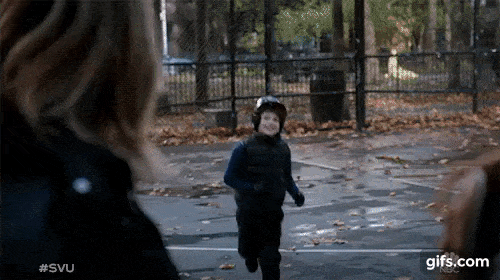 That made my night. 
Benson thought Noah needed a father figure, but she had no idea that Peter also needed to be a father figure.
He can't go back and have an honest conversation with his father, but he can be there for a little boy who needs love and attention -- and a man in his life to share his love of baseball.
I'm a sucker for stories where someone heals their wounded inner child by taking care of a real child who needs what they once needed, and this was no exception.
Stone: You got a good kid.
Benson: You should see him at dinner time or bedtime or homework time.
And as a bonus, we finally found out what's going on with Noah!
Many fans guessed he had a dark side or perhaps had inherited mental illness and a tendency towards violence from his biological parents.
I'm relieved it didn't go that way and that Noah was merely hurting because he doesn't have a dad.
Related: Law & Order: SVU: 21 Times Olivia Benson Went the Extra Mile
Spending time with Peter should help that, plus Benson also grew up without a father, so now that she knows what the problem is, she knows what to say. And she said it beautifully!
The case itself was ripped from the headlines, but barely so.
It was obvious the whole DNA test subplot was lifted from the real-life law enforcement using a genealogy site to catch the Golden State Killer decades after he stopped killing, even before Carisi referenced it.
I'm not sure I like this new trend of the characters commenting about the real-life events that inspire their stories. It's too close to breaking the fourth wall for me, and it feels like dialogue like that is thrown in to inform viewers rather than being natural.
In any case, since the question of law enforcement using genealogy sites to find bad guys was brought up, I'd have liked to have seen a more in-depth treatment of the issue.
Amy: My uncle hasn't called me back.
Carisi: What do you think that means?
Amy: DNA doesn't lie, does it? Oh my God. He used to pick me up from school, take me to the park... how is this possible?
Edgar's defense lawyer argued it was an invasion of privacy for cops to do this, a judge agreed, and then SVU moved on to find another way to prove Edgar was the Infinity Rapist.
I loved the use of Ben's letters to accomplish the goal, but I missed the team arguing about whether the judge was right or wrong. At the very least, I'd have expected Rollins or Benson to lay into Carisi for letting the rapist slip through their fingers by using unorthodox methods.
Related: Get True Crime Files by ID via Prime Video Channels for Over 1,000 Real-life Mystery & Suspense Shows!
I also dislike loose ends and wanted to know what happened to Carl.
The guy was obviously delusional and insisted he was the original Infinity Rapist despite the original crimes happening before his birth! The judge was not inclined to put up with his nonsense at arraignment, but what happened next?
Fin: Another copycat?
Carisi: Or we just baited the real Infinity out of retirement.
I realize Carl was more or less a plot device to bring Edgar back out of hiding, but enquiring minds want to know!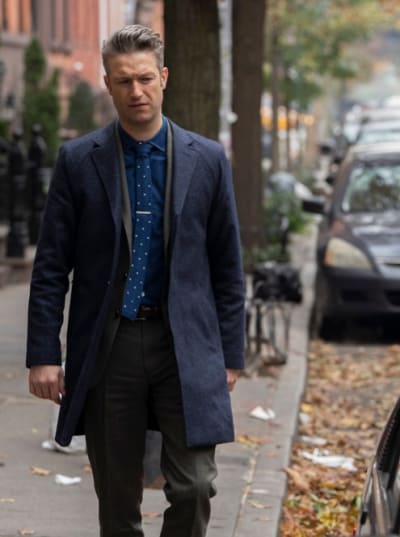 Speaking of which, did anyone else initially suspect Claire's attack was staged?
She'd just been hounding Carisi for an interview he didn't want to give and made a point of saying her attack was just like what she'd learned while researching the story.
She seemed unscrupulous, and if it weren't for the fact that her husband was in the hospital, I wouldn't have put it past her to have created the whole scenario to drum up interest in her newest book.
I'm glad she didn't -- SVU doesn't need to undo all the good work it's done in the movement to believe survivors -- but in this case, it seemed weird that nobody was at all suspicious.
Related: 23 Times Law & Order: SVU Made Us Cry
What did you think, SVU Fanatics? Did the case take a backseat for you to all the Stone family drama, and did you enjoy it?
Weigh in below, and don't forget you can watch Law & Order: SVU online if you missed anything!
Jack Ori is a senior staff writer for TV Fanatic. His debut young adult novel, Reinventing Hannah, is available on Amazon. Follow him on Twitter.